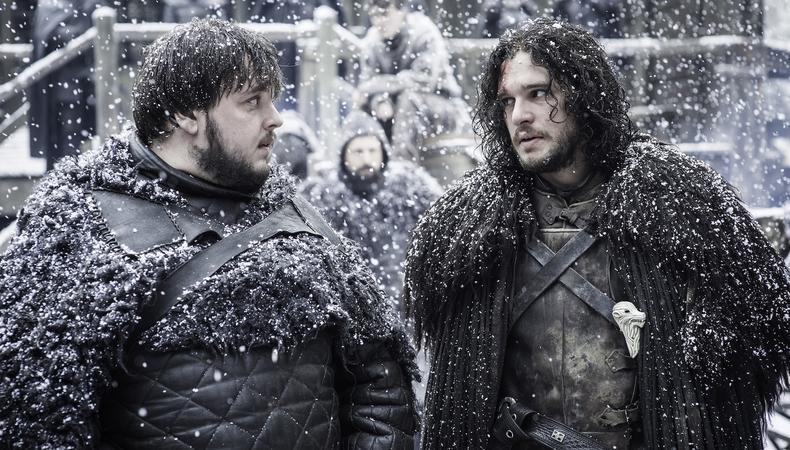 Hello, and welcome back to Week in Review, our roundup of industry-wide news. From stage to screens big and small, we've got you covered. It's everything you need to know and all you can't afford to miss.
How Game of Thrones changed a generation of actors
Ahead of the eighth and final series which starts 15 April, the Guardian rounded up a herd of Game of Thrones (GoT) stars to find out how the fantasy series has changed their lives and put a generation of British actors into the limelight. Alongside the Kit Haringtons and Emilia Clarkes who have been made by the series, GoT has brought respected stage actors like Jonathan Pryce and Iain Glen to a new audience. In the interviews, Pryce and Glen recalled very different first impressions of the series – with Pryce turning down the pilot script at the mention of dragons, and Glen not being able to get the first audition out of his head.
Previously little-known actors like John Bradley, who plays Samwell Tarly, attribute the opportunities now landing in their inbox to the series. Bradley, one of GoT's longest surviving members, told the Guardian it was his very first audition: "I just wanted to make a good impression on my agent, I wasn't even thinking about getting the job." The Manchester graduate has since starred alongside Stanley Tucci and Natalie Dormer in Patient Zero and is appearing in ensemble comedy film Tale of the Wet Dog next year.
READ: Join the Cast of the Game of Thrones Prequel
Actor Gemma Whelan found similar success. Whelan, who plays Yara Greyjoy in GoT, is due to appear in the BBC drama Gentlemen Jack later this month, starring alongside Suranne Jones. Previously best known for stand up and TV comedy roles, she attributed her move into drama to GoT, telling the paper: "It's difficult to straddle both [comedy and drama] because people tend to pop you in a box. I'd been hoping to do drama, so it all happened serendipitously. Game of Thrones changed my career in terms of being taken seriously."
Social media jobs mean 'much lower rate' for voice overs
Researchers from the University of Exeter have warned that online job adverts could be driving down the wages of voice-over (VO) artists. Academics conducting a survey into the gig economy and the advertising of VO jobs on social media said roles are being listed at a "much lower rate" than fees secured through voice agencies. The standard industry rate for an hour of VO work is £250, but the research noted that in some cases, jobs of varying lengths were posted online for as little as £65.
The survey comes in the weeks after Virgin Trains were criticised by performers and VO agencies for advertising an unpaid competition to voice the toilets on their trains. Exeter academics noted an increase in the number of jobs being posted on social media and suggested it risked de-professionalising the VO industry.
One of the lead researchers said the transformation in how performers were cast "could lead to a loss of skills and professionalism. Voice-over artists are a key strength of the UK's creative industry, but if they are forced to accept harder and harder bargains this could change." Read more here.
National Theatre under fire for male-dominated season
Despite a commitment to equal representation by 2021, The National Theatre's new season will see six shows by male writers and feature just one female director. Artistic Director Rufus Norris announced the plan to feature 50:50 gender representation in 2016, aiming to have as many women as men both writing and directing at the NT. Now the theatre is under scrutiny from many in the industry who claim the new season is a "joke".
The sole female director taking part in the season is Amy Hodge, directing Andy Stanton's Mr Gum and the Dancing Bear, a play for young audiences. Elsewhere the season includes Jellyfish by Ben Weatherill, Hansard by Simon Woods, Translations by Brian Friel, and Master Harold and the Boys by Athol Fugard. Kate Grenville's historical novel The Secret River is to be adapted for the stage by Andrew Bovell.
The National responded to the Stage with an open letter, saying that although the line-up "didn't fully reflect our commitment to the nation," it felt it was making "substantial progress" towards achieving gender parity among living writers by 2021.
READ: The Who's Who of British Theatre's New Wave
Actors should 'exercise caution' online
Performers have been warned to "exercise caution" when sharing on social media, following a Facebook post that saw actor Oluwaseyi (Seyi) Omooba lose the lead role in musical The Color Purple. After Omooba's 2014 post was called out by a fellow actor on Twitter, producers announced that Omooba would no longer be performing in The Color Purple at Leicester Curve and Birmingham Hippodrome. Following this, Global Artists, Omooba's former agents, removed all reference to her on their site.
While checking an actor's social media is not standard practice for casting directors or creative teams, The Color Purple producers made it explicit that they did not "operate a social-media screening process in the casting of actors". However, The Stage reported that Equity's Matt Hood told members that actors should exercise caution when posting online: "Our members, like those in every industry, should be mindful that anything they post on social media can become publicly available and may be seen by a future employer."
READ: What Social Media Does an Actor Need?
WW1 drama 1917 makes cast announcements
Richard Madden, Benedict Cumberbatch and Colin Firth are among the latest cast members to be announced for Sam Mendes' upcoming World War I drama, 1917. The epic drama follows the stories of two young soldiers, played by George MacKay and Dean-Charles Chapman, over one day of the war. Further casting announcements saw Andrew Scott, Mark Strong, Daniel Mays, Adrian Scarborough, Jamie Parker, Nabhaan Rizwan and Claire Duburcq all board the production. Filming for 1917 started on location in the UK on Monday.
A Big arrival to the West End
The stage musical based on the hit Tom Hanks film Big is to open at London's Dominion Theatre later this year, hitting the capital for the first time for a limited run. Actor Jay McGuiness is set to return to the lead role of Josh, a 12-year-old trapped in the body of an adult, having originated the role when Big opened at Theatre Royal Plymouth in 2016. No further casting has been announced. The production is to be directed and choreographed by Morgan Young, with music by David Shire, lyrics by Richard Maltby and book by John Weidman. It will run from 6 September to 2 November.
For more from Backstage UK, check out the magazine.