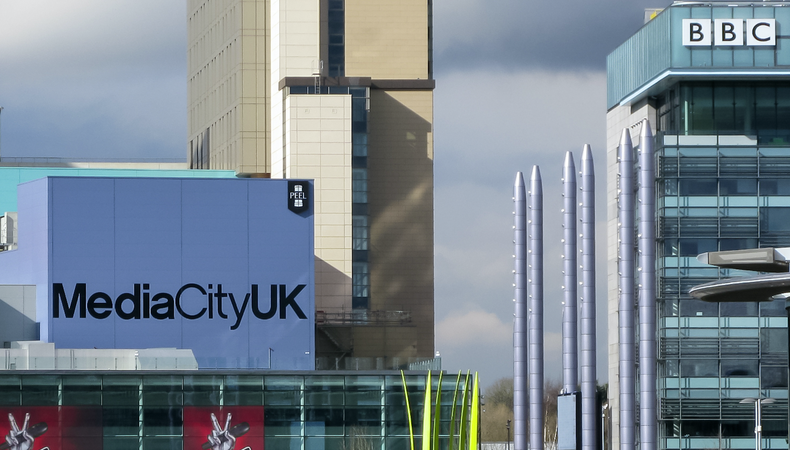 Welcome to Decoded, a series that deciphers different corners of the UK performance landscape. This week, Backstage shines a light on Salford's MediaCityUK, the vast television hub in the North-West of England. It has defied expectations to become a production colossus. We take a look at why that is and how you can get involved.
Don't Say: "It's grim up North. Do they even know what a latte is?"
Do say: "Media City is a visionary enterprise that has transformed acting prospects in the North."
What is it?
MediaCityUK is a huge 200-acre site on the banks of the Manchester Ship Canal which claims to be "an international hub for technology, innovation and creativity." Designed at least in part to challenge London's dominance in the UK media landscape, it's the northern home to major parts of the BBC, ITV, Ericsson, and over 250 smaller media companies. MediaCityUK boasts seven HD studio facilities and long-running British soap Coronation Street is filmed there. No one knows why its creators shunned English language norms by smashing three words into one but hey – that's creativity for you!
Looking for your next TV role? Check out our UK castings
Why should I care?
For a long time, if you wanted a career in the media there was really only one place to be: London. The capital revelled, some might say quite smugly, in its unrivalled position while the rest of the UK seethed (a bit). Then, in 2004, the BBC announced it was moving thousands of key staff to new bespoke offices in MediaCityUK, Salford. The media world was agog: talent won't travel, staff will leave! Top Gear star Jeremy Clarkson declared the move to this "small suburb" in the north nothing more than a political box-ticking exercise.
A decade on from the big move in 2011, and who's smug now? Clarkson is working for a tech start-up and MediaCityUK seems to be going from strength to strength. It's expanding, and over the next decade will double in size geographically as TV companies are increasingly priced out of the London property market and media workers enjoy the benefits of working outside the capital. Forecasts suggested there would be an additional 1,700 creative industry jobs in Salford by 2034 ­– jobs for people like you.
As well as drama powerhouses the BBC and ITV, Red Productions – the company behind such drama hits as Happy Valley and Queer as Folk – is based in Salford. Accompanying these major players, associated employers like casting companies and talent agents have also moved in. MediaCityUK has been credited with sparking a renaissance in dramas set in the north, made by northern talent – and things seem to be on the up.
One thing is clear: London is no longer the only game in town – and if you're a performer who lives elsewhere then that can only be good news.
How do I get involved?
BBC North is the Beeb's northern division with its own specific departments dedicated to Drama, TV and Online etc, so it's worth checking out if you're keen to work in MediaCityUK. They've got 3,200 staff working in 26 departments ­­– and remember: every staff member will have an email address, so give them a go!
The other big media employer is ITV. Their flagship soap Coronation Street is filmed from Salford in a specially built studio, and they're often on the look-out for new talent. MediaCityUK is also a hotbed of casting agents – ESC and MadDog 2020 are just a couple. Elsewhere in the city there are lots of agencies looking for new performers, far too many to list here ­– which is good news for you!
More in our Decoded series: