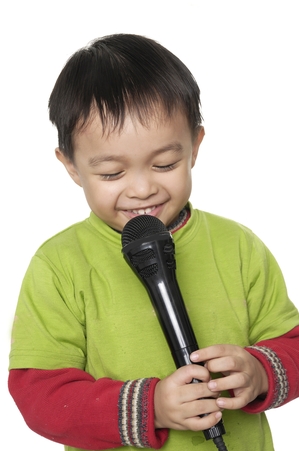 This Saturday we are holding an open call looking for new clients. We do these open calls 6-8 times a year. Often times I see many candidates with the same amount of talent, yet my feelings about them differ. Some of them completely excite me and I am super excited to work with them and we sign them on the spot, while others on the same level are passed on. I got to thinking about what makes me respond more to one prospective candidate than another. Here are my suggestions for making yourself stand out from the proverbial crowd:
1. Be yourself. This may sound like a no brainer, but it's not. I'm not looking for the next Justin Bieber or Dakota Fanning, I'm looking for the first you! The one and only you. I want your crazy curls or funky style or weird laugh or dry sense of humor. I want to see what makes you special!
2. Share your special talents. If you sing or dance or do something special tell us! We are not mind readers. It may be on the résumé, but when we are seeing lots of people we won't take the time to flip over the resume to read every single thing that you do. Your résumé may end up in the no pile without being read if you don't stand out. There is a time and a place for modesty. This is not it!
3. Be enthusiastic. I can always spot the person who is really hungry for it over the person who is going through the motions. I can see it in their eyes, I can hear in their voice. Teenagers especially sometimes come in the room and look like they are going for a root canal. If you don't care that much, why would I? People who are enthusiastic and show how much they want to be there have a tendency to win my heart and make me want to make their dreams come true.
4. Be dedicated. At every casting I get a handful of people who saw the posting on Facebook and decided that morning that they would like to be an actor, and then show up to the open call. They have never taken a class and they haven't done any research into what it takes to succeed in this industry. Don't get me wrong; I don't expect everyone to show up an expert completely versed in all industry lingo and norms, but I do expect you to show up with an open mind. I can't tell you how frequently I meet someone at a casting who, despite having no experience, already has a list of conditions or things that they won't do. We call these barriers. Won't audition past 5 p.m. on a school night? That's a barrier. Want to be a star but won't miss a soccer practice for an audition? That's a barrier too. Think that your t kid should be able to skip past print work, voiceovers, and commercials and shoot straight to major feature films or a Nickelodeon pilot? Barrier! You never have to do anything that makes you uncomfortable, and likewise we would never put you or your child in a situation that was harmful or unsafe, but we do expect you to take our advice and know that when you step into a casting, you are making the commitment to do whatever it takes to succeed.
Parents, you are not off the hook. Believe it or not (and you better believe it!) we are also looking at you to see if you will be easy to work with. My team who runs the waiting room is looking at you while you wait. This is true at any agent or manager meeting, or the waiting room of a casting director. Do you get up and press your ear to the door of the audition while your child is inside? Are you rude to other parents? Are you aggressive and pushy with my staff? Are you being mean to your kids or other kids? I will get a text from my assistant as a child walks into the room advising me to pass if the parent appears to them to be a problem parent.
See you at the casting call!
Jackie Reid owns and operates L'il Angels Unlimited, a talent management company, which specializes in young actors for placements in film, television, theater, commercials, voiceover, and print media. She works extensively with agents in New York and L.A. She possesses an excellent eye for talent that both casting directors and agents value. She understands what it takes to support young actors as a stage mom to two children, one of whom currently plays Sinjin on Nickeldeon's hit series "Victorious." Follow her on Twitter @LilAngelsTalent and like her on Facebook.