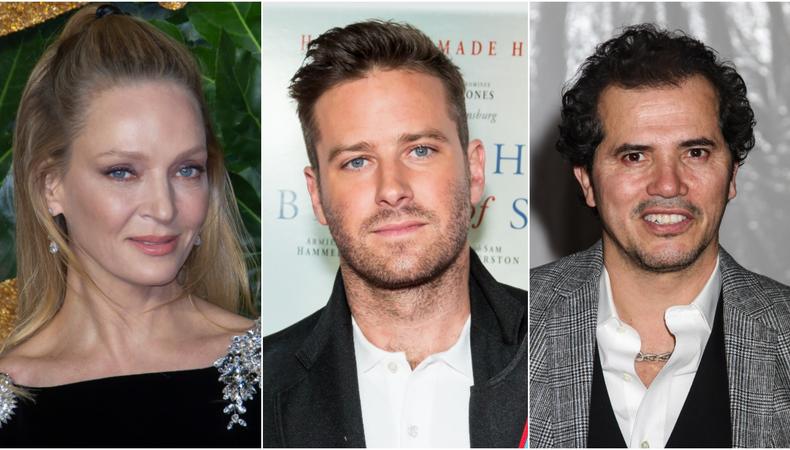 Lee Strasberg is one of the godfathers of acting, and when it comes to finding the truth of a character the way he did, the Lee Strasberg Theater + Film Institute—housed in Union Square in New York and on Santa Monica Boulevard in West Hollywood—is the only school in the world that teaches his work in its consummate form.
"The (re)experiencing of life by the actor within the fiction of the story as if it were true and happening now," as the Method is described, is practiced by A-listers ranging from Lady Gaga to Steve Buscemi. So we've rounded up a few career highlights from 10 iconic students of the Strasberg Method. (Admittedly, the idea that any of these artists could be summarized in 150 words is truly laughable but this is the internet, people, so we're giving it to you short and sweet.)
Laura Dern
A force to be reckoned with since she appeared on screen, Dern has won four Golden Globes, an Emmy, and has two Oscar nominations. Her performances range from blithe and innocently seductive to desperate and deeply moving. She unapologetically owns every scene, walking into a room of powerful men and establishing authority simply by pouring sugar into her coffee.
Over the past two years she has again sprinted out of the gate with the critically acclaimed HBO miniseries "Big Little Lies," delivering a stunning, Golden Globe– and Emmy-winning performance as Renata Klein, the powerhouse warrior mother who will fight ruthlessly to protect her daughter; not to mention her return to the David Lynch universe with "Twin Peaks: The Return." Talent must run in her blood or something.
READ: The Definitive Guide to Method Acting
Armie Hammer
We first fell in love with two of him in "The Social Network," where he tackled the challenge of playing two characters (who often communicate with one another) at once. From the outset, Hammer was able to impress us with his ability to distinguish the identical Winklevoss twins Cameron and Tyler from one another with differences that were slight but kept the characters from falling into archetypes. Even more impressive: Hammer was only able to act from the neck up to play Tyler as Tyler's body was played by another actor.
If "The Social Network" was the warm up, "The Birth of a Nation" was his first sprint. As a slave owner in the 2016 story of the most successful slave rebellion in history, Hammer built a character as dextrous and complex as the true story. He created a layered man in Samuel Turner and left audiences wondering what else he was capable of. His other credits include "The Man From U.N.C.L.E." and "Nocturnal Animals," but it was with Best Picture Oscar nominee "Call Me By Your Name" that Hammer really got us talking. His performance as the charismatic and almost sage Oliver was the perfect slate on which to project co-star Timothée Chalamet's emotional coming-of-age journey.
Sally Field
Field has won two Oscars, three Emmys, two Golden Globes, and has been nominated for a Tony Award. Her Academy Award–winning performance as the titular role in the 1979 film "Norma Rae"—playing a union organizer and advocate—is unapologetically intelligent, forceful and resilient. In "Places in the Heart," Field plays a Depression-era Texas Widow who fights to save her family's farm. Her depiction of Edna Spalding, which won her her second Academy Award, brings surprising humor and wit to a performance that beautifully demonstrates the grit and strength Spalding's circumstances necessitate. As matriarch Nora Walker on ABC's "Brothers & Sisters"—a leading role that won her the 2007 Emmy—she beautifully captures the complicated experience of welcoming a new daughter to the family after the discovery of her recently-deceased husband's affair. She carries the series for five seasons, creating a woman who can only be described as one of TVs best moms. She received a Tony nomination for her portrayal of Amanda Wingfield in the most recent Broadway revival of Tennessee Williams' "The Glass Menagerie."
READ: Are You a Method or Classical Actor?
Uma Thurman
Thurman has paved an incredible career for herself, delivering some of the most iconic performances over the past few decades of film. Her internationally-renowned portrayal of Mia Wallace—an aspiring actor and the wife of a major mobster—in Tarantino's "Pulp Fiction" earned her nominations for an Academy Award and Golden Globe. In a male-dominated crime caper she demands attention and commands authority with an air of mystery and intensity; she is subtly brilliant and so, so much more than just a mobster's wife. Playing the Bride in "Kill Bill" volumes 1 and 2—a role that garnered her two additional Golden Globe nominations—she more than does justice to her character's description as "the deadliest woman in the world." She is ferocious, and distinctly feminine in her power: the Bride's vengeful quest is driven by the loss of her unborn child. She assumes the often masculine "aggressive revenge" role, crafting a unique and dextrous performance.
John Leguizamo
Leguizamo famously studied with Strasberg for one day before the acting teacher died. The comedian jokes it might've been his acting that killed him. "It wasn't so good back then." Leguizamo is one of those actors who seems to have done it all. He started performing on the NYC standup circuit in the 1980s and built a career in film and theater that has rendered him a Big Apple legend. In the cult classic "Carlito's Way" he starred as Benny Blanco, an up-and-coming gangster with a questionable set of ethics, and plays him with a captivating combination of smooth and aggressive, blending the overly confident machismo of the gangster world with the amateur essence of a newbie. In "To Wong Foo, Thanks for Everything! Julie Newmar" he plays Chi-Chi Rodriguez, one of three drag queens on a road trip to Hollywood. His Golden Globe–nominated performance has him again playing the group's newcomer, and he delivers another perfect combination of sassy confidence and the insecurity of not being good enough. In 2011 he brought a Drama Desk Award–winning one-man show, "Ghetto Klown," to Broadway and did it again last theater season with"Latin History for Morons." One look at his IMDb page and his prolific contribution to the craft and Strasberg's legacy is clear.
Kelli O'Hara
Since she won the Tony for her portrayal of the charismatic and endearing Clara Johnson in "The Light in the Piazza" in 2005, O'Hara has been nominated for or won a Tony Award for every subsequent role she has played on Broadway. That is an insane track record. The New York Times' has called her "The Ingénue Who Roared," and she has brought an incredible sincerity and jaw-dropping level of vocal ability to a plethora of young female characters in search of love. Her Nellie Forbush in "South Pacific" in 2008 was tender, genuine, and wholesome; her Anna Leonowens in "The King and I" was a strong feminist navigating cultural differences and the terror of falling in love with someone very different herself. She is hands down one of the most empathetic, earnest, and authentic performers of her time.
Rachel Brosnahan
Brosnahan has taken the television world by storm. She made her TV debut (and landed her first Emmy nomination) on Netflix's "House of Cards" as the high-class escort Rachel Posner, where her part went from five lines in Episode 1 to one of the series' most compelling recurring characters. Her portrayal of Rachel was likable and tragic—only the latter because of how adept she was at capturing the former. But she needed to solidify to the rest of the world what "HoC" fans already knew: that she is one of the most talented actors under the age of 30 working right now. (Objectively, she is also just one of the most talented actors regardless of age group.) Then comes Miriam "Midge" Maisel, the titular '50s housewife-turned-comedian on Amazon Prime's "The Marvelous Mrs. Maisel." In Midge, she has made an unlikely hero of a sardonic, quick-witted, and unapologetic rockstar. Her standup acts are brutal and honest and brilliant; it's impossible to watch her and not desperately ache to be her friend.
Miles Teller
Teller is one of those actors who is hard to forget once you've seen what he can do. His performance in "Whiplash" as an ambitious first-year jazz drummer training under an abusive instructor put Teller on the map when it came to the lived-in performances Strasberg aimed for. True to the Strasberg Institute's method acting technique, in fact, Miles made it a point to learn the specific style of drumming necessary for the film. "Faking it," he said, "wasn't an option." From "Whiplash" to the more recent "War Dogs"—wherein he plays the straight-laced half of an arms-dealing duo to Jonah Hill's uncontrollable character—he has proven able to tackle many genres, characters, and film styles, all with his signature charm.
Barbra Streisand
Babs is the dictionary definition of an icon. For six decades, she has proved undeniably fun to watch whether in front of or behind the camera. She's received two Academy Awards, 10 Grammy Awards (including the Grammy Lifetime Achievement Award and the Grammy Legend Award), five Emmy Awards, nine Golden Globes, a special Tony Award, and the Presidential Medal of Freedom. There are more, but we don't have time to name them all. She made her film debut reprising her Broadway role of Fanny Brice in "Funny Girl," a starstruck vaudeville star to whom Barbara brought hilarious comedic timing and inflection.
She was the first woman to write, produce, direct, and star in a major studio film with "Yentl" where she received the Golden Globe for Best Director (the first and only woman to do so). Her portrayal of Yentl—an Ashkenazi Jewish girl in Poland who decides to live as a man to learn Talmudic Law after the death of her father—is a determined and defiant one. She has us on her side from the first moment: the strength Streisand brings to the role is unparalleled, and she beautifully demonstrates Yentl's desperate desire to learn and study and grow. We could go on for another four pages on this incredible tour-de-force but our fingers would fall off from all the typing.
Scarlett Johansson
Johansson is not only one of the most recognizable faces in Hollywood, but she is also the highest paid female actor in the world—an accomplishment that certainly does not come easy. In "Lost in Translation" her 2003 performance of Charlotte, a young college graduate ambivalently married to a celebrity photographer, somehow managed to beautifully be guarded and open-hearted all at once. But perhaps her most impressive performance is as the role of the operating system Samantha in "Her." She makes Joaquin Phoenix fall in love with nothing more than her voice, and we fall right along with him. Samantha has an entire emotional character arc that Scarlett guides us through with a lighter, more energized voice for the ups and a husky, darker tone for the downs. In every role she embodies, her magnetism demands you fall in love with her. And we're happy to.