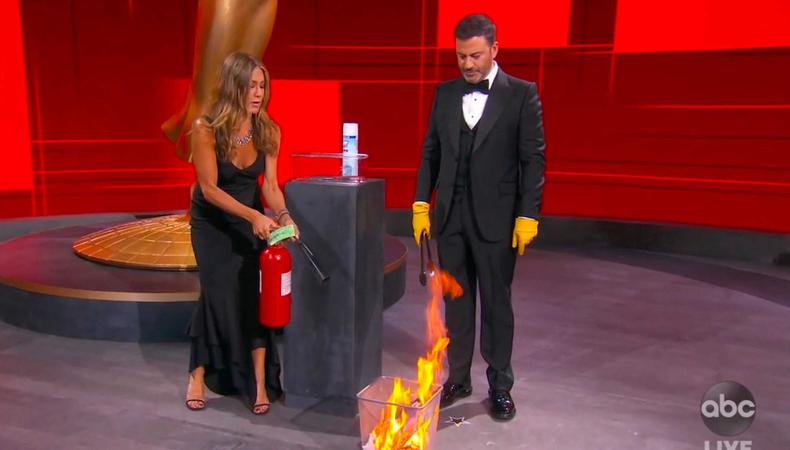 Want the inside scoop on all things awards? Welcome to Letter From the Awards Editor, our series in which Backstage's Jack Smart takes a look at the latest film and television news, industry trends, and awards projections that matter to today's working actor.
Dear Backstage awards enthusiast,
You didn't think Backstage would close the chapter on the 2020 Emmy Awards without a letter from yours truly, did you? Now that my gut reactions to this weekend's ceremony have been digested, it's time to lay this saga—this epically, historically weird saga—to rest.
Although the 72nd annual Emmys were able to endure where other awards shows couldn't, both the ongoing COVID-19 pandemic and our society's renewed focus on systemic issues of inequality impacted the Television Academy's prestigious honors. That goes for the nominations and voting process (delayed, given a wider eligibility window, and with adjusted category rules to allow for more inclusive contenders) and the final ceremony (including unprecedented safety measures in place, with presentations from essential workers plus female actors and creators of color highlighting discrimination they've faced in the biz).
Few could have predicted exactly how the ceremony would unfold, but one thing was certain: good, bad, or simply surreal, the 2020 Emmys telecast was the first major awards show produced in this new era. It was always guaranteed to be a fascinating time capsule perhaps for future historians studying the pandemic's effect on the entertainment industry and by extension the global population. Most awards shows provide a snapshot of a society's taste and cultural values; this one did so perhaps more than any other.
A question facing this enterprise, however, was so glaring that host Jimmy Kimmel had to address it in his opening monologue: Amid the chaos of political upheaval, climate change-induced fires, and public health crises in 2020, what is the purpose of awards shows? Should they even be happening?
Delivered to what turned out to be an eerily empty stadium, Kimmel's introduction provided a kind of answer. "What's happening tonight is not important," he stated. "It's not going to stop COVID, it's not going to put out the fires. But it's fun, and right now we need fun.... The world may be terrible, but TV has never been better."
Soon afterward, marquee presenter Jennifer Aniston emerged in person to help Kimmel sanitize and set fire to the envelope of the evening's first prize, which struck your trusty awards editor as problematic in its symbolism, not to mention downright alarming. Watching a literal garbage fire threaten to engulf the Staples Center within moments of an Emmys host positing that this ceremony was justified despite its inability to put out fires was one of those ironic, out-of-body experiences that feel all too familiar these days. (To Kerry Washington and Reese Witherspoon, who later in the telecast heralded the end of this godforsaken 2020, I say "Hear, hear!")
But a feeling of intimacy pervaded the ensuing presentations, which provided casual glimpses into nominees' homes and a spirit of camaraderie; when Mark Ruffalo thanked his wife while sitting right next to her, or Uzo Aduba called to her mother out of frame, I was reminded that a winner's joyful gratitude is fundamental to such an event's design and appeal. Zendaya becoming the second woman of color and youngest ever winner in the drama actress category was both the jaw-dropper of a result and celebration of a star's talent we tune into awards shows to see. Her, shall we say, euphoric reaction was justification enough for this entire, uncertain Emmys season.
There are other core functions to a Hollywood awards show—they put projects on audiences' radars, provide marketers much-needed credibility, and feed the ecosystem of an industry that this year has taken a considerate economic blow—which were discussed in depth on our recent episode of the "In the Envelope" podcast. I encourage you to listen and let us know what you think, dear reader. Why do you love awards? Do we need these ceremonies—for their traditions, the sense of routine or normalcy amid crisis? I'll be grappling with these questions as much as I'm reveling in the excitement of awards races, especially entering an extended, extraordinary film and guilds season.
If all else fails—and this year, it sure feels like everything is failing—let's hope Aniston is standing by, fire extinguisher at the ready.
Sincerely,
Jack