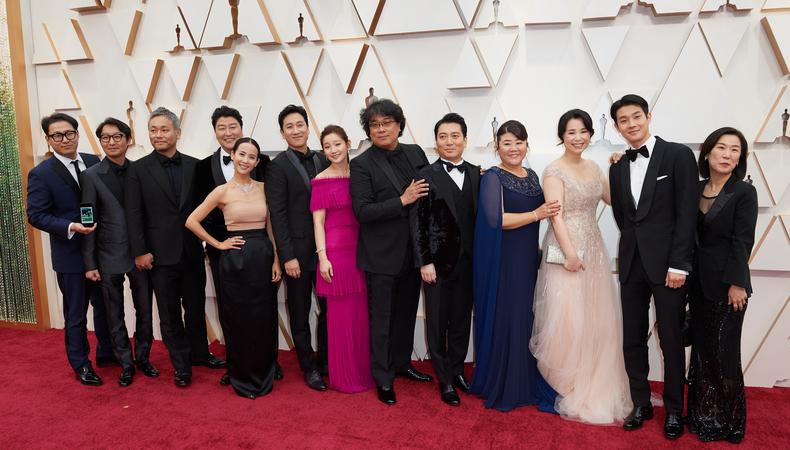 Although it practically goes without saying, and Backstage has reiterated the point plenty, the ongoing COVID-19 pandemic's upheaval of industries and events around the world will majorly affect Hollywood's film awards season. In another, perhaps parallel reality, free of a life-threatening virus, the 2020 film festivals at Venice and Toronto would kick off campaigns for the Academy Awards and the many industry honors and ceremonies preceding them, and stars would be strutting on red carpets and at premieres as God and Regina King intended.
Since wishing for such a reality doesn't get us anywhere, we at Backstage are rolling with the punches, adapting to the circumstances just like those awards-giving organizations have had to do. As the recent Emmy Awards demonstrated, there are of course still worthy screen projects and talent to reward, plus innovative new ways to celebrate them that ensure participants' safety. The film industry is adjusting plans as necessary while continuing to carry out Hollywood's favorite rituals, reminding us all that resilience and creativity are integral values in the biz.
In contrast to last year's abbreviated film awards voting windows, the 2021 Oscars have been pushed back drastically, to April 25, stretching most awards' eligibility and voting windows throughout the winter. Backstage has rounded up the most important awards season dates for your calendar; the list below will continue to be updated as more announcements are made.
Through it all, we will be here to guide industry insiders through what is surely the strangest awards season in history. Stay tuned for coverage of the projects and performances in contention for Golden Globes, Oscars, various guilds' awards, and more (the Film Independent Spirit Awards are now also honoring TV!). And practice social distancing, isolation, and good hygiene to limit the virus' spread so that 2022's film awards schedule will be back to normal!
UPDATE: The 2020 Tony Award nominations, originally scheduled for April 28 and postponed, were unveiled Oct. 15. Details on the 74th annual Tonys ceremony, honoring the best of a 2019–20 Broadway season cut short in mid-March, are forthcoming.
November 2020
Canceled: Governors Awards
Nov. 12 – Gotham Award nominations announcement
December 2020
Dec. 30–Jan. 12, 2021 – Golden Globe TV nominating period
January 2021
TBA – 23rd annual British Independent Film Awards ceremony
Jan. 11 – 30th annual Gotham Independent Film Awards ceremony
Jan. 11 – Feb. 1 – Screen Actors Guild Award nominating period
Jan. 13–30 – Golden Globe film nominating period
Jan. 18 – Critics' Choice Awards TV nominations announcement
Jan. 26 – National Board of Review Awards honorees announcement
Jan. 26 – Film Independent Spirit Awards film and TV nominations announcement
February 2021
Feb. 3 – Golden Globe Awards nominations announcement
Feb. 3 – Writers Guild of America Awards television nominations announcement
Feb. 4 – SAG Award nominations announcement
Feb. 7 – Critics' Choice Awards film nominations announcement
Feb. 9 – Academy Award shortlist announcement
Feb. 10–23 – Golden Globe Awards voting period
Feb. 16 – WGA Awards film nominations announcement
Feb. 16–March 30 – SAG Award voting period
Feb. 26 – American Film Institute (AFI) Awards ceremony
Feb. 28 – 78th annual Golden Globe Awards ceremony
March 2021
March 3 – Annie Award nominations announcement
March 5–10 – Academy Award nominating period
March 7 – 26th annual Critics' Choice Awards ceremony
March 8 – Producers Guild of America Awards film and TV nominations announcement
March 8–9 – Directors Guild of America Award film and TV nominations announcements
March 9 – BAFTA Film Award nominations announcement
March 15 – Academy Award nominations announcement
March 21 – 73rd annual WGA Awards ceremony
March 24 – 32nd annual PGA Awards
April 2021
April 4 – 27th annual SAG Awards ceremony
April 10 – 73rd annual DGA Awards ceremony
April 11 – 74th annual BAFTA Film Awards ceremony
April 15 – 36th annual Artios Awards
April 15–20 – Academy Award voting period
April 16 – 48th annual Annie Awards ceremony
April 22 – 36th annual Film Independent Spirit Awards ceremony
April 25 – 93rd annual Academy Awards ceremony
This calendar has been updated as of Jan. 21, 2021. Please check back for updates.
Looking for remote work? Backstage has got you covered! Click here for auditions you can do from home!