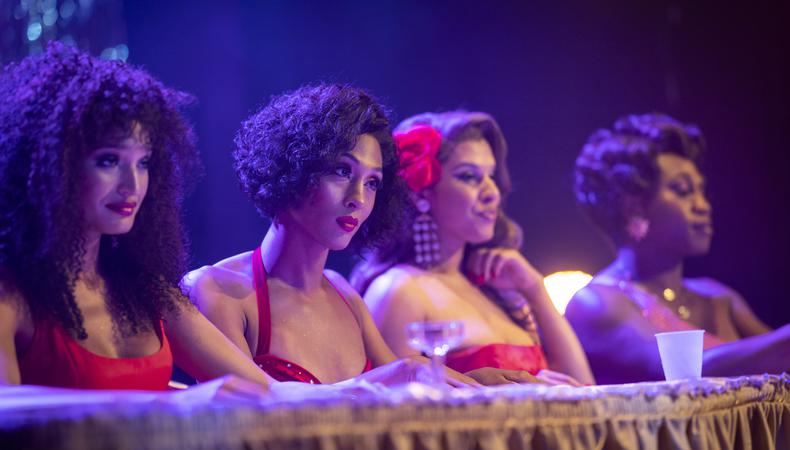 Want the inside scoop on all things awards? Welcome to Letter From the Awards Editor, our series in which Backstage's Jack Smart takes a look at the latest film and television news, industry trends, and awards projections that matter to today's working actor.
Dear Backstage reader,
A few weeks or months ago (what is time and how is it almost September??), the Television Academy made a slight adjustment to rules pertaining to the still-happening-amid-global-pandemic Emmy Awards. The number of nominees in an Emmys category can now be increased depending on the number of submissions. The Academy's statement suggests the purpose of this shift was twofold: to accommodate the sheer amount of small-screen content in this Golden Age of TV, and "to allow for more inclusiveness in the recognition of excellence."
"The increase in submissions is a reflection of the number of new voices, new television platforms and a tremendous growth in content from existing platforms across our industry," said Frank Scherma, Television Academy chairman and CEO.
Ask various industry insiders whether the 2020 Emmy nominations succeeded in reflecting "new voices, new television platforms," and you'll get various answers. A third of this year's acting nominees are Black, and women made headway as 36% of the writing and directing categories, per the Los Angeles Times. New platforms Quibi and Disney+ broke through, while cable networks like TNT, OWN, and Showtime continue to be ignored. As with most trends when it comes to media that reflects and caters to a diverse audience, the main takeaway of the 2020 Emmy nominations is that in the long run, progress is underway. Baby steps are to be celebrated! But how much further could we go? What does inclusivity in entertainment and its awards really mean, anyway?
I did, in fact, ask Backstage team members to weigh in. Editor-in-Chief Briana Rodriguez noted a glaring omission for which the Emmys have been criticized before: a lack of recognition for Latinx talent and stories. "The rising tide doesn't seem to be lifting all boats when it comes to repping people of color at awards shows, especially in major categories," she told me. "While I personally am so, so thrilled so see Black actors doing awesome work getting all the love they deserve, I hope more attention is paid to all the brilliant nonwhite creators who choose not to orient themselves around white stories. Specifically speaking on acting categories, I mean, thank God for Sandra Oh, because beyond her the Asian representation is also pretty dismal."
It's a sentiment echoed in one of Gloria Calderón Kellett's tweets reacting to the nominations. Quoting an op-ed from Entertainment Weekly's Rosy Cordero calling for more Latinx representation in TV, the showrunner of "One Day at a Time" and executive producer of "Jane the Virgin" said, "I didn't used to care about award shows until I realized that they are commercials for dominant culture. In trying to change the conversation, they are important in impacting pop culture through honest representation to make a more equitable world. The playing field is not even."
Series that put polylithic Latinx stories in the foreground, including the excellent "Vida," "Los Espookys," "On My Block," "Gentefied," and "One Day at a Time," failed to register with Emmy nominators, and not for the first time. What's infuriating about the latter show in particular isn't just the exclusion of living legend Rita Moreno, the first ever Latinx woman to win an acting Emmy statue; it's that "One Day at a Time" did merit recognition—one nomination, for Cheryl Campsmith's multi-camera editing. It's proof that the Television Academy at least appreciates that show...just not enough to consider it a major contender.
The same goes for FX's "Pose," which last year notched a best drama series nod and a win for Billy Porter. Hailed as both a critical hit and a trailblazer of LGBTQ representation, "Pose" has yet to earn Emmy recognition for its Black and Latinx transgender stars. As your humble awards editor, I recognize these issues are tricky to talk about, and want to be clear that questioning the Academy's recognition of only the series' cisgendered leading man isn't detracting from Porter's deserving win; given Hollywood's scarcity of in-depth stories about the transgender experience, it's telling that his co-stars MJ Rodriguez and Indya Moore aren't also considered Emmy frontrunners.
In terms of the Emmys (or, frankly, any awards voting body!) honoring trans talent, the obvious symbol of progress is the great Laverne Cox. Receiving her fourth nomination for "Orange Is the New Black," the first-ever trans performer with a Primetime Emmy nod took to social media to celebrate the second: Rain Valdez, nominated in the short form category for "Razor Tongue." Sidenote: Cox's Netflix documentary "Disclosure" does a superb job highlighting the importance of representation in media, particularly trans stories. Emmy voters looking to make good on their promise of recognizing new voices could stand to hear this point from actor Jen Richards: "There is a one-word solution to almost all the problems in trans media: we just need more. And that way, the occasional clumsy representation wouldn't matter as much because it wouldn't be all that there is."
But any discussion of representation, of which stories appear in which media and for whom, needs to encompass more than just the faces seen. Backstage senior staff writer Casey Mink put it succinctly: "Just because acting nominations and awards are the most visible, behind-the-camera diversity is just as, if not more, crucial for moving the needle in a real way."
If you're looking to really quantify inclusivity in media and advocate for progress, look to those who decide what to include. To go even further, look to the real gatekeepers, the network and studio heads greenlighting content in the first place. As Casey also pointed out, actors are generally not the people making decisions about creating and distributing diverse stories. "They think that putting Black actors in front of the camera or onstage will distract us from the fact that there are no writers or directors or producers or casting directors of color and guess what? Those are the people who have actual power."
Half of all actors nominated for major awards are women because awards shows are typically designed with binary categories (another factor, by the way, that the Emmys and others could consider rethinking). The more telling metric is, how many of the writing, directing, and other technical nominees are women? When it's less than half, that means that many of the female acting nominees are being recognized for playing characters conceived of and framed by men. Credit where it's due: the Emmys have fared much better in this area than, for example, the Oscars, with their 91 male director winners in 92 years.
There's another way to expand this conversation, one that obviously exceeds the meager confines of this letter. Stories featuring characters of various races, nationalities, genders, sexual orientations, and abilities are of course worthy indicators of that Hollywood buzzword, "diversity." But what about genre, or even subject matter? When it comes to the Emmys, which must consider more content than any other awards body, isn't a variety of audiences and platforms important to highlight in an age where everyone is consuming endless content differently?
"Lena Waithe's BET show 'Twenties' was really one of my favorite things I've seen this year," Senior editor Elyse Roth told me. "But those kinds of cable networks never get any sort of attention because of whatever—bias, financial reasons, etc." The CW, generally not considered a contender for TV's highest honors, "has done more for representation overall than almost any other network. Sure, their programming isn't 'prestige' as we've come to know it, but Greg Berlanti has not shied away from putting all manner of people on camera."
That is the point that my fellow Backstagers and I are ultimately making: the definition of award-worthy entertainment needs to expand, beyond the status quo of straight, cisgendered, white, and male, and also beyond what we consider prestigious. Again, I'm not saying the definition isn't expanding; I'm applauding Cox and Porter and that single, glorious editing nod for "One Day at a Time." But for awards, Kellett's "commercials of dominant culture," to truly reflect what the world we live in actually looks like, we have to keep pulling pieces into the diversity puzzle.
What we deserve is representation of the vast array of human experience; great TV should reflect its audiences, matching, or better yet expanding, their tastes. If the Emmys want to maintain their reputation as the gold standard of those tastes, they need to advance with more than baby steps.
Sincerely,
Jack