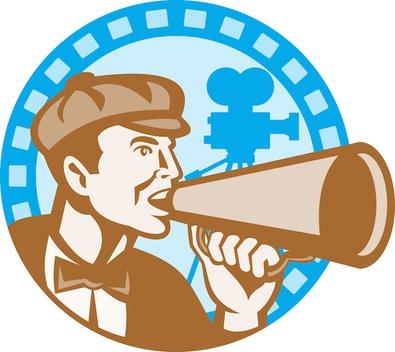 Do you know your way around the actors' alphabet? Here are 10 common (and important) abbreviations you'll hear on set, on stage, and behind the scenes.
AD (Assistant Director)
It means "Assistant Director" in both film and theater speak, but the AD's role varies greatly according to the medium.
In theater, the AD lends a second pair of hands (and eyes) to the director during development and rehearsals. He or she may run understudy or "put-in" rehearsals, and stays with the production after it's opened, when the director moves on to other projects.
"Henry keeps changing his blocking—I hope the AD talks to him about it after tomorrow's performance."
On a film or in television, the AD's role is very different—you may interact with the AD more often than the director! The 1st AD creates and maintains a strict schedule, coordinates blocking rehearsals, collaborates with department heads, and communicates important commands (i.e. "rolling!") to everyone on set. Actors also get to know the 1st AD's second in command, or 2nd AD, who (among many other things), is charged with managing talent and placing them where they need to be (hair and makeup, wardrobe, lunch, etc.) throughout the day.
"That AD is a powerhouse! She just ran an outdoor shoot with 300 extras and an explosion—and we're still all totally on schedule."
ADR (Automated Dialogue Replacement)
Film and television actors are asked to attend ADR sessions weeks (or months) after they've wrapped a project, when the original audio is (for one reason or another) unusable. Actors are tasked with recording new audio to match the visual of their original performance; sessions are generally held in a booth or on a sound stage while the original footage plays on a screen.
"There was so much wind the day we shot, we're gonna end up spending hours in ADR."
AEA (Actors Equity Association)
OK, this one's a gimme. AEA stands for Actors Equity Association, the union representing theater actors and stage managers across the United States.
"That project is accepting submissions from AEA members and non-union."
CD (Casting Director)
The all-important casting director is the go-between for agents and managers, actors and creative teams, as well as producers, artistic directors, and (at the highest level) network and studio heads in film, television, and theater. Reading for a CD is generally the first step in any audition process; these busy professionals are in charge of lining up the puzzle pieces that ultimately make up a cast.
"I've been trying to get in front of that CD for months—she's working on so many projects I'm right for!"
ECC (Equity Chorus Call)
The ECC, or Equity Chorus Call, is a close cousin to the EPA (see below). While EPAs seek leading and supporting roles in musicals and straight plays—and generally consist of sides, a monologue, or a song—ECCs are the required auditions for chorus singers and dancers and follow very different procedures.
"I have six pairs of shoes in my backpack because I went to an ECC and two EPAs before work…"
EMC (Equity Membership Candidate)
The Equity Membership Candidate program allows actors and stage managers to accrue points towards the ultimate goal of AEA membership. Once in the program, EMCs earn one point for every week worked at a qualifying theater; After 50 points, candidates are officially eligible to join the union.
"If I get this summer contract I'll earn 10 EMC points!"
EPA (Equity Principal Audition)
If you follow Backstage casting notices then you've seen this term thrown around. Equity Principal Auditions are required open calls that for AEA members, allowing them to be seen (on a first-come-first-served basis) for Equity projects. EMC and non-union actors can be seen at EPAs as well, though first priority is given to members.
"I got to that EPA at 7 a.m. and there were already 46 people in line!"
PA (Production Assistant)
PA's roles can vary greatly from project to project, but they are generally hard-working members of a film, television, or commercial shoot who are tasked with various production-related responsibilities and who report to the project's AD.
"A PA just stopped by my trailer to give me my contract."
SAG-AFTRA (Screen Actors Guild-American Federation of Television and Radio Artists)
The Screen Actors Guild merged with the American Federation of Television and Radio Artists in 2012, creating one all-encompassing union for film, television, and radio performers.
"I just booked another commercial—now I'm a SAG-AFTRA must-join!"
SM (Stage Manager)
The stage manager's role may overlap with the AD's in certain theatrical productions; they are liaisons between actors and crew. The SM assists with blocking, manages schedules (and more) during rehearsals, and leads the transition from studio to stage during tech. Once a show has opened, the SM team runs day-to-day operations including calling the show, running the wings, and making sure the design elements and performances are kept in line with the director's vision.
"If I forget to sign in again, the SM is going to kill me!"
Inspired by this post? Check out our audition listings!