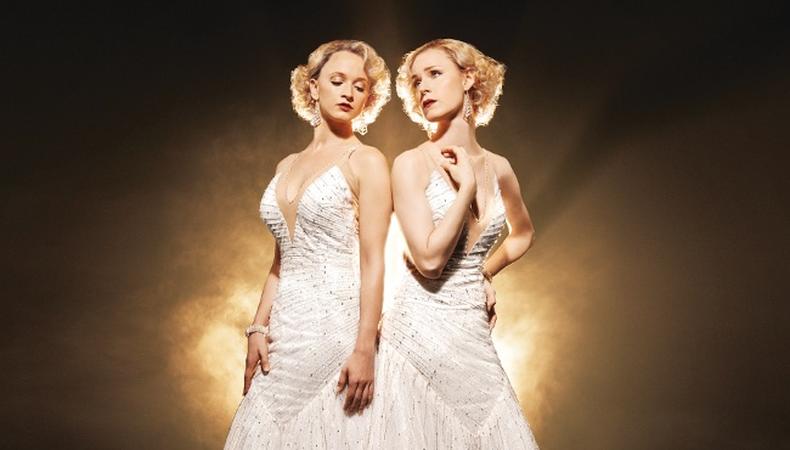 Telling Erin Davie's and Emily Padgett's voices apart is difficult. Given their starring roles as conjoined twins Violet and Daisy Hilton in Broadway's upcoming revised incarnation of the cult favorite musical "Side Show" (opening Nov. 17), that's probably a good thing.
"I think it's exciting that the show is already so loved," says Davie, who plays Violet. "I feel like we're coming in and we're already kind of accepted and loved by the community, and people are so excited to see it."
"We're happy to bring this show back because it was such a short-lived run the first time," adds Padgett. "I'm excited that we get a second chance and that Erin and I get to be a part of it. There aren't a lot of roles out there that two women get to stand side by side and be there together."
Standing side by side is of course a key component for roles that in 1998 earned original Broadway leads Alice Ripley and Emily Skinner the first-ever joint Tony nomination for best actress in a musical. Based on a real-life sideshow act in the vaudeville era, Bill Russell and Henry Krieger's beloved musical envisions the Hilton sisters as devoted but dissimilar friends, confronting and embracing the complicated reality of their circumstances.
For Davie and Padgett, that means a distinctly cooperative approach to their characters' development. "Everyone has a different way of learning the material," says Padgett. "But we're learning it together, so everything is a compromise." Other than a few brief moments, the sisters remain connected at the hip every time they appear together onstage, so intimate collaboration becomes crucial. "I always check in with Erin and she always checks in with me and says, 'What do you think about this?' "
The most crucial step to portraying these conjoined characters, of course, is casting. Davie, who participated in a reading of the show with director Bill Condon six years ago, was thrilled to learn he still wanted her to play Violet. "He said he was going to do his best to find somebody to be a twin with me," she says. "Luckily, we found Emily."
"We had to bring in shoes with different heel heights," remembers Padgett of her audition. "And we all had to wear red lipstick."
Under Condon's direction, the cast was required to invent specific backstories for their characters—as well as their relationships with every other member of the sideshow—both during the production's initial run at La Jolla Playhouse and later at the Kennedy Center in Washington, D.C. "That's always a really fun day, because then everybody's on the same page and we all get a sense of who these people are," says Davie. Condon's detail-oriented approach, says Padgett, enables the large ensemble to take risks as a cohesive team. "He'll let us try some things and then say, 'I don't think that was it, but good try!' "
In an intricately dazzling ensemble musical like "Side Show," cohesion is as important as creativity, especially for Davie and Padgett, who will grace the Broadway stage—hip connector firmly in place—beginning Oct. 28.
Want more Broadway? Check out "10 Must-See Upcoming Broadway Shows."