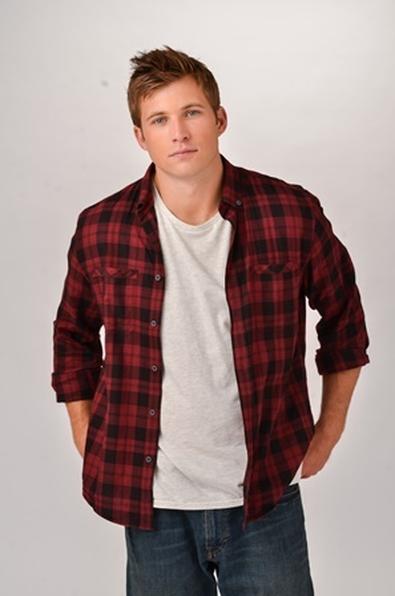 Justin Deeley is comfortable in his craft, whether he's playing Paul, an angel on "Drop Dead Diva," or Kevin, the gay football star in "Geography Club." Deeley began his career as a model. "Listen, if you can model in your underwear, you can do anything," he says. Although he is focused on his film and television career now, people still comment to him that there are a lot of pictures of him in his underwear online. "I usually just say 'You're welcome,' but it taught me a lot," he says.
Ironically, when his manager gave him the "Geography Club" script. Deeley recognized it from a reading he'd done a few years before. He'd met Gary Entin, the director of the movie, on the first film he did in L.A. and they became friends. Early on in the development process, Gary and Edmund Entin had a reading of the script to get feedback, and Deeley, as a friend, read one of the mean football players for notes. So when he received the script from his manager, Deeley was immediately excited. "Right away it was just something that I was hopeful that I would have an opportunity to be a part of," he says. "It's the work I'm most proud of at this point in my career."
Deeley dishes on "Geography Club," which hits theaters Nov. 15; "Drop Dead Diva"; and what he's learned about acting.
Blend with the character.
"For me, it's just about getting to know the character as well as you know yourself until he becomes you," says Deeley, who was drawn to the similarities to himself in Kevin. "Justin and Kevin are one and the same to me. The biggest difference between me and Kevin is the sexuality aspect of it, because I'm straight." Deeley says that it was a challenge to understand what harboring a secret like Kevin's would be like. The character's loving supportive family, and especially his love of football came naturally to Deeley. "I had some success as a football player in high school and was recruited to play in college," he says, noting that at 17 all he wanted to do was play in the NFL. "That was Kevin, but Kevin had this big weight on his shoulders and he thought that a football player is not supposed to be gay." So Deeley worked to understand where Kevin was coming from and how that would feel. "It just was an eye opener to me on how difficult it can be," he says. "Especially when you have this stigma that society says you're a star football player so you're supposed to have all the girls."
Research until you're comfortable.
Deeley likes to research the character and situation as much as possible in advance so he can just show up on set and do the work. "I just did as much research as I could as far as the aspect of dealing with homosexuality and coming out," he says. "The biggest help for me is I have a close friend who was kind enough to share his story with me," he says. In general, when preparing for a role, Deeley dives into the research if he doesn't feel he's educated on a topic. "You just kind of educate yourself as much as you can about everything that character is going through," he says.
Let others help.
The comedy in "Drop Dead Diva" appealed to Deeley since he hadn't really been able to do that previously in his career. "Playing comedy roles are so much fun because the sky's the limit. And then being able to work with Brooke Elliot, who's so great with comedy—she's great with everything I think but at comedy she was super helpful in the physicality of it," he says.
Learn from everything you do.
Although acting has always been Deeley's goal, modeling helped him land an agent and get his acting career started. "Modeling paid the bills and you learn a lot," he says. Deeley says he learned to work with the camera and tell stories with his eyes. "I worked with some great photographers who have worked all around the world and who taught me a lot about what it means to be in front of a camera, what your presence means, what your attitude means, and how you carry yourself. That all translates to acting," he says.
Have patience.
Deeley received a great piece of advice from one of his favorite country singers, Eric Church, who said something in an interview that changed Deeley's perspective. "He said 'The best times I've ever had was when I was a struggling musician working in bars and just working for tips. That's when you really learn about who you are,' " Deeley says. He took those words to heart and tries to remember them. "Because sometimes you get caught up in it. You find a role and you want something now, now, now," he adds. Deeley says he learned on "90210" that everything ends. "No matter how great it seems and it seems like you've gotten to the place where things are going to change for you, well that's not the case," he says. So he focuses on the process of making film and television. "I just tried to enjoy the process of making ['Geography Club'] with these wonderful people and having the patience to allow myself the awareness of what's going on around me," he says.
Get good.
Deeley picked up another great piece of advice from a Hollywood Reporter interview with Jeff Daniels, whom Deeley loves. "I love 'The Newsroom,' and Jeff Daniels is like one of my favorite actors, and he gave a piece of advice that I think is amazing. He said 'Go get good.' This is what I remember now any time that I'm not working on anything," says Deeley. "Because there's so much to learn about acting that there's no way you ever have it. Even Meryl Streep continues learning things, and Daniel Day Lewis. Just learning about yourself and being able to apply that to characters—I think that's where the fun of it is. Go study and work as hard as you can and let everything else that you can't control take care of itself," he says.
Inspired by this post? Check out our film audition listings!