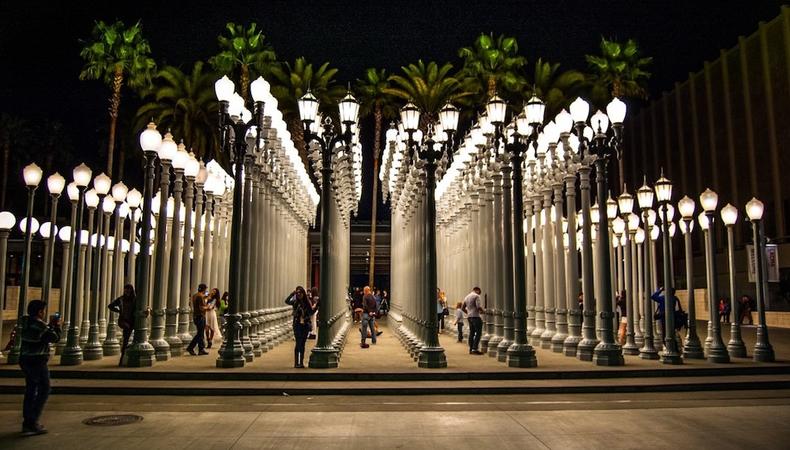 "Affordable" and "Los Angeles" may sound oxymoronic, particularly if you're reading this as a person who lives outside of L.A. or the country's other major cities. It is true that, relative to the rest of the U.S., L.A. is pretty pricey. However, there is some major price-point disparity from neighborhood to neighborhood when it comes to housing.
But whether you're an actor currently living in the City of Angels or a prospective Angelino looking to make the move, there's a lot to consider when choosing which neighborhood to make your own, including affordability, cultural and culinary offerings, and beyond. Below, we present six of L.A.'s best neighborhoods for the working actor, so you can save your energy for audition preparation (and finding parking).

Los Feliz
Though it's a bit on the nose, it's also no surprise that "feliz" translates to "happy." Los Feliz (pronounced "fee-liss") is somewhat of a unicorn neighborhood in L.A. in that it's one of the few areas of the city best traveled on foot. (Does that do anything for you, New Yorker reading this, contemplating moving west?). Featuring a bevvy of dive bars, movie houses, and independent book and clothing stores to patronize, the true-blue neighborhood is also a short distance from both Hollywood and the Valley—places where you'll likely have to travel frequently for auditions and other meetings—giving you easy access to L.A.'s heavy-traffic destinations without actually dealing with the everyday heavy traffic.
Median one-bedroom rental price: $1,895
Silver Lake
Whenever anything is described as the "hippest" anything, it's often a tell-tale sign that in fact, it is not. However, we use the descriptor with caution here as Silver Lake really may be L.A.'s most yuppie-averse spot these days. With its copious independently-owned cafes and stores, it'll be no challenge to fill your days when work is light. You can also find affordable and diverse dining options throughout the area, including Cafe Stella for French bistro-style eats, and Pine & Crane for authentic Taiwanese cuisine. Of course, with youngsters flocking to the 'hood, rental prices are quick to rise, which is why you should consider getting in on the Silver Lake action now before it's out of reach entirely.
Median one-bedroom rental price: $1,950
READ: 8 Ways to Prepare for the Big Move to L.A.
Echo Park
Echo Park remains just funky enough to keep tourists and hoity-toity Hollywood folk out, while still being entirely accessible to artistic Angelinos looking for a plethora of culture within walking distance (okay, short-driving distance) from their homes. But what truly may be the most desirable aspect of Echo Park for actors and non-actors alike is not its many top-ranking indie music venues like The Echo, but the dirt-cheap parking available alongside them. Median one-bedroom rental price: $1,820
Highland Park
It wasn't that long ago that Highland Park was known for rundown car repair shops and not much else. But in recent years, the neighborhood has become a burgeoning go-to 'hood for cool bars, cool shopping, and cool art galleries—its Second Saturday Gallery Night each month, in fact, has become a must-attend event for art-lovers. Through its meteoric rise to hipness, the area has also managed to maintain a neighborhood feel and, yes, affordable-by-comparison rental options for the actor on a budget.
Median one-bedroom rental price: $1,650
READ: Here's How to Get a Completely Free Workout in L.A.
Eagle Rock
Eagle Rock is probably the most under-the-radar neighborhood on this list, a qualifier which alone has appeal. "Eclectic" is the signifying noun for the spot, home to young bohemians as well as many longtime residents and families, too. The area has plenty of scrumptious dining and drinking options, but it also boasts one of L.A.'s finest lineups of antique stores, for both home goods and outfitting, which is of use to any thrifty working actor. Finally, Eagle Rock is also just west of both Silver Lake and Highland Park, so you can essentially enjoy the best of all three enclaves at once.
Median one-bedroom rental price: $1,800
West Hollywood
From the least-known to the best-known neighborhood on this list, we're hardly breaking ground in discussing the virtues of WeHo. Its cultural offerings alone—from museums (yes, please, LACMA) to movie theaters to music venues—are enough to make any actor salivate. And while West Hollywood is certainly home to a more reserved type of resident compared to some of the aforementioned hipster-prone spots, you'll barely mind as you enjoy its many iconic (and affordable) attractions, like the Tar Pits in Hancock Park or live music at the Roxy. Your rental prices will rank higher than others on this list, but for the hustling actor who wants to have it all, West Hollywood might be worth makin' it work.
Median one-bedroom rental price: $2,300
Book yourself a new gig to go along with your new digs! Check out Backstage's Los Angeles audition listings!