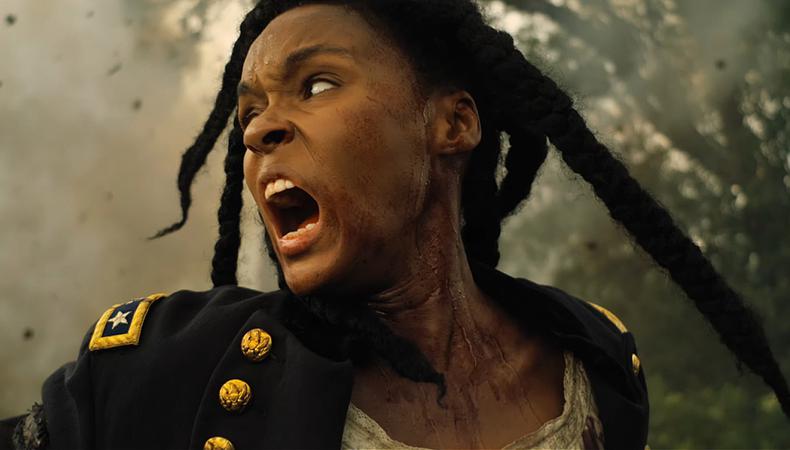 "Life imitates art far more than art imitates life," Oscar Wilde wrote in his 1889 essay "The Decay of Lying." Over the last couple years, a canon of Black horror films including "Get Out," "Us," and most recently, the HBO series "Lovecraft Country," have validated Wilde's sentiment—and it was top of mind for filmmakers Gerard Bush and Christopher Renz; their "Antebellum," an exposé on the legacy of American slavery, is a psychothriller that marries the Antebellum era with the present through all sorts of sick twists and turns.
The duo, who launched their careers working in fashion and on luxury advertising campaigns for brands like Vogue, Harry Winston, and Porsche, began focusing on social justice after the 2012 murder of Trayvon Martin. "Antebellum" is a culmination of that work to date. The film was originally slated for release in April, but was postponed due to the Coronavirus pandemic. Its new Sept. 18th release, in tandem with the Black Lives Matter protests that have been surging around the world since the spring, make the film's premiere all the more hauntingly relevant.
READ: Miranda July on Why There Is No Wrong Way to Make a Movie
"Antebellum" depicts Veronica Henley, portrayed by Janelle Monáe, a successful Black author and entrepreneur who finds herself in the deadly throes of American racism. "We never imagined Janelle in the role, frankly," Bush says. "We've worked with musicians in the past. We've worked with Normani, Jay-Z, and a lot of artists in a lot of avante garde visuals. So for us, we were thinking that we wanted an actor who would be able to embody the character of Veronica Henley without that persona superseding the character itself."
Ultimately, however, it was Monáe's musician persona that helped make clear to the filmmakers that she had to be their leading lady. "We saw her at the Grammys looking up as someone was giving a speech, and it was this stoic expression of a person that was doing the best to camouflage a furnace burning deep inside of them," Renz recalls. "And that's Veronica Henley."
Along with Monáe, the ensemble is rounded out by Jena Malone, Gabourey Sidibe, Jack Huston, and Kiersey Clemons, among others, all of whom were hand-selected by the team. As they explain, even the proverbial bad guys had to be compelling to watch.
"Jack Huston was fantastic, the way that he embodied that character in such a terrifying way," Renz says of the Confederate-loving character. "And Jena Malone, [who] was the ultimate villain in this movie, she really had no redeeming qualities at all. We definitely wanted to show the contrast between Jena Malone and what she was teaching her daughter versus Janelle's character and what she was teaching her daughter."
The initial idea for the project, Bush admits, grew out of a personal nightmare that he then decided to turn into a short story. Later, in 2018, he and Renz started to reimagine and work on the script as a feature-length film. "When we first started developing the short story, what we found most interesting about it was the performative [nature] of people who are neutral or who claim not to be racist," Bush says, "but the true essence of who they are is incredibly racist, and that for us was a fascinating place to explore."
READ: Think You Know How to Act in Film? Think Again
Just as Trump's America has revealed "undercover" racists and the realities of systemic injustice, the filmmakers use "Antebellum" as a means to go beneath the guise of Southern charm, or "well-meaning" white people.
"What I would like for us to understand is that the scaffolding of this country is not sound and [won't be] until we dare to go back and rebuild and create a foundation that is on equity, rather than this foundation that is built on sand that is destined to fall," Bush says. "I think that it is incredibly important for us to confront this issue, so I would hope that people would look at the movie and say to themselves, There is an urgency to this moment, and I don't think there is the possibility any longer for us to go in reverse and try to fix it and try to recalibrate. I think that we have to get to a place of dismantling and building."
Looking for remote work? Backstage has got you covered! Click here for auditions you can do from home!