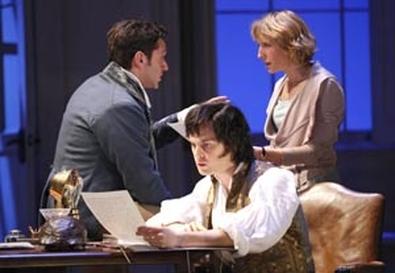 Tom Stoppard's eloquent play "Arcadia" operates much like the iterated algorithm graphs of which it speaks. Individual dots randomly appear, until gradually a shape (e.g., meaning) is revealed. Further, these dots often appear due to understated moments or quiet subtextual inferences.

This means that to be successful, the play must be performed with the nuance and precision of a finely conducted piece of orchestral music. Unfortunately, despite several topflight turns, director David Leveaux's production is just fuzzy enough to keep us out of "Arcadia."

The twin plots involve events in the English Coverly clan's country house from 1809 to 1813 and an attempt by two present-day scholars to reconstruct those events, with the help of some Coverly descendants. In the present, pompous Byron specialist Bernard Nightingale is convinced that the celebrated poet fought a duel over a woman there and killed her husband.

Historical-gardens expert Hannah Jarvis, who is studying the manor's former topography, is equally convinced that Nightingale's story is "bollocks." Oxford graduate student Valentine Coverly, a mathematics whiz, has a thing for Hannah, as does his younger brother, the teenage Gus, who doesn't speak. Their sister, Chloë, goes for Bernard.

In the past, poet Septimus Hodge, a school chum of Lord Byron's, is tutor to 13-year-old Thomasina Coverly, a mathematical genius who discovers such concepts as those algorithms and the second law of thermodynamics, though she lacks the tools to prove them. It's actually Hodge who gets frisky with minor poet Ezra Chater's wife and is challenged to that duel.

As we watch the contemporary characters making understandable assumptions that lead them further and further from what really happened, we come to appreciate how fragile truth is and how compromised our understanding of the past may be. In the connections between Thomasina and Valentine, Stoppard illustrates his thesis that no human achievement is irretrievably lost. Ultimately, as Hannah remarks, everything we do is "trivial…. It's wanting to know that makes us matter."

Leveaux's staging was done first in London, and it shows in the assured performances of the three cast holdovers. Tom Riley is a dashing and unflappable Septimus, equal parts withering wit and full-blooded sensuality while possessing an honest and open heart. He also shares great chemistry with Bel Powley, who is Thomasina. The radiant Powley burrows to the core of Stoppard's "uncomplicated girl," emphasizing her directness and fearlessness. In the present, Lia Williams dominates as the caustic, controlled, overachieving Hannah, who sublimates her depth of feeling to a determined rationality.

The American newcomers, alas, never feel entirely English or fully integrated into the production. Faring best is Billy Crudup, who knows his way around the play, having played Septimus in its 1995 American premiere. Still, his Bernard, though undeniably entertaining, is a bit too broad of a pompous ass. As Valentine, Raúl Esparza is commendably still and subtle, but his accent falters and he never finds the longing at the character's center.

Grace Gummer can't get past the surface of the giddy Chloë, David Turner's Chater is too subdued, and while Noah Robbins is affecting as the nonspeaking Gus, his Augustus Coverly, Thomasina's bratty brother, is too obvious. As Lady Croom, mistress of the Coverly house in the 1800s, Margaret Colin projects the proper intelligence and tossed-off hauteur but lacks spine.

Set designer Hildegard Bechtler's off-white, monochromatic box of a room is probably meant to suggest timelessness, but it's just bland, and all the hard surfaces may be partly to blame for David Van Tieghem's occasionally muddy sound design. The set also undercuts Gregory Gale's attractively muted costumes.

If you've never seen "Arcadia," by all means go. It may be Stoppard's best play, and even an indistinct production can't subdue its poignancy and wisdom.

Presented by Sonia Friedman Productions, Roger Berlind, Stephanie P. McClelland, Scott M. Delman, Nicholas Quinn Rosenkranz, Disney Theatrical Group, Robert G. Bartner, Olympus Theatricals, and Douglas Smith, in association with Janine Safer Whitney, at the Ethel Barrymore Theatre, 243 W. 47th St., NYC. March 17–June 19. Tue. and Thu., 7 p.m.; Wed., Fri., and Sat., 8 p.m.; Wed. and Sat., 2 p.m.; Sun., 3 p.m. (212) 239-6200, (800) 432-7250, or www.telecharge.com. Casting by Jim Carnahan.