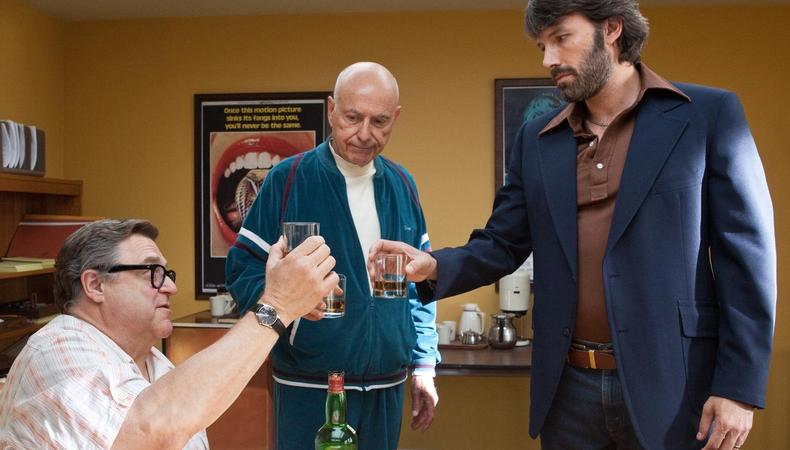 Just a casual glance at the credits of "Argo" confirms that casting it was a big job. Though director-star Ben Affleck reached out to the likes of Alan Arkin and John Goodman for roles, there were still many smaller parts for casting director Lora Kennedy to fill. "I must have seen 3,000 people, all told," Kennedy says. "The process was very long, but with Ben it's fun and collaborative." And ongoing: Kennedy says that she cast one actor on the last day of shooting.
The true but little-known tale of a rescue mission during the 1979 Iranian hostage crisis brought a specific set of challenges. According to Kennedy, "There were about 130 people in the movie, and a lot of them were similar." For example, she needed about "40 or 50 Caucasian men between 35 and 65, and I needed them to all look individual yet be part of a group. That was difficult."
Then there were all those Iranian roles. Kennedy put out a breakdown ("there's a very large Iranian community in Los Angeles"), but she also went the extra mile. She is friendly with prominent Iranian actor Shohreh Aghdashloo, of "The House of Sand and Fog," and Kennedy says she "went to her house and kissed the ring." Aghdashloo provided "a bunch of people she knew," including her husband, Houshang Touzie, an actor who founded the Los Angeles theater company Workshop '79. Touzie wound up with one scene, as the deputy minister of Islamic guidance, and is "really, really good," Kennedy says.
There was also the problem of finding actors who could speak authentic Tehrani Farsi. "Ben really wanted people who spoke Farsi as a first language," says Kennedy, "and Farsi that was learned in Tehran." Kennedy didn't have the ear to discern that, so she had Aghdashloo and Touzie's daughter, a student at Chapman Film School in Orange County, run the camera for auditions. "She was my Farsi spy," says Kennedy. "She would look at me and say yes or no."
Though many of the characters are based on real people, Kennedy wasn't concerned with physical resemblances. "We went with the best reads," she says. Still, a funny thing happened. She had the "little embassy ID cards" of the six American diplomatic workers blown up and posted on a bulletin board. She and Affleck would put up the headshots of actors being considered for the roles as well. When they had their actors, only their pictures were left. Says Kennedy, "We were like, 'Oh, my God! They actually look just like them.' I don't know if it was a subconscious thing or what."
Casting Director: Lora Kennedy
Director: Ben Affleck
Writer: Chris Terrio, based on an article by Joshuah Bearman
Starring: Ben Affleck, Bryan Cranston, Alan Arkin, John Goodman, Victor Garber, Tate Donovan, Clea DuVall, Scoot McNairy, Rory Cochrane, Christopher Denham, Kerry Bishé, Kyle Chandler, Chris Messina
The Pitch: In 1979 Tehran, six Americans escape to the official residence of the Canadian ambassador when revolutionary Iranians overtake the U.S. Embassy. The CIA, ordered to get them safely home, devises a phony film project to cloak the mission.