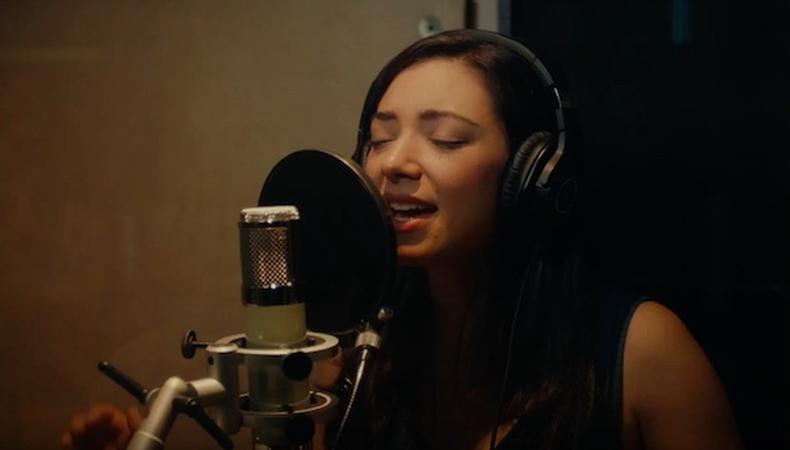 When I was a child, Ella Fitzgerald sang me to sleep. My father would be listening to her—or to any number of the jazz greats—on his stereo in the other room, and I would cozily drift off to dreamland nestled in the arms of the Great American Songbook. During the day, I would regale friends and family with my own renditions of these tunes, most notably re-dubbing Cole Porter's classic "I Love Paris" as my young ears heard it: "I Love Carrots."
So it's perhaps not surprising, now that I'm a grown-up who (usually) sings the correct Cole Porter lyrics, that I would return to these musical roots when creating my own album. I wanted to shape my record in the sonic tradition of radiant singers like Ella, whose timeless, sophisticated music still feels as relevant and fresh as ever.
But no one was going to do it for me. It's no secret that the music industry's economic paradigm has shifted drastically within the past decade and record deals with labels are now as scarce as cassette tapes. (Remember those?) As a result, all of the production elements—financing, musician contracting, engineer/studio appraisal and booking, song licensing, scheduling, promotional materials creation, ordering physical copies, branding, and more—falls to the artist aka me. But this was also a gift. Since I wasn't beholden to a label or big-league producer, I was able to generate exactly the kind of product I wanted without adhering to someone else's idea of what I "should" do. And now that the record is finished and out in the world, I retain full ownership of the master recording, whereas with a label I most likely would not.
Although the process of independently releasing my own record could sometimes be overwhelming, I discovered that the skills I use daily as a professional actor prepared me well for the challenge. Just as I approach acting with preparation and a spirit of collaboration, I worked at length with my co-producer and arranger, Jason Yeager, in both rehearsal and performance settings to refine our arrangements before heading into the studio. I hired musicians and engineers who not only possessed technical mastery but who also cultivated a harmonious atmosphere during our recording sessions.
Likewise, the organizational skills I've honed as an actor (detail orientation, time management, etc.) provided me with a strong groundwork when it came to managing the many behind-the-scenes aspects of music production. Establishing a timeline, writing album copy, reviewing artwork, constructing an electronic press kit, scrutinizing every moment of audio during multiple rounds of mixing and mastering—none of this seemed so daunting as, for instance, the time I learned and performed eight different tracks in a Broadway musical.
What's more, the final stages of producing one's album can now be a fairly straightforward endeavor with the help of such companies as Harry Fox Agency for obtaining mechanical licenses (necessary for cover songs) and Discmakers/CD Baby for distribution and publishing administration. Even the copyrighting process has become streamlined: the U.S. Copyright Office website now offers online registration for new works with a few easy forms.
In any art form, creating something to be proud of takes a great deal of patience and persistence; my record took over a year to complete. But now that it's done, I can't help but marvel at the idea that somewhere, at this very moment, someone might be playing my song, and strains of the melody might be drifting down the hallway into the next room where, perhaps, they serve to inspire the next generation's "I Love Carrots."
Julie Benko recently performed on Broadway in "Fiddler on the Roof" and "Les Miserables." Her debut album, "Introducing Julie Benko," is now available on iTunes, Amazon, CD Baby, and more. For more information, visit her website at www.JulieBenko.com.
Ready to sing? Check out Backstage's Broadway audition listings!