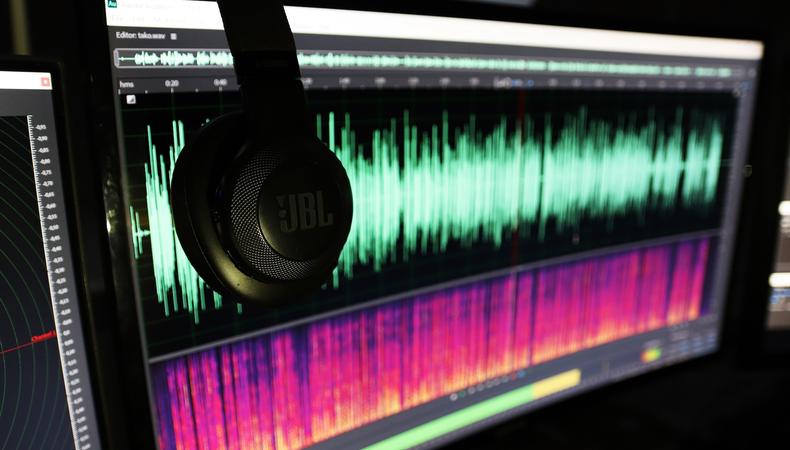 The fact that a voice actor can record their work without ever leaving home can pave the way for a career in voice acting and audio creation. In an ever-growing industry that includes voice work for everything from audiobooks and podcasts to commercials and animation, being familiar with the vast selection of at-home recording software can put you ahead of the game.
Whether you're just beginning to build a career in voice acting and creation or are in need of a recording equipment upgrade, read on for what to consider for your ideal home setup.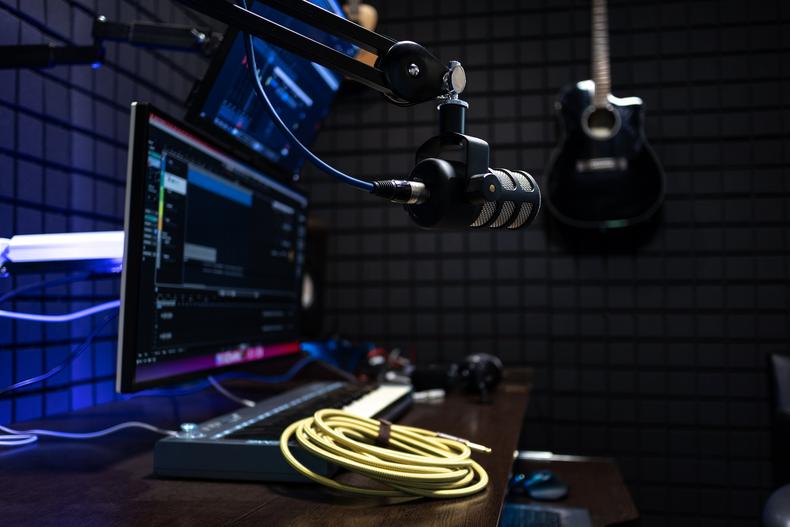 Thinnapob Proongsak/Shutterstock
There are a number of factors to consider when installing vocal acting software as part of your at-home Digital Audio Workstation (DAW). Always opt for the free trial of a new software when you can to avoid paying for a product that ultimately won't work for you.
Cost: There are several reliable zero-subscription services capable of high-quality recording. The tradeoff for that free download can include no telephone or email tech support or "destructive editing" that can be hard to undo. Some free services may hide premium plug-ins or features as a hidden cost.
User-friendliness: You want to be able to seamlessly use the different recording and editing functions of any software. Figure out the learning curve with tutorials and online support via reviews or forums, and determine if you feel it's worth the time investment.
Compatibility: Ensure the software is compatible with your computer—whether Apple or PC—since not all options work on both systems.
Function: Does the software match your needs? Whereas a voiceover might only need a single track, producing a podcast can require multitrack editing tools. You don't want to pay for a program that far exceeds the job you want it to do when free software could be a more viable option.
Sound: Testing how the software sounds in your DAW can determine if it is right for you. Older hardware might struggle to support programs with more capabilities, which could cause the sound quality to suffer due to lagging, freezing, or crashing. You don't want edits to leave sonic artifacts, and editing a track without telltale signs is a must.
Reviews: Ask someone who works in the industry about their software experiences or explore online reviews before you commit. It helps to get insights from people who have used the software for tasks similar to your own.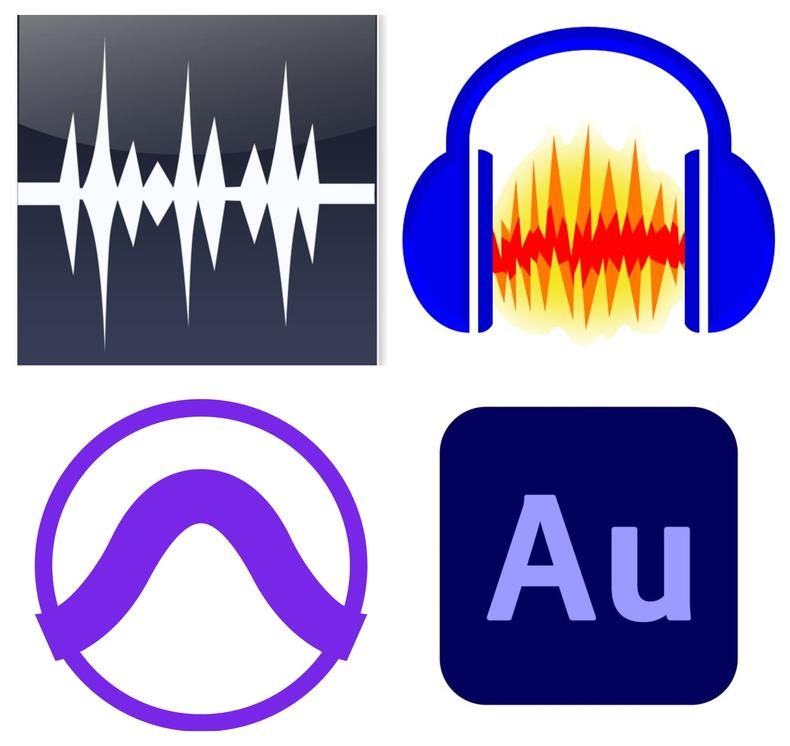 Courtesy Wavepad/Audacity/Pro Tools/Adobe
You have thought about what you need from a vocal recording software, but how do you decide which one to get? Here are five different options for all price ranges.
This free program is one of the most popular on the market and is compatible with macOS, Windows 10, and Linux. The $0 price tag and simple-to-use features make it one of the best overall high-quality voice recording software available for beginners. Although it does have its limitations, it's a great option to test out what voiceover software can do.
Features:
Recording conversion and remastering
Manages multiple recordings and playback devices
Dubs over existing tracks to create layered recordings
Preview LADSPA, LV2, VST, and Audio Unit effects in real time
Pros:
Free to use
Compatible with any operating system
Simple interface
Cut, copy, splice, or mix sounds together
Numerous effects, such as reverb, auto-tune, distortion, and echo
Cons:
Some plug-ins and encoders have to be installed separately
Mixing capabilities are limited
Some bugs can cause it to crash unexpectedly
This go-to professional audio program is an all-encompassing high-end software. Audition is available as part of Adobe's Creative Cloud, so if you're familiar with the Adobe interface, you can benefit from the advanced functionality. However, its complexity means new users might struggle.
Features:
Over 50 effects and analysis tools
Automatic speech alignment
Easy capture of multiple speakers
Pros:
A free trial is available
Single or multitrack editing with adaptive noise reduction to clean the track
A polished mix with pristine sound
Great for podcasting due to its stereo recording capabilities
Cons:
Complicated interface for beginners and new users
Subscription cost (subscription fees start at $20.99 per month for an annual plan, or $31.49 per month for a month-to-month plan)
Launched in 1991, Pro Tools has a rich history that makes it the go-to digital recording solution in professional settings. Masterclass refers to it as the "top-quality recording software used by most recording studios and voice actors," and it is also used by musicians, producers, and engineers.
Features:
Clearly defined tool set and toggleable mixer window
Editing with precision
1GB cloud storage for collaboration and unlimited cloud projects
64-bit recording and mixing
Pros:
Ability to transfer files to other users
Multitrack editing on any audio (and a video option)
Teams can change plug-ins and save presets in real time
The entire interface can be controlled using shortcuts, which adds to its efficiency
Cons:
Different subscription levels can be quite expensive—from $9.99 per month for Pro Tools Artist to $99.99 for Pro Tools Flex. (There is a discount available for students and teachers.)
Complicated for newcomers
This uncomplicated software doesn't require hours of experience and is easy to find. Rather than a monthly subscription, there is a one-off cost and a free trial option.
Features:
Uncomplicated toolbar
Ability to convert file formats
Cleanup and other editing tools such as batch processing and audio restoration are big time savers
Pros:
Very easy to use, regardless of experience
Use directly on your iPhone/iPad using WavePad Audio Editor
Free trial, and then a one-time payment with prices starting from $70
Compatible with macOS, Windows 10, and Linux
Cons:
To record in the multitrack mode, you need to install an extension
This app comes pre-installed on Macs and is a great option for beginners.
Features:
Multitrack editing and mixing
Royalty-free loop library and inbuilt presets
Jingles and sound effects
Pros:
User-friendly
Geared toward music production but has plenty of functions for voice recording, particularly podcasts. This includes options to adjust audio levels on each track, edit solo tracks (ie., if you want to clip sniffles, coughs, or pauses), or split a track.
Free to use for iOS users and easy to use on iPads and iPhones
Clear recording
Cons:
No audio metering
Only available to Apple users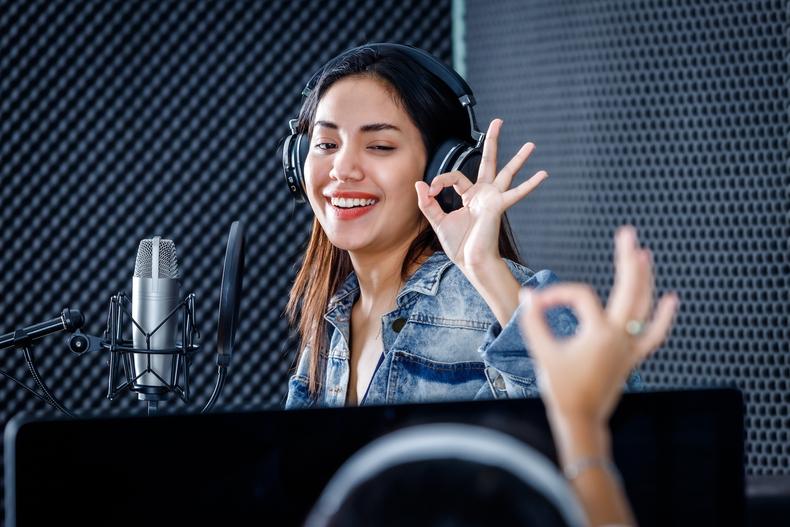 Thinnapob Proongsak/Shutterstock
Working from home as a voice actor with your own equipment offers a certain level of freedom and control. Capitalize on these perks by ensuring you make the most of your environment and overall experience.
After you choose your voice recording software, you'll need a few more pieces of essential equipment to get the job done.
Computer
Reliable internet access
Microphone (with a stand or boom arm)
Pop filter
Headphones
You will also need to find an area to record that can absorb ambient noise—and isn't subject to loud noises from your neighborhood. Choosing a space to record that can be soundproofed is just as important (if not more so) as the equipment you use. With these essentials and tips, you're on your way to building a successful DAW with voice acting software that can level up your VO work.