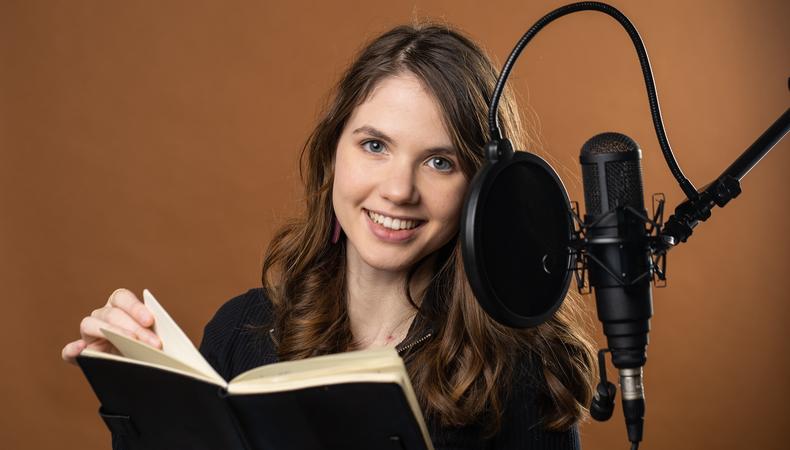 Audiobook narration is a fun, flexible line of work that uses actors' creativity and storytelling skills to engage, entertain, and inform an audience. This genre is very different from other types of voice acting. Audiobook narrators aren't trying to sell a product like commercial voice actors are or create high-energy characters as featured in animation. But narrating an audiobook requires patience, perseverance, and acting skills. It's all about telling a story in a specific genre, as written and intended by the author.
Keep reading for useful steps, tricks of the trade, and helpful examples that you can use to become an audiobook narrator.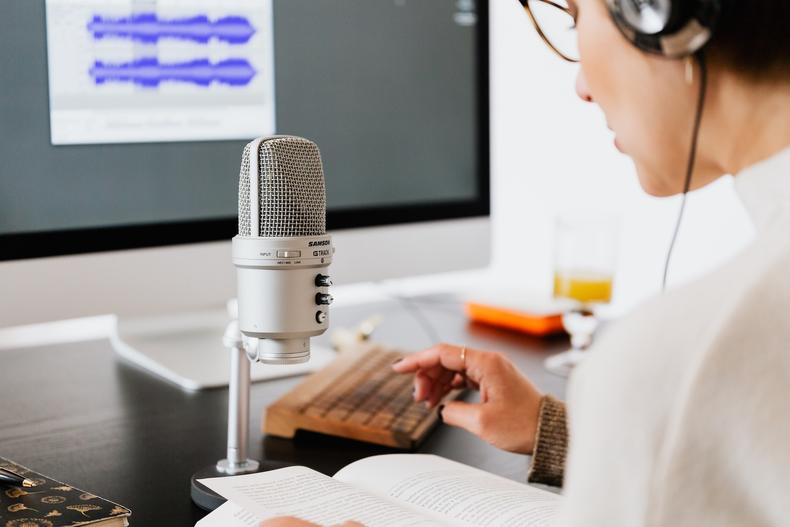 Karolina Grabowska/Pexels
You'll need a variety of skills and equipment to be successful audiobook reader. Before you start searching for narration jobs, remember: Practice makes perfect.
Here are the basic steps to establish yourself as an audiobook narrator.
1. Listen to audiobooks and practice
To know what works in audiobooks, it's best to check some out for yourself. You'll get an idea of the types of stories you're a fan of, and how your voice may measure up to established narrators working today. You'll also find examples of performances you'd like to emulate.
Try reading aloud on your own in an enclosed space in order to minimize any outside distractions. Record yourself reading a chapter of a book of your choosing. Then, listen back to see where you excel at pacing, storytelling stamina, and vocal consistency, and where you could use improvement.
2. Identify your narration niche
Every audiobook narrator has a specialty. Finding yours will come from experience.
Define your voice. Make a short list of words that describe your personality. The adjectives that fit the sound of your voice and delivery will help you find what genres you are best positioned to excel in.
Identify your strengths and weaknesses. Pay attention to what comes naturally to you. What emotions are easy for you to perform? Is tackling a variety of accents challenging? Do you excel at comedic timing? Knowing what your skills are and assessing your ability to sustain them for the duration of the project is key in figuring out the genres that fit you best.
What genres do you enjoy? If you are a fan of a specific genre, your excitement and investment will translate in your narration. Having expertise on a topic or subject matter can also help build your credibility with nonfiction works and how-to projects.
Match your skills to the needs of the genre. Each audiobook category comes with a distinct set of characteristics that your vocal skills will need to match. If you are able to create multiple characters and sustain each throughout a project's duration, then fiction would be worth looking into. However, if you have a friendly, engaging, informative voice, e-learning may be the genre to pursue.
Vocal tone, personality, and gender are just a few details that help a narrator figure out where their talents fit best, whether it's science fiction, horror, nonfiction, or romance.
3. Acquire necessary equipment
For auditioning, seeking agents, or just plain old practicing, it's imperative that you have somewhere to record in your home. Here's what you'll need:
A quality microphone: Two common types to consider are condenser and dynamic microphones. Condenser mics have a higher sensitivity and pick up more detail in the recording process, making them ideal for most voiceover needs. Dynamic mics are not as sensitive, which may sound like a downside, but this also means they pick up less distracting background noise. Your budget, the sound you are trying to achieve, and your recording space are all factors in this decision, so do your research on what will work best for you.
A pop filter: This is a protective screen that minimizes cracking mouth noises, pops, and other types of so-called "plosives."
Noise-canceling headphones: Recording audio requires focus. Noise-canceling headphones will keep you in the storytelling zone.
A computer with ample storage space: Recording and rendering audio files can be a big task for any computer. Make sure your hardware can handle it. Invest in an external hard drive or cloud storage to keep your files safe and organized.
A second screen: Invest in a tablet or second monitor that you can use to read your materials. The last thing you want is to hear the sound of pages turning when you listen back to your file.
Audio production software: GarageBand and Audacity are great options for narrators who are just starting out. They are free to download, compatible with Mac and Windows, user-friendly, and easy to learn. Adobe Audition and Logic Pro are more advanced options for seasoned professionals that offer detailed recording, editing, and mastering tools for quality results.
A quiet studio area: While some audiobook narrators may record in a professional studio with a director, most of the work happens remotely. You don't need to have your own at-home audio booth, but soundproofing a secluded area will give you consistency in room tone throughout the entire recording process.
4. Record a demo reel
On average, a narrator's demo reel should be no more than five minutes in length and contain three demo pieces: one first-person fiction sample (a story told from the perspective of one of the characters), one third-person fiction sample (a story told from the omniscient narrator's perspective), and one nonfiction sample. History, memoirs, biographies, and self-help are all considered nonfiction.
A voiceover demo reel will act as your business card; so pick the materials that best showcase your abilities as a narrator, your age and vocal range, and the genres you excel in.
5. Apply and audition for roles
Create a profile on an online casting platform like Backstage and start applying for audiobook narration roles. Apply to a wide range of roles when you're getting started, and follow up on your applications as appropriate.
6. Network
When starting your audiobook narration journey, networking events can help broaden your connections in the field. Find virtual panels and Q&As that interest you. You'll meet peers in your field, gain a supportive community, receive helpful advice from the seasoned narrators, and possibly even find opportunities to pitch yourself for work.
7. Get an agent
Getting a voice acting agent or manager is always helpful, as they will submit your name for projects and roles. However, finding a talent agent who is specifically focused on representing audiobook narrators can be challenging. Top-tier talent may have agents representing them for audiobook work; but narration occupies a small niche in the larger voiceover world, considering what the pay is per project compared with higher-profit work in commercials, animation, and video games. With that in mind, connecting with publishers and authors, attending workshops, and other forms of networking may be more helpful strategies for booking work.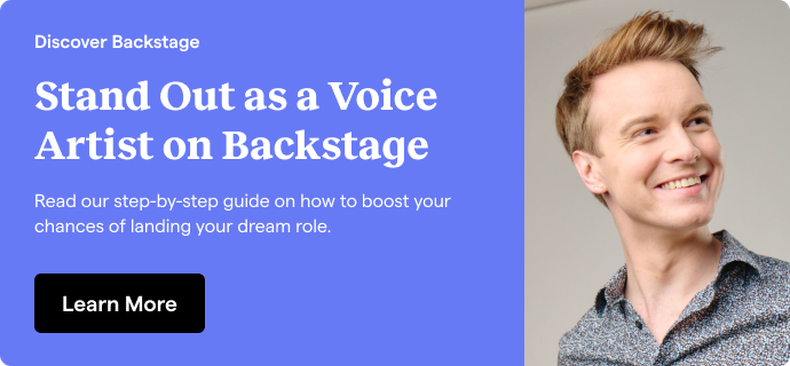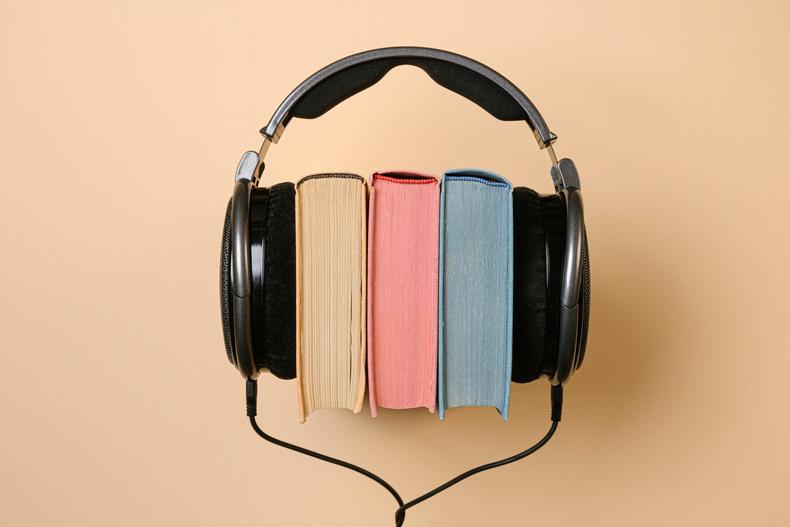 Stas Knop/Pexels
Having a strong, clear voice—and maintaining that voice over time—is the first step for any type of audio acting. But there are numerous skills that are unique to the world of audiobooks, including: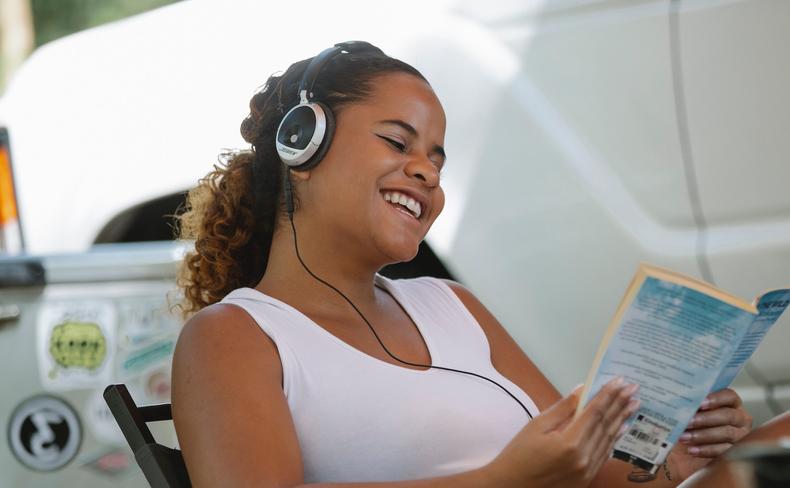 Uriel Mont/Pexels
Once you've compiled a demo reel and built out your network, it's time to get professional, paying audiobook gigs onto your résumé.
Voiceover casting calls: Uploading your demos to websites like Backstage and Voice123 will help get your work heard by potential clients, which can lead to paying gigs. This is an invaluable way to gain experience and build relationships with authors and publishers.
Audiobook production houses: A less direct but possibly more prestigious route is to research audiobook production houses like New Village Press, Macmillan Audio, and Grand Central Publishing. Like traditional publishers, these companies create their audiobooks in-house, which means they typically have a set roster of narrators for clients to choose from. Carefully check to see if the production house is open for submissions, and make sure to follow the guidelines to the letter.
Workshops: For beginner narrators, attending workshops is a great way to learn about the audiobook industry, get tips on upping your narration game, and receive feedback on your skills. David H. Lawrence XVII's ACX MasterClass and Patrick Fraley's audiobook narrator curriculum are two reputable sites that offer in-depth classes on all facets of audiobook narrating. Taking a workshop won't guarantee that you'll find work, but it's always a great networking and educational opportunity.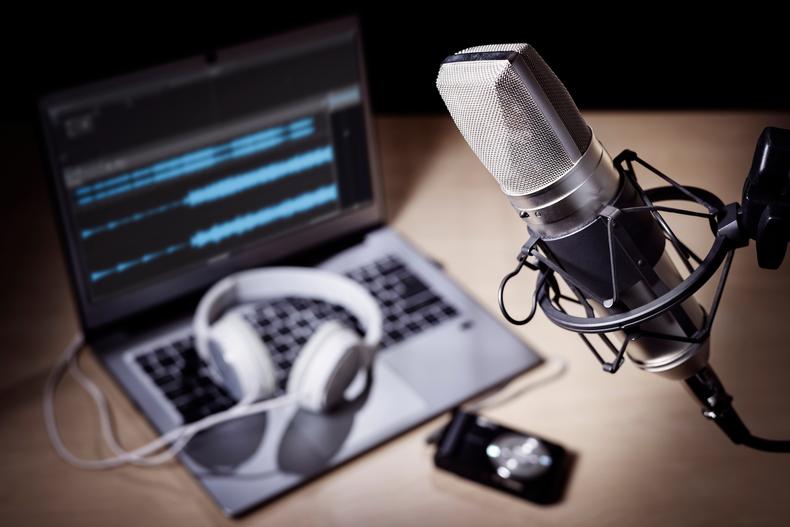 Brian A Jackson/Shutterstock
The average audiobook narrator's salary in a busy market like New York or Los Angeles is $43,000 and $39,000, respectively; in a smaller location like Hartford, Connecticut, that number falls to $37,000.
Most working audiobook narrators make money on a per-project basis. Here are the most common pay rates:
Per finished hour (PFH): This rate ties the audiobook narrator's PFH rate to the total time of finished audio at the end of the process. For example, if your PFH rate is $100, an audiobook that's six and a half hours long will net you $650. If you're just starting out, expect to offer a PFH rate between $10 and $100; more experienced narrators receive between $100 and $350 per finished hour.
Royalty share: Audiobook narrators can receive a royalty share, which translates to about two dollars per sale, or a quarter of the overall profits the title makes.
Union rates: Audiobook narrators who are members of SAG-AFTRA usually receive hourly rates as set by the union. If you just joined the union, expect a rate of $139.25 an hour; union audiobook narrators with more years under their belt earn around $168.25 an hour.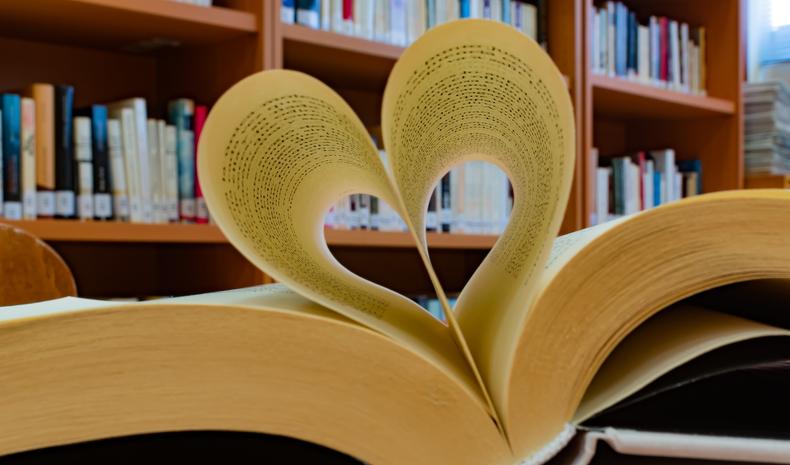 VelaMar/Shutterstock
For inspiration and insight, here are six standout audiobook narrators who have honed their storytelling craft to perfection, exude emotional depth and versatility, and consistently deliver enthralling and delightful listening experiences.
Scott Brick
Scott Brick has narrated roughly 900 books in his storied career, by the likes of Ayn Rand and Truman Capote. He is known for his baritone delivery and is the winner of four Audie Awards for his diverse work in science fiction, fantasy, memoirs, and middle grade novels. His work includes "The Patriot Threat" by Steve Berry, "Dune" by Frank Herbert, and "Deep Six" by Clive Cussler.
Cassandra Campbell
Cassandra Campbell's accolades include an Audie Award, Earphones Award, and Odyssey Award for her versatile work. She has roughly 900 titles to her name. In every read, she delivers clarity, honesty, and emotion with a singsong cadence that makes for an engaging listening experience. Her work includes "Bird Box" by Josh Malerman, "Orange Is the New Black" by Piper Kerman, and "The Immortal Life of Henrietta Lacks" by Rebecca Skloot.
Jim Dale
Jim Dale is a Tony Award–winning actor whose audiobook narration is world-renowned. He's won multiple Audie Awards and was named a Member of the Order of the British Empire for his work narrating the "Harry Potter" book series. He holds the Guinness World Record for the most character voices in an audiobook for the 134 voices he performed in "Harry Potter and the Order of the Phoenix." His other work includes "The Night Circus" by Erin Morgenstern, "Peter and the Starcatchers" by Dave Barry, Ridley Pearson, and "Liesl & Po" by Lauren Oliver.
Dion Graham
Dion Graham has numerous Audie Awards under his belt, an inspiring collection of AudioFile Earphones Awards, and has regularly been included in "best of" lists for his consistent and enthralling performances. His work runs the gamut from children's entertainment to memoirs to mystery and suspense. Audiobooks to check out include "Black Leopard, Red Wolf" by Marlon James, "The Cut" by George Pelecanos, and "Harlem Shuffle" by Colson Whitehead.
Davina Porter
Davina Porter is an AudioFile Golden Voice Narrator whose elegant and refined style is well-known in the audiobook world. Her attention to detail, subtle characterizations, and ability to perform accents make for a wonderful listening experience no matter what book she's narrating. Audiobooks to check out include "Outlander" by Diana Gabaldon, "Lady Fortescue Steps Out" by M.C. Beaton, and "The Cater Street Hangman" by Anne Perry.
Simon Vance
Simon Vance has been in the audiobook game for two and a half decades, and has accrued 15 Audies and 64 Earphone Awards over that time. His storytelling stamina and characterizations make him a consistent favorite with listeners, whether he's performing science fiction, thrillers, or Charles Dickens. Audiobooks to check out include "The Girl With the Dragon Tattoo" by Stieg Larsson, "The Tao of Pooh" by Benjamin Hoff, and "Three Blind Mice and Other Stories" by Agatha Christie.