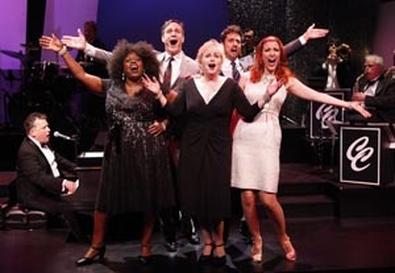 What a joy it is to settle into a theater seat and watch a show unfold in which all hands are not only on the same deck but also know how to navigate with consummate skill and artistry. Deviser-director David Zippel's "The Best Is Yet to Come: The Music of Cy Coleman" is a labor of love, a tribute to the man who changed Zippel's life when he hired him as his lyricist for what became the hit Broadway musical "City of Angels." This beautifully structured, exquisitely executed revue is a dry-martini delight that should leave everyone, from aficionados of Broadway's coolest composer to the uninitiated, dizzy with pleasure.
A caviar cast of six—David Burnham, Sally Mayes, Howard McGillin, Lillias White, Rachel York, and Billy Stritch (who also did the scintillating arrangements, glove-fittingly orchestrated by Don Sebesky for the tight eight-piece band, provides precise musical direction, and wickedly caresses the ivories)—delivers 31 of Coleman's top-drawer tunes in a brisk 80 minutes. Zippel's smart direction takes a page from ur-revue-maker Richard Maltby Jr.'s book, creating playful emotional relationships among the company that consistently speed the show forward. The proceedings are slightly skewed in favor of the women, but Zippel is careful to make sure that everyone has opportunities to stand out.
The highlights start early, with Mayes' winningly self-deprecating "Nobody Does It Like Me" (lyric by Dorothy Fields, from "Seesaw"). Mayes, who Coleman virtually discovered when he promoted her from understudy to lead after the first week of previews of his Broadway flop "Welcome to the Club," also teams with York on a driving and perfectly articulated "What You Don't Know About Women" (lyric by Zippel, from "City of Angels") and later smolders through an impressively controlled "With Every Breath I Take" (also from "City") with flawless intonation. York's other triumphs include a gorgeously modulated "Come Summer" (a little-known but striking 1971 ballad with words by Carolyn Leigh, whose last line is an example of what great lyric writing is all about) and a saucily captivating reimagining of "Hey, Look Me Over" (lyric by Leigh, from "Wildcat") neatly intertwined with "The Doodling Song" (again Leigh). White happily reprises her showstopper from "The Life," "The Oldest Profession" (lyric by Ira Gasman), but what gave me the most satisfaction was getting a chance to see this power belter demonstrate her considerable range. "Don't Ask a Lady" (lyric by Leigh, from the 1982 Broadway revival of "Little Me") gleams with sex and wit, "Those Hands" (lyric by Alan and Marilyn Bergman, from "Like Jazz," a show still unseen in NYC) sees her leading the company with an infectiously light touch, and she and Stritch infuse the title song of "Little Me" with a swinging, flirtatious playfulness.
On the nondistaff side, Stritch also scores on the 1975 obscurity "Some Kind of Music" (lyric by Leigh), whose tune showed up just a few years later in Coleman's operetta-flavored Tony-winning score for Betty Comden and Adolph Green's riotous "On the Twentieth Century." McGillin delivers a delightfully devilish "You Fascinate Me So," also notable for Zippel's sly staging, and soars on the stunning ballad "I'd Give the World" (lyric by Zippel), which according to the program is from an unproduced show called "N*." That mysteriously titled work also provides Burnham with his best moment, "Only the Rest of My Life," a tantalizing mixture of passion and humor that he shares with York. Two other songs from "N*," "Never Enough" and "The Measure of Love," suggest it has a score of rare quality.
Zippel definitely achieves his goal of displaying "the dazzling depth and breadth" of Coleman's work. But what Zippel also displays is his superb eye for good lyrics. He knows them when he sees them and how to write them. Ultimately, it's the interplay of those wonderful words with Coleman's extraordinary music that makes the evening into a little bit of heaven.
Presented by Rubicon Theatre Company and Michael Jackowitz, in association with David Elzer, Barbara Meister, Dottie and Bernie Novatt, Charles Hughen—Stage Too, Marvin Kahan, Normand Kurtz, and Dale Joan Young, at 59E59 Theaters, 59 E. 59th St., NYC. May 25–July 3. Tue.–Thu., 7 p.m.; Fri., 8 p.m.; Sat., 2 and 8 p.m.; Sun., 3 and 7 p.m. (Additional performance Wed., June 8, 2 p.m.) (212) 279-4200 or www.ticketcentral.com.