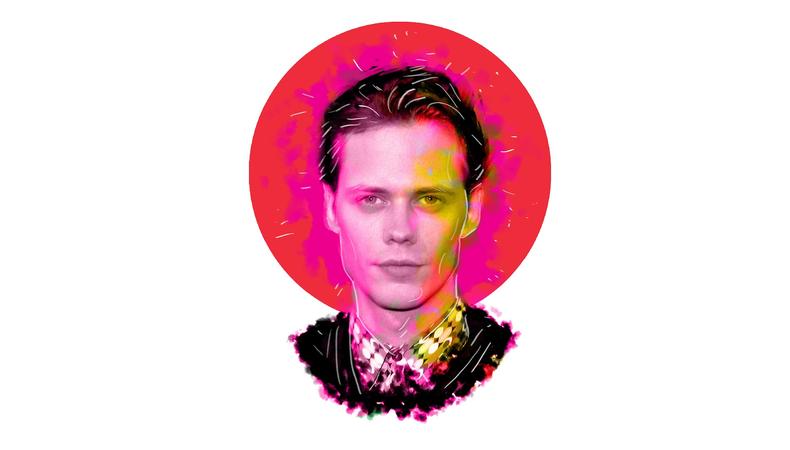 Bill Skarsgård isn't afraid to get his hands dirty. For proof, look no further than his rendition of Pennywise the Dancing Clown, the evil entity that hunts and eats the children of Derry, Maine, in director Andy Muschietti's record-breaking "IT" horror films, based on Stephen King's classic novel of the same name. For insight on how the Swedish talent prepares for an audition, the road to his first big break in the States, and the advice he'd offer his younger self, read on!
'IT' Star Bill Skarsgård Knows How to See, Hear + Speak Evil
What was your first big break?
My big break in America was "Hemlock Grove." That was the first thing I booked here. It was a Netflix TV show. I have a different trajectory, because I worked in Sweden for 10 years before I started working over here. I did the first [role] when I was 9 and another small role when I was 12. As you go to school, you book something here and you book something for TV. I was 19 [when I got] my first big role [in Sweden].
What performance should every actor see?
I think Joaquin Phoenix in "The Master"—him and Philip Seymour Hoffman. Every actor should see that movie. That's like a heavyweight thriller fight. That's just two masters doing it right. The movie is weird, but it's sort of impossible for an actor not to like it. It's just so good and everyone is so good in it.
What's the wildest thing you've ever done to get a role?
I can be really fucking persistent when I feel like I should have a role. It doesn't happen often, but if you're exposed to enough material or enough scripts and auditions, say, like, 95 times out of 100, you're like, OK, I'll do a take on it. Sometimes you book stuff like that, sometimes you don't. Sometimes, at least for me, I'm like, "This is mine, man. This is fucking mine." When you feel that feeling of "I know this guy, I know this performance. I just know it," really, really trust that instinct and tell people that. Sometimes you can go years without it. Some people never feel it. I feel it sometimes, and it's a very kind of intoxicating feeling. The read is one thing or the audition is one thing, but then it's like, "I'm the guy for this."
What advice would you give your younger self?
Listen more and talk less. That's probably good advice. Be a better listener.
How do you prepare for an audition?
You can prepare as much as you want—prepare in terms of the scene or thinking about the character. But the research I put into a role is emotional, especially if you have a book to read about it. You can get emotionally attached to a character without doing much research at all. It's just shitty when you don't book it. It's like anything; you prepare for the scene, you try and do the scene as best as you possibly can, and then, when you start researching for a role, you research it with so much expectation that you're going to be the one to perform it. Some people may be able to do that, but for me, when I book it is when I let myself go into this character and this role—really feel safe to emotionally give so much of myself to it.
This story originally appeared in the Aug. 29 issue of Backstage Magazine. Subscribe here.