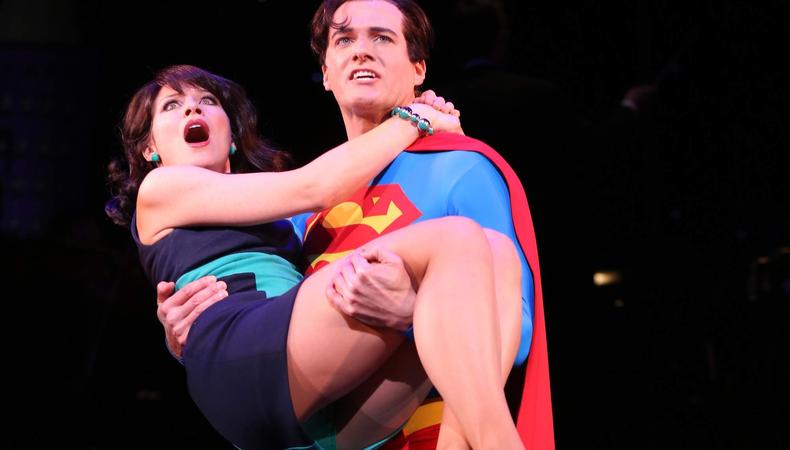 If delightful songs, witty cultural satire, and intrepid superheroes are your thing, then fly to your computer, smartphone, or even the New York City Center box office and get your tickets now for Encores! concert presentation of "It's a Bird… It's a Plane… It's Superman." Director John Rando, choreographer Joshua Bergasse, and a pitch-perfect cast hit all the right notes in this daffy 1966 Broadway musical originally produced and directed by the great Harold Prince.
Book writers David Newman and Robert Benton keep reporter and love interest Lois Lane but eschew the comic strip's other recurring characters to whip up their own story of 10 time Nobel Prize loser Abner Sedgwick, a mad scientist who wants revenge for his lack of recognition and decides to "destroy the world's symbol of goodness" to get it. Superman has another enemy in smarmy Daily Planet gossip columnist Max Mencken, who letches after Lois and regularly gets bumped off the front page by the Man of Steel. There's also Max's female assistant Sydney, who craves his romantic attentions but ends up throwing herself at Clark Kent. Once Max and Abner team up to discover that Clark and Supie are one and the same, things get dangerous for our favorite Kryptonian.
I last saw this version of the show as a teenager, and the script is not published, so I can't comment on Jack Viertel's concert adaptation except to say that it works well and the elimination of editor Perry White makes sense, as I recall the character being underused. Conductor Rob Berman and the Encores! Orchestra serve up Charles Strouse's irresistible tunes, sporting nifty lyrics by Lee Adams, himself once a journalist, with the insouciance required by Eddie Sauter's scintillating original orchestrations. John Lee Beatty's snazzy pop-art cardboard set, Paul Tazewell's mod costumes, and Ken Billington's bright color washes make for a fun Warhol fantasia.
Edward Watts is a crackerjack Superman/Clark, singing in a manly baritone with the same winking clean-cut sincerity he brings to his scenes. Jenny Powers' creamy vocals are ideal for Lois, as are her spunk and verve. Powers especially scores with tongue planted deftly in cheek on the sneakily feminist "What I've Always Wanted," in which this career girl momentarily imagines settling down with Adam Monley's staunch regular-guy scientist Jim Morgan. As Sydney, Allie Mauzey gets the show's best-known song, "You've Got Possibilities," and lands every laugh, then does even better with Sydney's scathing assessment of Max's narcissism, "Ooh, Do You Love You!" Stealing the proceedings are David Pittu and Will Swenson, as Abner and Max. Pittu's "Revenge" is an eccentric hoot, Swenson's "You're the Woman for the Man" oozes with unintentionally comic self-regard, and their Act 2 vaudevillian duet, "You've Got What I Need," hilariously choreographed by Bergasse, takes us to musical comedy heaven. Bergasse also does well with the dazzling gymnastics of Craig Hennison, Suo Liu, Jason Ng, and Scott Weber as the Flying Lings, a disgruntled quartet of Chinese acrobats put out of work because Superman can really fly.
Is this a great musical? No. Nevertheless, "Superman" soars up, up, and away into the theatrical stratosphere, one of Encores! most entertaining shows to date.
Presented by Encores! at New York City Center, 131 W. 55th St., NYC. March 20–24. (212) 581-1212 or www.nycitycenter.org. Casting by Jay Binder Casting.
Critic's Score: A