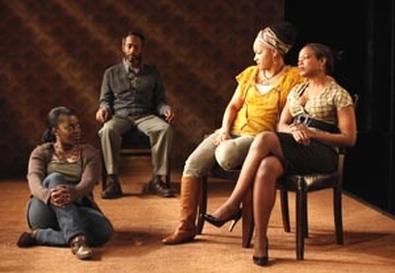 A glance at her program bio makes it clear that British playwright Debbie Tucker Green doesn't hold with capital letters, always writing her name and play titles in lower case. That doesn't go for her work, however. Her 2007 Olivier Award–winning play, "born bad," being given a smashing production by Soho Rep, rings with the clarion force of the trumpet calls that brought down the walls of Jericho.
Tackling well-worn subject matter that these days is usually found in sentimental TV movies, Green's verbally stylized, physically concentrated, psychologically stripped-to-the bone approach results in a thoroughly disquieting, relentlessly penetrating work of art. It's essential and stunning theater.
There is great power in Green's allusiveness in dealing with her content—the revelation of a terrible secret in a dysfunctional family—so if you don't want foreknowledge of it, skip to the next paragraph. As we begin, Dawta, the eldest child of four, is in a rage at her mother, delivering a scalding tongue-lashing. As Green's incantatory, jabbingly repetitive language spews forth, we start to suspect that Dawta is furious with her mother for facilitating Dawta's sexual abuse at the hands of her father. In finely wrought scenes of varying length, from fleeting to substantial, Green charts the effect of the revelation on Mum, who righteously defends herself; prim Sister #1, whose memory can best be described as convenient; aggressive Sister #2, in ferocious denial; and withdrawn Brother, who reveals his own abuse, heretofore unknown to anyone, to Dawta, while refusing to tell anyone else. But the lid is off the boiling pot, and attempts to restore it only lead to the inevitable explosion and devastating result.
Director Leah C. Gardiner's sculptural staging enhances Green's work at every turn. On Mimi Lien's appropriately nondescript set of light brown carpet and a back wall covered with a mundane wallpaper design, six wooden chairs upholstered in dark brown leather dominate. Scenes are separated with sharp blackouts, and when the lights come back up, the chairs and characters are in yet another emotionally appropriate configuration. As the play gathers force, anticipation of the next stage picture provides important dramatic thrust.
Gardiner elicits precisely etched performances from the superb six-person cast. Heather Alicia Simms, as Dawta, is symphonic in her anger yet always keeps us aware of an underlying uncertainty. Quincy Tyler Bernstine's elegantly elusive Sister #1 suppresses her feelings of guilt with an unsettling cheerfulness. Crystal A. Dickinson is a force of nature as Sister #2, perfectly capturing the furious heartlessness that's born of a desperate desire to feel loved. LeRoy James McClain is a heartbreaking Brother, convincingly portraying the character's stunted emotions and confusion about how to be a man. Elain Graham is a formidable Medea of a Mum, whose destruction engenders in us a queasy satisfaction. As the nearly nonverbal Dad, Michael Rogers projects a powerful sense of entitlement that pays off handsomely when he finally gets to speak, most effectively in the play's wounding curtain line.
Paul Tazewell's unerring costumes quietly capture each character's essence, and Michael Chybowski's tonal lighting is practically a seventh character. Dialect coaches Jamie Lincoln Smith and Charlotte Fleck deserve special praise for the way the actors deliver Green's muscular poetry with clarity and musicality.
The beauty of Green's work is that it strips bare the family's behavioral patterns to the point where they emerge as the play's preeminent concern. Thus, the work transcends the specificity of its story; it could be about any family in which some sort of abuse has occurred and the suppressed secrets and concomitant lies that result from it. Dealing trenchantly in universal truths, "born bad" is one of the most exhilarating evenings of theater in recent memory.
Presented by and at Soho Rep, 46 Walker St., NYC. April 7–May 7. Tue.–Sun., 7:30 p.m. (212) 352-3101, (866) 811-4111, www.theatermania.com, or www.sohorep.org. Casting by Rob Marcato.