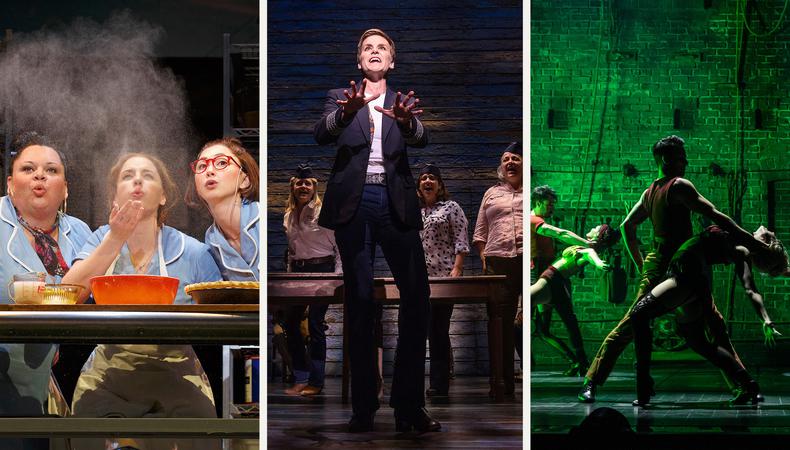 In musical theater, it's impossible to say where direction ends and choreography begins; movement is inextricable from the story itself. And just like telling a story, there is no one way to choreograph, which explains why three Broadway choreographers would have three different explanations for what it means to do so.
"What a choreographer does is interpret the author's ideas with the director's aesthetic," says Kelly Devine, who choreographed the new Princess Diana musical "Diana" and was Tony-nominated for her work on "Come From Away" and "Rocky." "We translate that and work with the composer to bring the storytelling to life. We find those emotional moments, but we also find the right tone to tell the story."
"I always ask, 'Do you remember why you're moving?' If there isn't an emotion attached to it, I'm not interested in it. Every pirouette has meaning."
Lorin Latarro, known for her work on shows grounded in realism like "Waitress" and the upcoming "Mrs. Doubtfire" musical, describes the role of the choreographer as not just an interpreter of the material, but as one of its architects. "Not only am I in charge of the dance steps and building dances and finding out where the spaces are, I also help build [and] design the show," she says. "It can help, from the corporeal point of view, to understand what's missing, and then I share that with my collaborators."
And Sonya Tayeh, whose work ranges from the bombastic ("Moulin Rouge!") to the demure (the Off-Broadway-turned-Broadway adaptation of "Sing Street"), applies a sort of physical linguistics in her approach. "We create language—emotional language—with our bodies and try to instill those ideas onto other bodies, and that becomes a physical narrative," she explains. "You don't have to be an excellent technician to be a dancer. In terms of choreography, it's just how in touch you are—or how willing you are to get in touch—with your senses physically, and connect those senses to other bodies. [In] that way, we are creating this interweaving language."
Of course, along with the rest of the theater community on Broadway and around the world, all three choreographers have seen their shows come to a grinding halt in the face of the COVID-19 pandemic, a particular heartbreak for a discipline that doesn't exist when there are not bodies to perform it. Choreography is, after all, a means to bring a character from the two-dimensional page into the full-bodied dimensions of reality.
"People are less interested in watching a woman bake onstage and more interested in watching what she was thinking about when she was baking," Latarro says of "Waitress," a musical about a downtrodden pie-maker. "I dip between the line of exploring and trying to get a fuller emotional sense of the characters for that big joyous moment, or even for moments of intimacy or privacy." But that search for interiority is as relevant in complex dance steps, hundreds of which fill the two and a half hours of "Moulin Rouge!" "There is an intention in every single step they take," Tayeh says. "I always ask, 'Do you remember why you're moving?' If there isn't an emotion attached to it, I'm not interested in it. Every pirouette has meaning."
Meaning in movement isn't always self-evident, and in those instances where it's difficult to distill, Tayeh employs an exercise. "I ask a question: What does heavy look like to you? What does joy look like to you, in your body?," she posits. "Don't speak, just answer the question in your body. It's all about connecting and allowing them to feel inside themselves. I know it is scary. It is challenging in the brain, and the first thing I do is to try to get them to relax."
Getting the performer to relax starts even before the rehearsal period. In fact, for Devine, it's the first order of business in the audition room; a body filled with angst, she knows, is antithetical to movement. "When somebody is really nervous, I can feel it from the second they walk into the room, so I work really hard to calm them down," she says. "I always tell people in an audition: I'm not going to let you leave this room if you felt like you did a bad job, because it's upsetting when the nerves get the best of you…. I don't care if you're messing up your steps. I just want to see that you stick it out."
READ: How to Become a Dancer
All three choreographers are clear that their hope is not simply to see performers nail the most complex dance moves. Rather, they want to help them find the movement that is most authentic to the story their character is meant to be telling. And that applies to auditioning, too: It isn't personal when you don't get the part; you just weren't the precise vessel for that story.
"You might get knocked out because you're not the right height, or not the right type, or the skills you have are not right for this style," Devine adds. "You're never even going to know why it didn't work out. It could be the most mundane, ridiculous thing that has nothing to do with you or your talent."
On the subject of booking jobs—or, more accurately, not booking them—they are adamant that you are not more or less of a dancer based on whether you're presently employed. "Your artistry is not attached to a show or a job. You are the artist, and wherever you go, there you are," Latarro insists. "Even if you're just watching TV, you're still an artist. You're still an artist, even now."
"Even now" is the operative phrase for dancers, actors, and artists across the industry for the foreseeable future, as there's no telling when performance spaces will be up and running again post-coronavirus. Though it's easier said than done, this time is what we make of it, and your skills can't be put on pause just because the rest of the world currently is.
"As a dancer, you definitely need to be doing stuff in your kitchen," Latarro says of staying in shape through quarantine and beyond. "Because it's such an unnatural thing, every day you're not dancing [matters], so hold onto this technique and make sure it's being maintained by, at the very least, hanging onto your kitchen counter and doing a ballet barre [routine] every morning and working out to keep your body in shape and to keep your mind in shape."
Though this unprecedented moment could easily be one of despair, Latarro reveals a different outlook, perhaps truer now than it's ever been: The dancer dances.