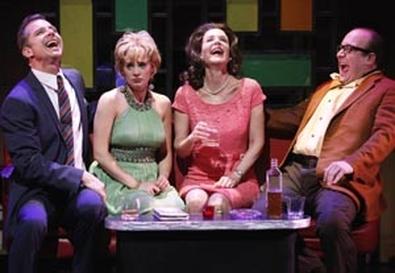 Why would a savvy producer like Daryl Roth ("August: Osage County," "Proof," etc.) mount a faded 1965 blossom like "Cactus Flower"? Maybe because a revival of "Boeing-Boeing," another farce of roughly the same era, was such a hit two seasons ago? Perhaps she hopes to cash in on "Mad Men" nostalgia? Could it be the fact that the play also serves as the basis for a current Adam Sandler movie, "Just Go With It"? Whatever the reason, this dated clunker arrives at Off-Broadway's Westside Theatre, after a run at Albany's Capital Repertory Theatre, badly in need of an oil change and four new tires.

There can be charm and energy in antiquated models, but only if you have a director who knows how to drive them. Matthew Warchus was able to get maximum mileage out of "Boeing-Boeing" in its recent Broadway outing by revving the engine. He let his cast take the crazy characters way over the top, but they still retained credible objectives. "Cactus Flower," derived by Abe Burrows from a French boulevard comedy, is an even flimsier script than "Boeing," which also had Gallic origins, and director Michael Bush fails to instill a base of veracity upon which to build a sturdy comic edifice.

When it premiered, you couldn't make sexual innuendoes on TV, so sitcomish farces with slightly risqué content were welcome on stage. The original production, which starred Lauren Bacall, racked up 1,234 performances, and the play was made into a hit 1969 film with Walter Matthau, Ingrid Bergman, and newcomer Goldie Hawn, who won an Oscar for best supporting actress. Today, the premise creaks with age, and the cast doesn't summon up enough breath to blow the dust off their reliclike roles of swinging bachelor, kooky ingénue, repressed spinster, horny matron, obnoxious exposition-delivering pal, etc.

The plot-driving gimmick is the stuff of "I Love Lucy" reruns, with a twist that would have been hip 45 years ago. Womanizing Park Avenue dentist Julian falsely informs his younger mistress Toni that he is married, in order to avoid commitment. When Toni demands to meet Julian's wife, he enlists his starchy nurse, Stephanie, to play the part. Complications ensue as Julian keeps the deception going and Stephanie sheds her inhibitions, blooming like the titular plant.

Maxwell Caulfield is physically right for the lascivious dentist—still ruggedly handsome in middle age—but he mugs up a storm, rendering his punch lines unfunny and his serious moments ho-hum. Veteran soap actor Lois Robbins fares better as the suppressed Stephanie. She doesn't push the gags and lets Stephanie's transformation happen slowly. Jenni Barber is equally unforced as the gamine Toni, but neither she nor Robbins can overcome the play's contrivances. Jeremy Bobb is pedestrian as Igor, Toni's neighbor, but that's not entirely his fault. The role is a device: a young guy there to serve as a romantic alternative to Julian for Toni. Robin Skye and Anthony Reimer offer broad comic shtick in two-dimensional supporting roles. John Herrera manages to find some depth in a dashing diplomat who has a brief flirtation with Stephanie.

Costume designer Karen Ann Ledger provides kicky and fun 1960s fashions, but Anna Louizos' wood-paneled set makes it look like the play is being staged in someone's rec room. That's somehow appropriate for this basement-level comedy.

Presented by Daryl Roth Productions and Stonemill Productions at the Westside Theatre, 407 W. 43rd St., NYC. Opened March 10 for an open run. Tue., 7 p.m.; Wed.–Sat., 8 p.m.; Wed. and Sat., 2 p.m.; Sun., 3 p.m. (212) 239-6200, (800) 432-7250, or www.telecharge.com. Casting by Stephanie Klapper.