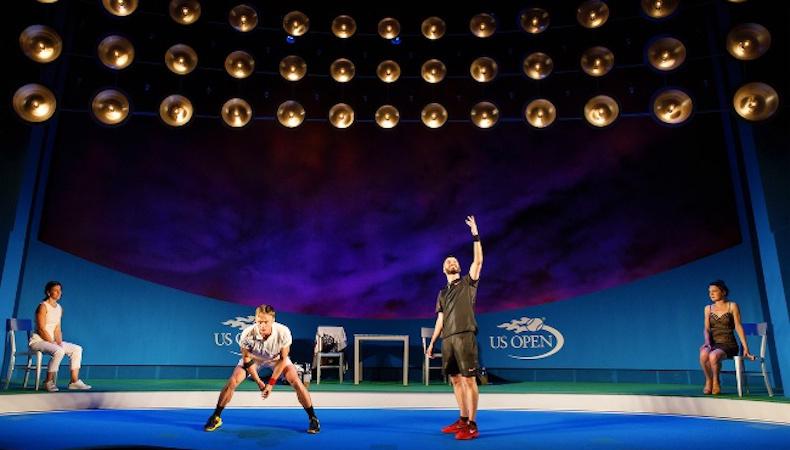 For Off-Broadway's "The Last Match," Tony-winning lighting designer Bradley King was tasked with lighting a drama evocative of an actual tennis court while maintaining the usual elements of theatricality.
Lighting is omnipresent.
"A lighting designer is responsible for turning on and off every light that you see in the theater. The ultimate goal of that is to make the audience feel something. The great Jennifer Tipton, who's basically one of the inventors of modern lighting design, has this quote that's something like, 'One percent of the audience is aware of lighting design, but 99 percent is affected by it.' "
READ: Breaking Into the Off-Broadway Show Biz
On lighting 'The Last Match.'
"We use lighting to create a little depth of field and have the background recede and pull someone out in the foreground. The stadium lights have turned out to be one of the best tricks in the entire theater, because not only do they light up like actual stadium lights, but they have LED tape embedded in each one of those little bowls, and that can suggest different locations when we go away from the tennis court."
All design elements work together.
"We like to say [that] without lighting design, it's just radio. We work in concert with the set designer, costume designer, and sound designer. When we're all firing on however many cylinders we have, there's a really magical collaboration when it can't be anything other than what it is right now, because all the elements are working so seamlessly together."
Actor involvement varies.
"[How much I work with actors] can totally vary. This one has not been hands-off, but I let the guys and ladies do what they need to do. The last piece I did was 'The Treasurer' at Playwrights Horizon, which has a couple of light cues where, if [star] Peter Friedman is not standing within an inch of where the light is focused, he is completely in the dark, so that was a big collaboration with Peter and getting him nailed down in a comfortable position. My relationship with the actors is a lot less direct than, say, a costume designer, who is interacting with them very closely on a given day. But with the new technology, with moving lights, with all lights that can refocus, actors know who I am a little bit more than they did five years ago. I'm not just some face hiding behind the tech table, which has been great."
You don't need to start in theater to work in theater.
"I know so many [people], not just lighting designers, but also set and costume designers, who didn't start out in theater. I think the richer the life experience you have that you can bring to a collaboration, the better an artist you'll be. If you know at the age of 13 that you absolutely want to be a lighting designer, that's fantastic and you should do it as long as you're passionate about it. But I have friends who were architects, who were literal rocket scientists, who were mathematicians, who were executives at advertising agencies, who all either found theater later in life or rediscovered a love of it and made a career change, and the experiences they bring to the table are so unique and lovely. I don't want anyone to feel trapped into it at a young age. Do it as long as you are passionate about it and as soon as you stop being passionate about it, you should find something else to do, because it's kind of a brutal life."
Looking to get cast? Apply to casting calls on Backstage.