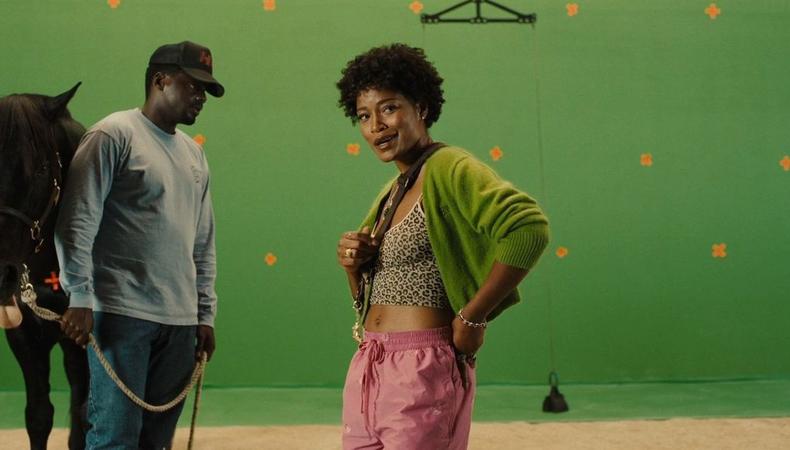 Finding the perfect comedic monologue is a challenge for most actors. Because comedy is subjective, it's a good idea to select a monologue that sounds like you. There are ample resources that can help you find comedic monologues, including Backstage's Monologuer. Consider selecting a piece from a larger body of work like a full-length play, TV show, or movie—this can help flesh out the character and give the monologue a stronger point of view. Comedy is all about truth, pain, and the misunderstanding in relationships. Here are five comedic monologues for women that you should consider for your next audition.
1. "Last of the Red Hot Lovers" (theater) by Neil Simon: Elaine
This fiery monologue from Neil Simon's 1969 comedy will make a strong impression; in it, the brash Elaine Navazio dresses down the married Barney Cashman after a failed tryst. Not only is Elaine's speech sharp and funny, but there are also endless ways to play with Simon's twisty dialogue. Nail the phrase "savory swordfish succotash stories" and no casting director will forget it.
You hypocrite! You soul-searching, finger-smelling, hypocritical son of a bitch! Who are you to tell anybody how to go through life? What would you have done if I came in here all fluttery and blushing and "Ooh, Mr. Cashman, don't put your hand there, I'm a married woman"? Were you going to tell me how much you respect me, admire me and, at the moment of truth, even love me? You know damn well tomorrow you'd be back behind that counter opening clams and praying to Christ I'd never come back in your restaurant. And you know something? That's the way it should be. Forgive me for the terrible, sinful thing I'm about to say but I happen to like the pure physical act of making love. It warms me, it stimulates me and it makes me feel like a woman—but that's another ugly story. That's what I came up here for and that's what you were expecting. But don't give me, "When I was nine years old my mother ran off with the butcher and I've been looking for someone to love me ever since." I don't know your problems and I don't care. Keep your savory swordfish succotash stories to yourself. No one really cares about anything or anyone in this world except himself, and there's only one way to get through with your sanity. If you can't taste it, touch it or smell it, forget it!
2. "Fleabag" (television) by Phoebe Waller-Bridge: Belinda
This monologue about women's pain, delivered by Kristin Scott Thomas, allows you to show off your ability to juggle tones. The words are both bitingly true and darkly funny, offering the opportunity to make strong choices throughout.
Listen, I was in an airplane the other day, and I realized—well, I mean, I've been longing to say this out loud—women are born with pain built in. It's our physical destiny. Period pain, sore boobs, childbirth, you know. We carry it within ourselves, throughout our lives. Men don't. They have to seek it out. They invent all these gods and demons and things just so they can feel guilty about things—which is something we do very well on our own. And then they create wars so they can feel things and touch each other. And when there aren't any wars, they can play rugby. And we have it all going on in here, inside. We have pain on a cycle for years and years and years. And then, just when you feel you are making peace with it all, what happens? The menopause comes. The fucking menopause comes! And it is the most wonderful fucking thing in the world. And yes, your entire pelvic floor crumbles, and you get fucking hot, and no one cares—but then, you're free. No longer a slave. No longer a machine with parts. You're just a person. In business.
3. "Barry" (television) by Alec Berg and Bill Hader: Sally
HBO's "Barry" has some of the most nuanced comedy on television. If you're an actor that tends to lean toward drama, try Sally's monologue from the end of Season 2, in which she unloads her insecurities over a piece she's written for acting class. It's great when a monologue mirrors an aspect of everyday life, and every actor can relate to Sally's speech to Barry.
I'm terrified, OK? Because my piece is real. It's not a character. It's me. Raw, unapologetic truth with a capital T. All caps, actually. I'm thinking like a writer now. I mean, this was stuff that I couldn't even talk about without lying. And here I am, about to strip naked in front of a bunch of strangers and share something that I am massively ashamed of—not literally, I don't believe in nudity unless it drives the story forward. I'm afraid that they're gonna judge me, and I'm afraid that Sam's gonna find out and do something crazy. But I have to do this. It's my story to tell. But then, I mean, so many other women have the same story. What, am I a spokesperson for them now? Could I be the face of a movement? I mean, what if I get it wrong? I mean, I resent the fact that Nick can get up there and talk about his stomach condition, and it's not like he has to be the poster boy for bulimia. But I get up there, and whatever I say, it's like, What are we saying about women? I mean, this is just my story! But what if you get it wrong, Sally? I don't know. You can't get it wrong, Sally. But you can't not tell it either, Sally, because it's who you are. Which makes this thing that my agent sent me on today so fucking insulting. "Payback Ladies"? It's just another shit male idea of what strong women are. Oh, oh, oh, grab a gun and some stilettos and get a goddamn blowout. And look how strong you are now, Sally! It's bullshit! Which, by the way, so is this. It's quite possibly the worst thing I've ever read. But you want to know the worst part? You want to know what's really driving me fucking crazy? I am so jealous that you're reading for this. I have never had a director session for a feature—which is the same thing as a movie, P.S. And I have been doing this for way longer, and I think you'd agree that I am way better. I made you! And I'm actually represented by Gersh. Well, at least I was. I don't even know if they rep me anymore after what I said in there today, but still, at least I held my ground, because I am an artist, OK? An artist, and this is not fucking art! But then, I mean, to be honest, of course I'm so happy for you. I mean, of course I want you to get this part, and I want to be the one to help you learn your lines and fix your inflections. But I need you to know that if you do get it, it's gonna make me, like…like, a hundred times more insane, OK?
4. "Nope" (film) by Jordan Peele: Emerald
Jordan Peele wrote this monologue as a way for Keke Palmer, playing the character Emerald, to quickly establish herself as a "tour de force" and inject some energy into the room. Isn't that exactly what you want from an audition? Here, Emerald gives a rapid-fire history lesson on her horse-wrangling family and their place in Hollywood lore.
Hello! How y'all doing? Sorry for the tardiness. My name is Emerald, that's OJ, and we are your animal wranglers today with Haywood Hollywood Horses. Now, did you know that the very first assembly of photographs in sequential order to create a motion picture was a two-second clip of a Black man on a horse? Yes it was, yes it was. Look it up. Now, I know you guys know Eadweard Muybridge, the grandfather of motion pictures, who took the pictures that created that clip. But does anybody know the name of the Black jockey that rode the horse? Nope. The very first stuntman, animal wrangler, and movie star all rolled into one, and there is literally no record of him. That man was a Bahamian jockey that went by the name of Alistair E. Haywood, and he is my great-great-grandfather…there's another "great"…grandfather. That's why back at the Haywood ranch, as the only Black-owned horse trainers in Hollywood, we like to say: Since the moment pictures could move, we had skin in the game.
Alright, let's get into some safety precautions while we're on set, shall we? Number one, please refrain from making any loud noises, sudden movements, and keep your cell phones off. We'd really appreciate that. Two, if you see anything that looks or feels unsafe, contact me, OJ, or your second in chain of command. And three, let's have a great shoot! And I am Emerald Haywood. I direct, write, produce, act. I do a little singing on the side. Motorcycles, baby. Look, I make a mean grilled cheese if you're looking for crafty. Just holla at me.
5. "Colorado" (theater) by Peter Sinn Nachtrieb: Tracey
This opening speech from Peter Sinn Nachtrieb's "Colorado" is a comedic gold mine, with nearly every line offering an opportunity to hit a funny beat. It's also bursting with character; you get to play sincere, self-serving, and sardonic all at once. You'll be portraying Tracey, a self-absorbed 17-year-old who won the title of Miss Late Teen Colorado before mysteriously disappearing.
Thank you! Thank you all! Thank you so so so so much! Oh I love you so so, so so so much. Thank you! (Tracy signals the crowd to calm down. The cheering dies down.) This… This is the happiest day of my life! (Cheers.) I… I am so enchanted to receive this beautiful, glorious, magical, glistening crown, am so proud to be your Miss Late Teen Colorado, and am so thrilled to represent our great state in Virginia Beach this summer! (Cheers.) I couldn't have done this without some very wonderful people who have helped me with my polished beauty and brilliance: My beauty trainer, my mentor, my spirit guide Stan: You never gave up on me, because you didn't have to. My friends: Tammy, Tanya, Lorraine, Melinda, Cassie, Jen, Jennifer, Jen, Jennifer, Jenny, Jenna, Sandra, Sasha, Emilys K, V, B, and W, and Maxine, or "Maxi Pads" as we call her, sorry Maxine, or should I say Maxi Pads, ha ha ha, Toni, Bobbi, the entire horse species, and finally, my ex-boyfriend Chet, who showed me what it means to truly love in a physical way.
And, like most importantly, there is no way in the entire planetary globe I would be here if it weren't for the bottomless river of undying support from my loving family.
Mom, (Grace appears in a pool of light, watching Tracey adoringly.) Dad, (Ron appears in a pool of light, also watching Tracey with pride.) I love you so so so so so much! Travis, my brother. (Travis appears in a pool, watches Tracey, a little bewildered.) Not really.
I… I would like to dedicate this Late Teen crown to all the contestants who couldn't be here tonight: Miss Lakewood, Miss Federal Heights, and Miss Castle Rock, who couldn't compete because of the horrible, tragic events that have taken place at their schools. We wish you all a speedy recovery, this crown is for you. (Cheers.) I WANT TO USE THIS CROWN TO CHANGE THE WORLD! If I can just change one life, one little insignificant life, I think it will justify the beauty that God has given me.
Thank you all! Thank you for loving me so much!
Picking a comedy monologue that fits is a difficult task for any actor. It's best to think about what suits you rather than what the casting team will think about your monologue choice. Obviously, if you're auditioning for a comedy, it's a good idea to stick to a comedic take. But don't get too hung up on choosing the most hilarious speech or one that's full of jokes. As long as your monologue is natural and sounds like you, you've got a shot.
Looking for remote work? Backstage has got you covered! Click here for auditions you can do from home!