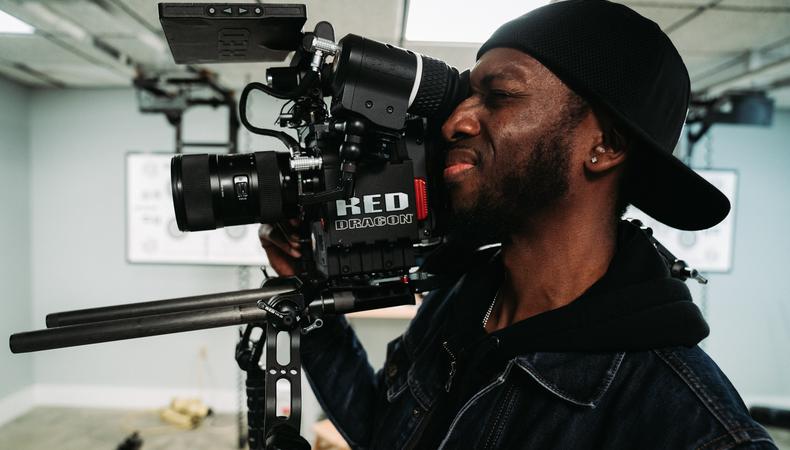 It goes without saying, but let's say it anyway: Movies, television, commercials, digital media, and anything that requires the capturing of moving images does not happen without the camera operator. They are after all the person on set who, literally, operates the camera. As such, there is always plenty of work out there for camera operators, and if you're thinking maybe it's the on-set job for you, then you've come to the right place. Here's everything you need to know about how to become a camera operator.
The camera operator is the individual who holds, moves, and controls the camera throughout principal photography of a production. Working under the guidance of the director and cinematographer, it's the camera operator's job to physically capture their visions through the viewfinder.
A camera operator is extremely hands-on and active over the course of a shooting day, which can sometimes last more than 10 hours. That includes discussing what equipment is necessary to capture that day's shots and then setting up and assembling that equipment.
"Their day usually begins by getting a shot list or schedule from the first assistant director, but sometimes the director will communicate directly with the camera operator on how the shot should work," says Orlando Duguay, a professional Steadicam and camera operator based in LA. "If the take is more complicated and involves a Steadicam rig, there will be a rehearsal period. Practice can last up to a full day with extensive diagramming if the shot is complicated. The day ends with the camera operator helping the camera team break down and organize equipment."
Additionally, the camera operator is often the only one on set who sees how everything is being shot in the moment; it's on their shoulders to correct and/or readjust anything that doesn't match the director or DP's vision.
The camera operator's responsibilities include:
Leading a crew of camera assistants (first assistant camera, second assistant camera, etc.)
Mapping out the specifics of the day's visuals with the DP and ensuring they're executed properly
Assisting with blocking the set
Getting cameras in position
Framing the shot of each scene
Supervising the selection and preparation of various shooting accessories such as lenses, rigs, cranes, and dollies
Being in charge of the camera equipment's movement and maintenance.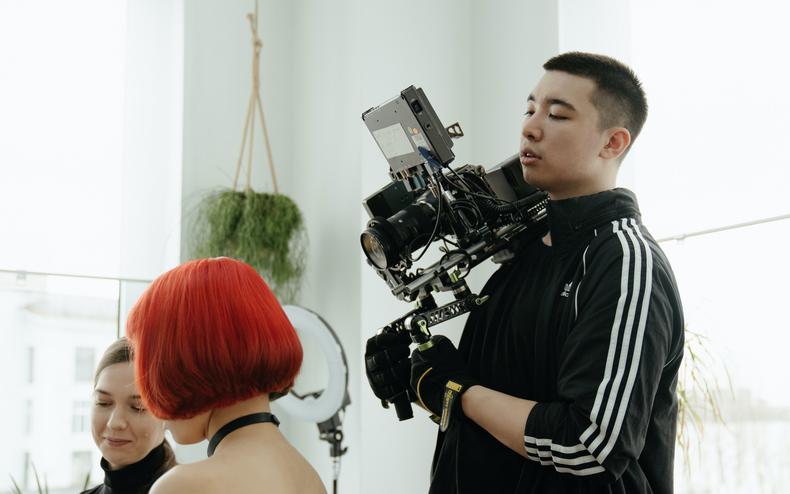 Cotton Bro Studio/Pexels
There is definitely some overlap between a camera operator and videographer, mainly that both roles entail capturing live video. However, generally speaking, "videographer" is someone hired to capture live events such as a wedding or concert. They are usually a one-person team and there is little planning in regards to shot setup.
The role of the camera operator is usually much more artistically and strategically involved. They report to the director and the DP, working especially close with the latter. They're also in constant communication with the production designer, gaffer, and others on set. They supervise a group of camera assistants who carry out tasks such as loading film stock, switching out filters, creating marks for actors, and handling equipment. Sometimes on smaller sets, the DP acts as the camera operator as well. Many large productions have several camera operators.
As of November 2022, the salary range for a camera operator is between $71,964 and $108,186, according to Salary.com. On average, a camera operator's salary is around $86,598 a year.
As with most crew positions, the camera operator's salary is not a fixed one; it depends on experience, the production's budget, hours worked, and whether you're a freelancer or in a union. Camera operators are represented by IATSE Local 600, which provides its members with a rate card and sets standard minimum rates for various types of productions. Those who freelance set their own rates.
A film school degree isn't required to become a camera operator, but as is the case with many film jobs, it will help for a few key reasons. First, you'll be able to gain hands-on experience—many film school tracks require you to work on at least one film before graduating—in an environment where it's safer to fail. Second, film school often provides a network of contacts that become vital during the search for post-graduation entry-level film jobs.
However, whether you learn at school or on your own, there is one vital requirement for becoming a camera operator: You must know how cameras work on an intimate level. Study books, tutorials, and how-to videos for concepts such as:
The types of camera lenses and how they can change a shot
How to use the equipment that operates cameras, such as dollies, rigs, and cranes
The essentials of the "exposure triangle," which includes adjusting settings such as a camera's ISO, aperture, and shutter speed to get proper exposure
The difference between shooting on digital versus film
Different camera angles and movements, as well as how each can enhance the tone and intention of a shot
How lighting affects the shots within any scene
How blocking affects the shots within any scene
Outside of camera specifics, a camera operator must also possess skills such as:
An eye for detail
Creativity
The ability to think on their feet and work under pressure
Collaboration skills
An intimate knowledge of how a movie set operates, including all the roles in the crew hierarchy
Many camera operators get their start as production assistants or with lower-level jobs within the camera department, such as film loaders, camera trainees, and second assistant camera operators. These entry-level positions give you easy access to the camera crews, so you can observe on a daily basis how the job is done and get a good handle on the cameras, specific lenses, rigs, cranes, dollies, and other equipment.
Thanks to the advancements of smartphones and affordable digital cameras, it's also never been easier to shoot material on your own. Creating your own content is an effective way of experimenting with framing, lighting, and focus—and thanks to hosting platforms such as YouTube, it can also serve as a demo reel.
Barry Sonnenfeld, the director of the "Men in Black" and the "Addams Family" films, cut his teeth as a cameraman and then became a cinematographer, photographing the early Coen brothers' movies (as well as "Big" and "When Harry Met Sally") before being called to the director's chair. His successful career began simply because he was armed with his instrument: "When I got out of school, I felt that if I owned a camera, I could call myself a cameraman without being a dilettante," he told Boston's NPR news station, WBUR. Upon meeting Joel and Ethan Coen at an industry party, he heard about a script they had finished and said, " 'I own a camera.' And [Joel] said, 'You're hired.' "