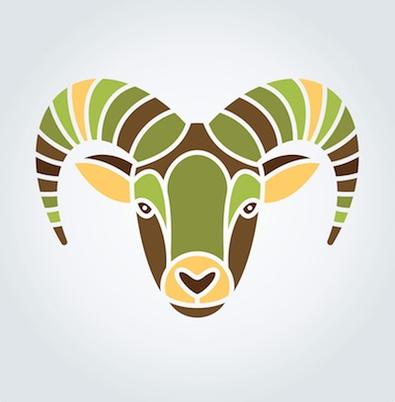 CAPRICORN (December 22 – January 19)
There's been a fire brewing in your belly, or what we astrologers call Mars, Uranus, and Venus in Aries and that area of your chart associated with roots, home ,and family. This curious trio of fire-sign energy in your private 4th House is calling for an inner tune up—even a certain weeding of the past so you can start anew and build a stronger foundation based on who are now rather than who you used to be.
A vague sense of dissatisfaction with the personal status quo is waking you up to yourself and may be waking up the neighbors as you may just be inspired to knock down a wall as an energetic outlet. In any case, whether building your kingdom as an inner or outer demonstration of passion, there's a sense of new possibility that is rocking you to the core. When assertive sexpot Mars enters Taurus and your 5th House of fun-hogging on March 9, your sensual appetite increases, ratcheting up your social and romantic life.
Jupiter, planet of growth and opportunity, is retrograde (turned introspective) in your 10th House of Career, perhaps quieting career developments, but no less powerful in its station. Capricorns can sometimes over-identify with the external trappings of "success," but it's the anonymous changes in perception and quiet deposits you make to your well-being that will lead to those stellar outer circumstances you so covet. Just know hard evidence of this may not come until June when Jupiter stations direct.
In the meantime, add value to the quality of your thoughts and focus on inner riches. An inside-out approach may work best, so it may finally be time to feng sui that actor apartment you inhabit. After March 20 when the Sun enters the introspective 4th House and a New Moon appears on the 25th, intentions seeded around the themes of home, heart, and family will have miraculous chances for growth and affect all facets of life. The stronger you root down, the higher you can grow. And trust your instincts to spruce up your place, as the aesthetics are truly significant now.
Kelly Chambers is a writer, actor, and astrologer living in Los Angeles. She can be reached for private astrology readings through her website theastrologersdaughter.com. You can also check her out in the web series "Break Hollywood with Nice & Fargo," a comedy by actors for actors. Follow the latest in cosmic news on her Instagram and Twitter. She welcomes your comments and insights.
Ready to see what else March has in store for you? Check out our film audition listings!
The views expressed in this article are solely that of the individual(s) providing them,
and do not necessarily reflect the opinions of Backstage or its staff.