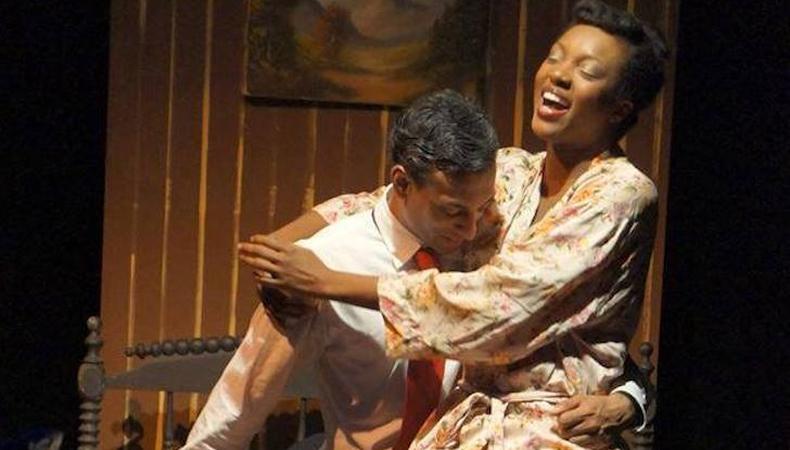 You can't win the lottery without buying a ticket.
Now imagine that, based on the color of your skin, you can only buy tickets on certain days. But you never know when. And the only tickets you can buy win you $5 maximum. Or you aren't allowed to buy any tickets at all.
That's pretty much what reading through casting notices is like when you are an actor who is of any ethnicity other than Caucasian.
Despite paying 100 percent of the fees for headshots, acting lessons, reels, and agents, actors of color are relegated to about 15 percent of the castings, notably cashiers and pedestrians or the code word "downscale." Meanwhile, "upscale shoppers, any ethnicity, blonde hair preferred" is a common theme. I once saw a casting for Mulan and Princess Jasmine stating "Caucasian only." Seriously.
In fact, as I write this, there is a live casting notice that reads, "Speaker must be non-African American, non-Hispanic female. A speaker of light-skinned ethnicity might also work."
This is the only job in the world where listings will say what skin color and tone, what hair color and length, which physique, how big breasts should be. Sometimes, these things are pertinent to the role. Many times, they are not and just serve to reinforce stereotypes.
Growing up, I never saw any South Asians on TV until Apu on "The Simpsons," a cartoon workaholic who is the butt of many jokes and is voiced by a white man. In 2014, I founded my own theater company to cast actors of color in starring roles. (I also expanded my definition of diversity to include actors over the age of 40.)
Our first production, Arthur Miller's "Death of a Salesman," was inspired by Miller's memoir "TimeBends," in which he writes of producing the play in Beijing: "When I arrived in China to begin rehearsals the people in the American embassy, with two exceptions, were sure the Chinese were too culturally remote from the play to ever understand it... [But what those two exceptions] were thinking turned out to be more or less what they were thinking in New York or London or Paris, namely that being human—a father, mother, son—is something most of us fail at most of the time, and a little mercy is eminently in order given the societies we live in, which purport to be stable and sound as mountains when in fact they are all trembling in fast wind blowing mindlessly around the earth."
As for a South Asian production of "Salesman," I realized I would never see it happen unless I did it myself.
READ: A More Nuanced Look at Hollywood's Diversity Problem
In my casting notice, I specified the role of Miss Francis, the married Willy Loman's girlfriend, to be cast as any ethnicity except white. The reason being that there is a rampant depiction of men of color choosing Caucasian partners because that is seen as "better." Willy and Miss Francis' relationship has overtones that affect the entire play and I wanted the audience to really watch and see why he was having an affair. We cast two wonderful actors to share the role, Danea Robinson, whose family comes from the Caribbean, who played the role as fun and vivacious, and Stephanie Uttro, whose family comes from Nigeria, who played her as devoted and caring.
But during the casting, I got emails from Caucasian actresses stating they could not be in the production because they were "as American as they come," an odd proclamation to make in 2014 when Barack Obama, a man of Kenyan and Irish descent, was the leader of the United States of America.
This year, for Tennessee Williams' "This Property is Condemned," I vetoed a 30-something Caucasian actor to portray a 13-year-old. The person who recommended she audition accused me of being "prejudiced against her for having blonde hair," even though our other Tennessee Williams' one-acts had blonde actresses. What an easy way to absolve oneself from the responsibility of researching the part! She was simply too old to play a 13-year-old whose family had abandoned her and was surviving by dating adult men...and there's nothing wrong with that. I am too old to play that role—that's why I didn't cast myself.
This actor had been in plays with all-white casts, so she'd a chance to be seen and recommended while black and brown actors did not. When she goes to castings for women with blonde hair, does she ask why it's not open to black and brown actors? Does she see this as her problem (if she sees it as a problem at all)?
When we raise money, procure rights and run a production, we are told we are wrong to exclude those who have built an entire industry excluding us. But I did not work this hard to throw it all away for anyone who does not fit the role or my theatre company's mission, no matter their hair color or shoe size or vocabulary or ability to do quantum physics—it's not about the actor taking a role but what the actor can give the audience in that role.
There are some who say diversity should be all races coming together. I would like the all-white casts or those casts with people of color playing servants or other peripheral characters to show me the way. Until then, allow me to cast my productions in peace the way you allow yourselves.
Saima Huq, MPH is a public health researcher who has lived concurrent lives as a personal trainer, print model, zoo tour guide, and the founder and producer of Always Love Lucy Theatre, which stages classic plays featuring people actors of color and/or over age 40. She has been to 30 countries, most recently traveling alone across Vietnam. Her writings have been published on Stagebuddy and HelloGiggles. She lives in New York City.
Check out Backstage's theater audition listings!
The views expressed in this article are solely that of the individual(s) providing them,
and do not necessarily reflect the opinions of Backstage or its staff.