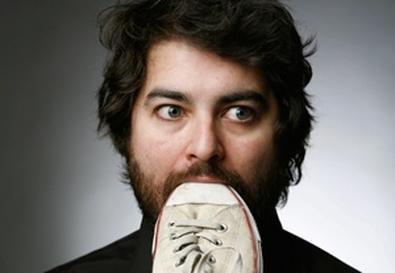 Standup comic Sean Patton's looks, voice, and wild energy have drawn comparisons to a young Jim Belushi, but this rising comedian's style is all his own. He was featured as one of the "New Faces" at the 2008 Montreal Just for Laughs Festival, and he's returning to perform as part of the fest's 30th anniversary this month.

In between, Patton has developed his standup on comedy stages in New York, Los Angeles, and across the country; was featured on "Late Night with Jimmy Fallon" and Comedy Central's "Live at Gotham"; and performed at the Melbourne Comedy Festival. He currently co-hosts the weekly show "Comedy as a Second Language" with Chesley Calloway at Kabin Bar & Lounge in New York's East Village. And in June, Patton recorded his standup comedy album at NerdMelt in L.A. The album will be released in September on A Special Thing Records.

Read our Back Stage Q&A with Sean Patton:

How long have you been a comedian?
Sean Patton: All my life. I was never a "class clown," but I was a "smoking cigarettes in my friend's back yard when his parents are at work" clown.

You started performing in New Orleans, but what made you want to turn comedy into a career?
Patton: There is now a vibrant comedy scene in New Orleans, but when I was there it was very tiny and DIY. Back then we were producing our own shows at coffee shops and music venues and bars with stages (plenty of those in New Orleans). We'd all do longer sets because we could. I learned how to perform in New Orleans; I learned how to write in L.A. and NYC. Where do I currently live? Everywhere. These days I'm a gypsy.

I do remember my first time onstage. It was brutal. I also remember my first time onstage when I made someone laugh. That was the moment I knew wanted to do this as a career.

Who are your comedic influences?
Patton: My influences are anyone who's ever contributed to the art form of comedy and helped propel it to a higher level. I know that sounds a bit cheesy, but there are so many that just take from comedy and never give something to it. I'm inspired by those who create a mold and then shatter it. I would describe my writing and performance style as completely my own.

What would you consider your "big break" so far?
Patton: I don't believe there's such a thing as a "big break" anymore. Nowadays you keep making smaller breaks until the wall that divides you and success finally crumbles. I've made quite a few smaller breaks, and I've got quite a few more to make.

What are your goals for your career?
Patton: To continue writing, performing, and getting better. I intend to never peak and to always be climbing. And to not fall while I am it.

What else do you want Back Stage readers to know about you?
Patton: I drink too much.



Follow @mrseanpatton on Twitter.

Read more about Patton and the rest of Back Stage's "10 Comics to Watch" in 2012.