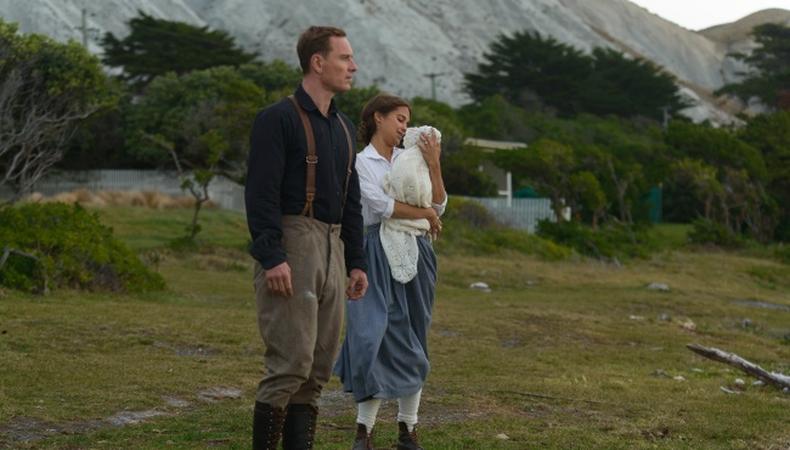 Brother and brother, husband and wife, father and son—Derek Cianfrance has always been fascinated with a family's inner workings and dramas, and he explored as much in his first three narrative features: "Brothers Tied," "Blue Valentine," and "The Place Beyond the Pines." With this fall's "The Light Between Oceans," he adds a final grace note to his trio of familial couples: mother and daughter.
Adapted from the 2012 novel of the same name by M.L. Stedman, the film stars Michael Fassbender as Tom, an introspective man contracted to maintain an island-bound lighthouse after his predecessor's unexpected death. Alicia Vikander plays his impulsive young wife, Isabel, who decides, upon finding a baby, to keep it as her own. Years after the infant girl washes ashore, the child's biological mother, Hannah (Rachel Weisz), comes into the equation. Suspicions mount, and the family Isabel and Tom built together along their island's rocky shore soon untethers and drifts to sea.
Though "The Light Between Oceans" marks Cianfrance's first adapted screenplay ("I was kind of sick of myself and sick of my own ideas," he says), it still feels very much in line with the visual and thematic language he's built through the years. "I make family movies," he says. "I basically make home movies, which I've been doing since I was 13 years old."
It was at this age while growing up in Colorado, Cianfrance recalls, that he began thinking of homes as their own "islands" with different people, conflicts, languages, and secrets hidden within. It's an image that affects his work to this day.
"Within those families were secrets, and only if you were a member of that family would you be privy to those secrets," he says. "That's what I've tried to explore within my movies: the secrets within families.... It's been my obsession, really."
While the literal imagery of the lighthouse shining into the night cinematically benefited this metaphorical family-as-island, it also directly assisted the filmmaker in bringing Stedman's novel to the screen and working with his actors on creating an urgent chemistry—or, as Cianfrance calls it, "living, breathing cinema." Much like he had stars Ryan Gosling and Michelle Williams live together while filming 2010's achingly intimate "Blue Valentine," he, Fassbender, and Vikander all lived on the island through the five weeks of filming the film's first half.
"I'm always trying to find a place where everyone stops acting and we capture human life," Cianfrance says. That meant there were three days before Vikander's arrival when it was just Fassbender, Cianfrance, and minimal crew going about Tom's daily chores of tending to the lighthouse, garden, and home. And when Vikander came to set, they dressed her in period wardrobe and blindfolded her midtransport. The blindfold didn't come off until she was atop the island facing the sunrise.
"She spent two hours on camera discovering this place for the first time," Cianfrance says. "She was blind and now she could see. It was pure experience."
That, the director says, is the foremost gift he offers his actors: experience. While he admits that Fassbender in particular was at first "a little resistant" to the process, by the end of the five weeks, trust was built and neither he nor Vikander wanted to leave. Cianfrance describes the actors' rapport on set as his cerebral approach to her emotional abandon; two masters digging their heels in and forcing the other to rise to the occasion. Held within the geographical constraints of the island, magic was spun.
"If [actors] will open themselves up to my process, I will give them an experience," Cianfrance says.
Ready to star in a feature film of your own? Check out our film audition listings!