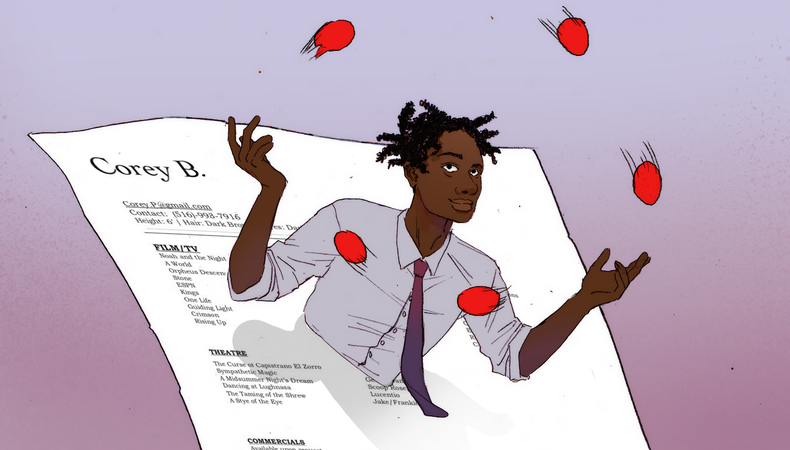 A polished acting résumé is a key element of any actor's submission—and you want to be sure that it ends on a high note, with a strong "special skills" section. Of course, that's easier said than done. The "special skills" portion of an actor's résumé is probably the most open-ended, and it can be tricky to figure out what to include. Should you mention horseback riding? Salsa dancing? Your time on the high school soccer team?
So we asked casting directors, talent agents, and acting coaches for their thoughts on which special skills belong on an actor's résumé. Here's what talents will actually help you stand out in the casting process—plus, how to correctly format your résumé so it makes it to the top of the pile.
Actors are generally expected to include a "special skills" or "special talents" section at the bottom of their résumé, which includes a list of any abilities that could come in handy for a role. Common special skills for actors include proficiency in a particular type of dance (salsa, tap, ballet), musical instruments, foreign language or dialects, sportt (gymnastics, cheerleading, horseback riding), and stage combat. But other unusual or rare talents can also fall under the umbrella of special skills—and can even serve as a conversation-starter at general meetings or agent interviews.
Actors' special skills aren't just a nice-to-have—sometimes they're pivotal to the project. "Imagine Geoffrey Rush in 'Shine' had he not been able to play the piano, Olivia Munn on 'The Newsroom' if she wasn't fluent in Japanese, or Channing Tatum if he couldn't dance," acting teacher Paul Barry says. "Many of the seminal roles of those we now know and love have been career tipping points for actors due to their unique skills."
Think about where your personal interests and passions might intersect with the practical needs of the project, and include any skills on your acting résumé that will help you stand out from the crowd.
If you're wondering where to start, here is a list of some of the more common special skills that casting directors and agents look for on an acting résumé:
Accents
Foreign languages
Stage combat, gun handling
Musical instruments
Unusual athletic abilities, such as hymnastics, martial arts, cheerleading, fencing, skiing
But don't let this list limit you. Philadelphia talent agent Mary Anne Claro advises that actors think outside of the box when it comes to special skills. "If you can dance or know medical terminology, that's useful for me to know," she says. "One actor who mentioned on his résumé that he was a Green Beret helped get him on 'The Wire,' where he got a two-year contract."
Whatever the given skill that you're listing, you must be able to do it—and do it well. It is never okay to lie about a special skill on your acting résumé. "If you can't do something with excellence, don't put it on your résumé," warns casting director Ilene Starger. "I once cast an actor who said he could ride a horse; when the time came for him to shoot his scene, I received a panicked call from the line producer, who told me the actor was terrified atop the horse. Actors, please remember that you could cost a production a lot of money if you claim expertise in an area but don't in fact have it."
Not all of your passions belong in the special skills section of your acting résumé, however. Although every casting director and agent has a slightly different take, the general consensus seems to be that common hobbies or interests that don't require specialized skills—being an avid reader, a sushi fanatic, or a dog lover—can be left off. But if your hobbies or interests are more specific and could potentially be helpful in an acting context—maybe you're a trained chef or an experienced carpenter—then it's probably worth including them.
There's a fine line between making yourself seem human and including extraneous, unhelpful information—and the "special skills section of an actor's resume is not a landfill for useless information," notes casting director, director, and acting teacher Paul Russell. He has a pretty lengthy list of what he's termed "no-no skills" that should never be mentioned on your résumé, including these real-life examples:
"Related to Jimmy Stewart" (And your point is...?)
"Tetris" (Is this actress hoping for the remake of "Tron"?)
"Enjoys restoring cars in the family collection"
"Owner of [name withheld] jewelry"
"Makes incredible smothered burritos" (My local Taco Hell needs you.)
Several experts, including Russell, said it's unnecessary to mention that you're a licensed driver—although it's worth noting that you know how to drive stick.
The "special skills" section should be located at the very bottom of your acting résumé, below your roles and training. You can format your special skills by sorting them into categories (for example: Sports, Languages, Accents, Dance, Additional), with each category getting its own line. Or, if your talents don't fall as neatly into these traditional groupings, then you can simply list them out—split up by commas or semicolons. Either template is acceptable. Just make sure that it stays clear and easy to read, and there are no spelling or grammatical errors.
Make sure to specify your skill level and provide relevant details for each entry, notes casting director Marci Liroff. For instance: "What kind of dance do you know and what is your skill level? You say you sing—are you a baritone or an alto? What kind of guns are you proficient at shooting?"
The special skills section can serve as a conversation-starter when meeting with agents or casting directors—but make sure that the interests or skills you mention are truly unique. Specificity is your friend, says Backstage's resident agent expert, Secret Agent Man. "Telling me you 'love to travel' says nothing," he says. "Mentioning that you 'spent three months exploring Southeast Asia' is much more eye-catching. That sort of thing can lead to an interesting conversation if I decide to bring you in for a meeting."
Think about which parts of your life would spark a stranger's interest. "I get curious when I see things like 'reversible tear duct,' 'competitive clam shucking,' and 'comic book geek,'" continues Secret Agent Man. "A recent submission had 'plyometrics' in the special skills section. Nope, I didn't know what that was either, but I took a moment to look it up. Those precious few seconds kept that résumé on my desk, and sometimes, that's all it takes to sway an agent's decision in your favor."
Let's say they're casting a role for a project you desperately want in on—but the character possesses a skill that you yourself do not. Depending on what it is, it's not out of the question that you could learn how to do it well enough to be passable on stage or on screen. Many famous actors, in fact, have done as much with great success; some even won Academy Awards along the way.
Natalie Portman, notably, learned ballet for her grueling part in "Black Swan," a role that won her a best actress Oscar in 2010. Adrien Brody, meanwhile, learned how to skillfully play piano for his leading role in "The Pianist"; he, too, won an Oscar for his work back in 2003. Another performer who took up a skill and went on to walk away with a golden statuette of her own: Reese Witherspoon. The actor learned the autoharp to portray real-life wife to Johnny Cash, June Carter, in the film "Walk the Line." Her performance won the best actress Oscar in 2006.
But when it comes to picking up new skills, it may be worth thinking more broadly about the career you want—and then targeting skills that will help you obtain your goal. "Instead of trying to figure out what 'they' want, ask yourself, 'Where do I want to go in my career and what skills do I need to get there?'" says Backstage Expert Wendy Braun. "When you begin with the end in mind, you'll have a more specific idea of what best next actions you need to take. If you want to star in musicals on Broadway, mastering singing and dancing is an obvious prerequisite. To become more appealing, mastering tap dancing or backflips might help you stand out from the competition. If you want to do comedy in films or on television, having an improvisation or stand-up comedy background will serve you well."