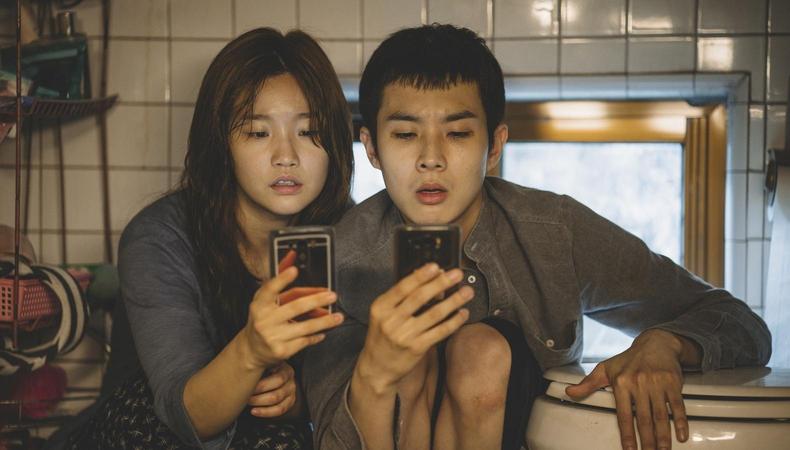 As 2019 nears its end, Backstage is looking ahead to a new year's awards season. With Academy Award nominations nearing (Jan. 13!), which films and performances have generated the most buzz? What clues could point to the major contenders for the most coveted award in the film industry?
Film critics' groups throughout North America may indicate whether any big-screen competitors have a clear path to awards glory. Their annual selections often become frontrunners throughout each film and guilds awards season, with the same titles and artists appearing on multiple lists and boosting the odds of a coveted Oscar nomination. We've gathered up the selections of major film critics' groups across the continent to see if predictive patterns emerge.
There has been wide praise for "Parasite," the Bong Joon-ho comedy-horror-satire which debuted back at the Cannes Film Festival where it took home the prestigious Palme d'Or, the first Korean film ever to do so. The film is already up for a Critics' Choice Award, the Golden Globe for Foreign Language Motion Picture, and the SAG ensemble prize. Along with critical success—the film has earned the top prize among multiple critics' groups—it has been a commercial triumph as well, taking home more than $125 million worldwide. Though the film is wildly successful, last year's foreign film champ "Roma" had a similar amount of buzz, winning countless accolades, but lost the best picture Oscar to "Green Book." Interesting to note: none of the critics groups surveyed below chose "Green Book" as their winner last year.
Mark Your Calendar: Your Official 2019–20 Film Awards Schedule
Other 2019 movies to get a best picture mention from critics are Greta Gerwig's late-arriving adaptation of "Little Women," Martin Scorsese's mobster epic "The Irishman," and Quentin Tarantino's starry "Once Upon a Time...In Hollywood." But when it comes to directing, the critics' groups solidly point back to "Parasite." Bong won Best Director from nine out of the 10 critics' groups below. Only the New York Film Critics Circle broke ranks, with their win going to Josh and Benny Safdie's frenetic Adam Sandler thriller "Uncut Gems." This could be good news for Bong, as last year's Alfonso Cuarón of "Roma" received equal praise and went home with the Academy Award for Best Director.
Lupita Nyong'o's performance in Jordan Peele's horror hit "Us" was also universally praised this year. The Oscar winner is currently up for a SAG Award for her dual performances as Adelaide Wilson and Red, and won Best Actress from seven out of the 10 groups below. In the Best Actor category, things were a little less consistent; Adam Driver nabbed five wins for Noah Baumbach's "Marriage Story," while Antonio Banderas earned three for Pedro Almodóvar's Spanish Oscar entry "Pain and Glory." Both actors are up for the Critics' Choice and Golden Globe Awards for their respective performances, and Banderas took home Cannes' top acting prize back in May.
Will "Parasite" go on to win with the Globes, SAG, and Oscar? Will Nyong'o's lauded performance bring her award season glory? Decide for yourself with the full list of critics' group winners below.
Boston Society of Film Critics
The Boston Society of Film Critics, formed in 1981, awards films that have a theatrical release in Boston. Their organization works to ensure Boston's unique critical perspective is heard on a national level.
Best Picture: "Little Women"
Best Director: Bong Joon-ho, "Parasite"
Best Actor: Adam Sandler, "Uncut Gems"
Best Actress: Saoirse Ronan, "Little Women"
Chicago Film Critics Association
Founded in 1990, the Chicago Film Critics Association boasts the only film festival entirely programmed by a critics' group.
Best Picture: "Parasite"
Best Director: Bong Joon-ho, "Parasite"
Best Actor: Adam Driver, "Marriage Story"
Best Actress: Lupita Nyong'o, "Us"
Los Angeles Film Critics Association
Comprised of Los Angeles-based professional film critics and founded in 1975, this group is also known for including a Career Achievement Award and New Generation Award.
Best Picture: "Parasite"
Best Director: Bong Joon-ho, "Parasite"
Best Actor: Antonio Banderas, "Pain and Glory"
Best Actress: Mary Kay Place, "Diane"
New York Film Critics Circle
The New York Film Critics Circle Awards are the oldest accolades given by film critics in the country, and are considered a significant harbinger of recognition from the Academy Awards.
Best Picture: "The Irishman"
Best Director: Josh Safdie, Benny Safdie, "Uncut Gems"
Best Actor: Antonio Banderas, "Pain and Glory"
Best Actress: Lupita Nyong'o, "Us"
New York Film Critics Online
Founded in 2005, this organization is solely comprised of internet, NYC-based critics of film.
Best Picture: "Parasite"
Best Director: Bong Joon-ho, "Parasite"
Best Actor: Joaquin Phoenix, "Joker"
Best Actress: Lupita Nyong'o, "Us"
San Francisco Film Critics Circle
This organization is comprised of local Bay Area publications' critics and was founded in 2002.
Best Picture: "Once Upon a Time...In Hollywood"
Best Director: Bong Joon-ho, "Parasite"
Best Actor: Antonio Banderas, "Pain and Glory"
Best Actress: Lupita Nyong'o, "Us"
Seattle Film Critics Society
Founded in 2016, the Seattle Film Critics Society supports local efforts in critically engaging cinematic arts and represent print, radio, television, and online critics based in Seattle and throughout Washington.
Best Picture: "Parasite"
Best Director: Bong Joon-ho, "Parasite"
Best Actor: Adam Driver, "Marriage Story"
Best Actress: Lupita Nyong'o, "Us"
Toronto Film Critics Association
Established in 1997, the Toronto Film Critics Association is affiliated with the International Federation of Film Critics (FIPRESCI). Its Toronto-based journalists and broadcasters comprise the membership and present the Clyde Gilmour Award to a Canadian who has enriched the understanding of film in Canada.
Best Picture: "Parasite"
Best Director: Bong Joon-ho, "Parasite"
Best Actor: Adam Driver, "Marriage Story"
Best Actress: Lupita Nyong'o, "Us"
Washington D.C. Area Film Critics Association
Founded in 2002 and comprised of over 50 professional D.C.–based film critics, this organization works to advocate freedom of expression in film and film criticism.
Best Picture: "Parasite"
Best Director: Bong Joon-ho, "Parasite"
Best Actor: Adam Driver, "Marriage Story"
Best Actress: Lupita Nyong'o, "Us"
Vancouver Film Critics Circle
The Vancouver Film Critics Circle was founded in 2000 in order to help promote Canadian films and the British Columbia film and television industry. In their honors, they include both international and Canada-specific categories.
Best Picture: "Parasite"
Best Director: Bong Joon-ho, "Parasite"
Best Actor: Adam Driver, "Marriage Story"
Best Actress: Scarlett Johansson, "Marriage Story"