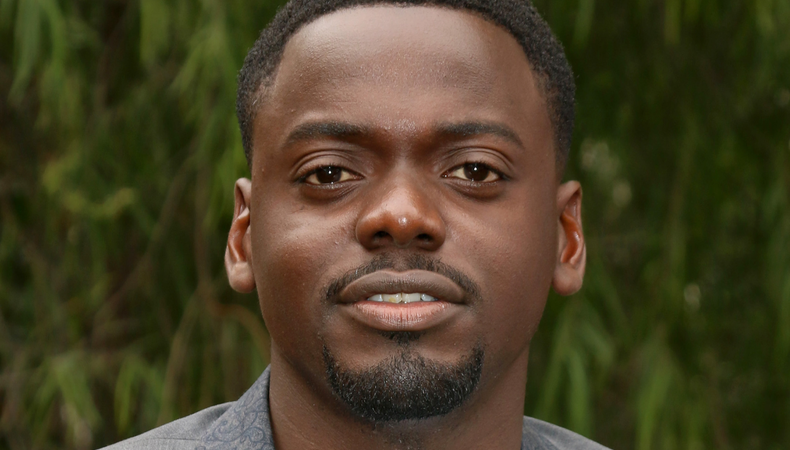 "In the Envelope: The Actor's Podcast" features in-depth conversations with today's most noteworthy actors and creators. Join host and Awards Editor Jack Smart for this guide on how to live the creative life from those who are doing it every day. This episode is brought to you by Warner Bros.' "Judas and the Black Messiah."
Daniel Kaluuya works intimately with scene partners and directors on any given screen project. But his most important collaborator may be the script itself—he talks about it like it's a living, breathing person.
"I ask the script, what you want me to do?" the award-winning actor explains. "Especially if I love a script...I let it tell me what it is. That's how you can always be OK in this acting thing."
That technique also enables an actor to avoid giving repeat performances, he adds. "If a different spirit is writing the script, it's going to bring out a different spirit in you, even if it's similar. So I say the guy from 'Get Out' and the guy from 'Queen & Slim' are quite similar. But because it's coming from a different place, they feel different."
That studied commitment to his craft is clearly paying off; this season's Warner Bros. film "Judas and the Black Messiah" is up for six Academy Awards, including best picture and, for both Kaluuya and co-star Lakeith Stanfield, best supporting actor. Kaluuya's Screen Actors Guild Award nomination, BAFTA film nomination, and Golden Globe win have come on the heels of 2017's "Get Out," which yielded his first Oscar nod. Born in London and trained in theater improvisation since childhood, Kaluuya worked his way from sketch comedy and the U.K. series "Skins," to the West End's "Sucker Punch" and other stage shows, to a breakout on Channel 4 and Netflix's "Black Mirror: Fifteen Million Merits." He's since worked with the likes of Jordan Peele, Ryan Coogler on "Black Panther," Steve McQueen on "Widows," and Melina Matsoukas and Lena Waithe on "Queen & Slim."
For all the above, Kaluuya tells Backstage, he approaches his characters by treating screenplays like Bibles. "I'll just read a script every day, set it aside, read the script, set it aside, every day," he says. "And then I would do this exercise where I write everything someone says about you, write everything you say about yourself, write everything you say about someone else, and write the facts. Like the facts are if a character has a brother, he has a grandma, any facts that are in the script, write those down. Your character lives in what you say about yourself or what someone says about you.
"I'm using who I am to show you who I'm not," he says, adding with a laugh, "I'm a geek! I'll go in a cave and I just shut myself away for three or four weeks."
By the time he arrives on set, Kaluuya has also thought about a character's physicality, in particular their weight and natural movement. "That's part of the storytelling, as well, how your body looks, how your hair looks, everything," he says. "That's to give the audience a subconscious indication of something that I felt consciously when I [prepared for the role.]"
In "Judas," Kaluuya plays Fred Hampton, chairman of the Chicago chapter of the Black Panther Party in the late 1960s and a target of the FBI; the film, directed and co-written by Shaka King, details the events leading to Hampton's assassination at only age 21. Kaluuya's extensive preparation included building muscle to match Hampton's grounded energy, training with opera coaches to deliver his impassioned, real-life speeches, and meeting with the chairman's girlfriend Akua Njeri (formerly Deborah Johnson) and their son Fred Hampton Jr.
After all his preparation, however, embodying a character becomes about listening and responding in the moment. "I'm coming from, internally, what does it feel? As opposed to externally, what does it look like?" says Kaluuya. "I do perform for the camera. But I want, always, to feel like the character is not aware that the camera is there. It's a fine line. You have to signal to the audience, but also come from complete truth, so that you don't lose the audience while you're signaling them.... I just breathe and stay present. And listen."
Kaluuya's top piece of career advice for early-career artists? "[Get] with friends and do it," he offers. "And look around you, don't always look up. Because the people that you perceive as 'up' are busy so it's harder to build with them. So I always looked around me, I grew up with people around me."
For a window into Kaluuya's approach to both craft and career, tune into "In the Envelope" wherever you listen to podcasts. And stay tuned also for an internationally focused update from casting insider Christine McKenna-Tirella, who recommends Shakespeare in the Park's "The Merry Wives of Windsor" and the Bay Street Theater in Long Island among Backstage's casting listings this week.
Listen now on:
Looking for remote work? Backstage has got you covered! Click here for auditions you can do from home!