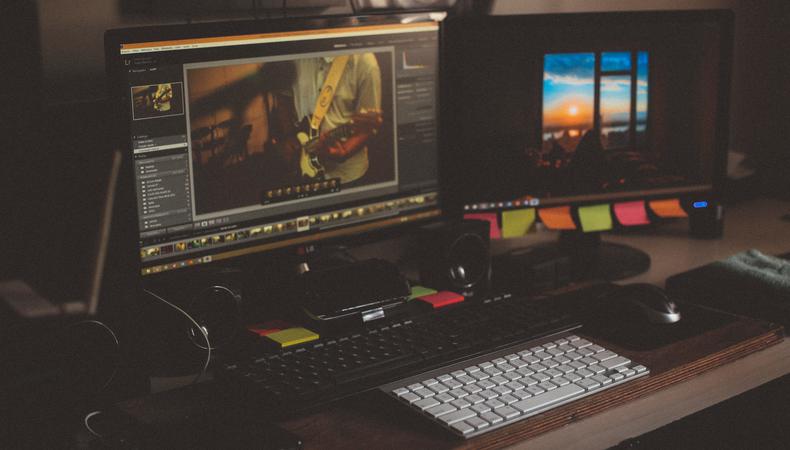 Editor Job Description: What Does an Editor Do?
The editor's job is to build a complete film out of the raw footage shot during principal photography. They compile and organize the film, sifting through every take and extraneous b-roll and are responsible for assembling a final product that utilizes the images, actors, dialogue, pacing, and music in the best way imaginable.
"On a very simple level, we receive all the material, all the footage and picture from the shoot, and we try to make sense of it," says film editor Nick Fenton ("A Private War," "On Chesil Beach"). "We try to make the most clear, emotional, compelling story that we can from that footage. Obviously, that's in collaboration with numerous other people, including the director and the sound team, and everyone who's come before us who is involved in the shoot."
While they work closely with the director to maintain their vision, the editor is in many ways the most powerful player behind the scenes as they more or less remake the film in the editing room; it's not uncommon for entire movies to be restructured for the sake of more fluid storytelling through the rearranging, splices, and cuts from the editor.
"The film is made in the editing room," noted the late Philip Seymour Hoffman regarding "Jack Goes Boating," his 2010 directorial debut. "The shooting of the film is about shopping, almost. It's like going to get all the ingredients together, and you've got to make sure before you leave the store that you got all the ingredients. And then you take those ingredients and you can make a good cake—or not."
The editor not only "trims the fat" of a film, but they have a pivotal hand in establishing the right tone and pace. They provide the director with a fresh pair of eyes, which is crucial. Several of the most iconic films in Hollywood were infamously reshaped and saved in the editing room, including the original "Star Wars," "Easy Rider," and "Annie Hall."
Thelma Schoonmaker, who has been editing Martin Scorsese's films since the late 1960s, cutting such classics as "Raging Bull," "Goodfellas," "The Wolf of Wall Street," and "The Irishman," said of editing actors: "It's hard to understand the delicate work that it takes to shape performances and to build drama or climaxes. An actor's performance can be improved or shaped—or ruined—by what takes you use, how long you are on the actor's face, what line you put on the other actor's face and when do you use close-ups or wide shots or two shots. You want to be respectful of the rhythm that the actors have established. You see that in the improvisation in 'The Wolf of Wall Street.' They were establishing a very different kind of rhythm than you normally get in a scripted scene. In 'Silence,' there was no improvisation at all; really, you're dealing with a script and a 17th century way of speaking."
Editor-turned-director Joe Dante ("Gremlins," "The Howling") agrees. "The whole structure of your movie may change during the editing. You might get an idea that the middle should go in the beginning and vice versa. That's where you really have time to pay attention. On the set, there's a tremendous amount of pressure to get things done, so you do a lot of fast thinking. But you don't get to contemplate the way you do in the editing room."
Department



Alternate Titles for Editor
Film editor
Crew Hierarchy
Within the post-production department, the editor is top dog, serving as the creative head and supervising assistant editors, negative cutters, colorists, and telecine colorists (depending on the size of the production). He or she works closely with the director, as the director relies on them to succinctly execute their vision.
Editor Salary
According to a 2019 report by the U.S. Bureau of Labor Statistics, the average annual wage for "Film and Video Editors and Camera Operators" was $59,810/year, or $28.76/hour. Meanwhile, Paysa says that a film editor "earns an average of $78,273," with ranges from $62,651 at the 25th percentile all the way to $90,702 at the 75th percentile; top earners, those editing the biggest blockbusters earn more than $107,135. Editors who work on a freelance basis set their own rates, which are based on their experience, the production, the budget, etc.
As with most crew positions, the salary is not a fixed one; it depends on experience, the production's budget, hours worked, and whether you're a freelancer or in a union. Editors are represented by the Motion Pictures Editors Guild, or IATSE Local 700, which sets a scale.
How to Become an Editor
Many editors start out as PAs or assistant editors, colorists, and other lower-rank positions within the editing department; they tend to advance by shadowing professional editors and seeing how they work, building their own chops, and climbing the ladder of the industry. Most high-profile editors cut their teeth on short films, independent films, commercials, and music videos before landing top-tier jobs. As with any position, success in this field is based on years of honing their skills, working on as many projects as possible, and networking. Editors generally work as freelancers, especially early in their careers. Depending on the circumstances of the job, he or she should expect a very unreliable and night-heavy work schedule.
Editor Required Experience + Skills
In order to be a successful editor, it's crucial to be proficient and knowledgeable when it comes to filmmaking and storytelling, as well as the ins-and-outs of editing software. Luckily, rather than physically cutting and pasting film like the old days, the advent of digital editing has made the process more approachable and doable from home; nearly every laptop or phone comes equipped with a high-quality editing program. Some of the best and most easy-to-use ones are Adobe Premiere Pro, Movie Maker, iMovie, DaVinci Resolve, and Lightworks. With all these sophisticated tools of the trade, there's no excuse not to have experience.
Once you have some work under your belt, budding editors should compile what they've done on a website or some sort of portfolio/demo reel. A good editor should also have strong collaboration and troubleshooting skills, and must be creative, patient, and have a great work ethic. While not mandatory, undergraduate/graduate degrees in film, film production, editing, or anything related to those fields would be an advantage.
"I have three fairly standard pieces of advice that I generally give," says Fred Raskin ("Once Upon a Time in Hollywood," "Guardians of the Galaxy," "Fast Five," "Django Unchained"). "No. 1: Watch a whole lot of movies. You're going to be meeting with people who love movies and have made them the focus of their careers, and if you can talk with them about the thing they're most passionate about, they're likely to remember you. No. 2: Be personable. Ultimately, this job entails you and a director spending long hours in a room together. If you can't engage each other in conversation and have an easy rapport, I can't imagine it being a particularly pleasant working environment. No. 3: If you're interviewing on a project, make an effort to familiarize yourself with the filmmaker's prior work. It displays a clear interest in the project at hand—you want the job enough to explore what the director's all about—and it will give you a specific topic of discussion during your interview ('How did you shoot this scene?') to show off your own passion for the craft and relate it to the work of the filmmaker with whom you're meeting. It's worked for me so far, anyway."
For more on how to get work on a film crew, visit Backstage's crew hub!