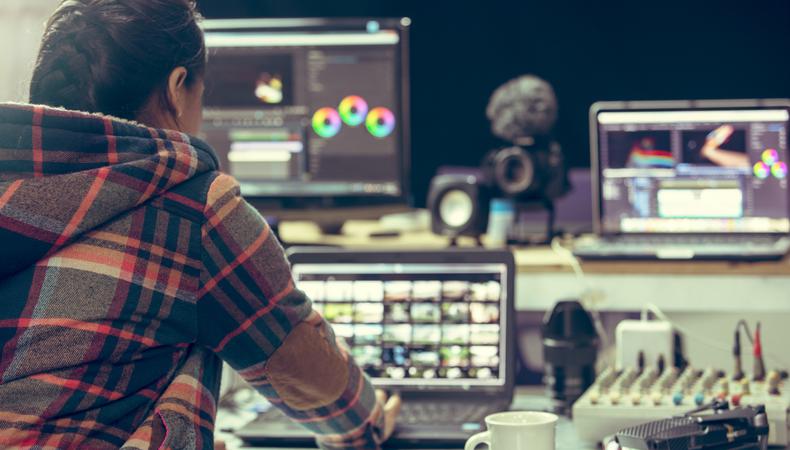 One of the most essential members of any production team, the video editor is responsible for the artistic choices made inside the editing suite that results in what viewers see on screen.
If you've tinkered with cutting projects together and think editing is the path for you, we have some advice from professional editors on what it'll take to break into the industry and land that first video editing job.
1. Take the early jobs, even if they're not in editing
After years of trying to break into the business, I finally got a job as an apprentice sound editor…. gradually becoming an assistant sound editor and then a sound editor on features for directors like Spike Lee, Brian De Palma, and Sidney Lumet.
The opportunity to move into picture editing finally came when I heard that a director named Rob Weiss was looking for someone to edit his first film…. I got hold of Rob's number and called, asking him to give me a shot. After sending him my résumé and a short film I'd made, he finally took pity on me and gave me the job. — Leo Trombetta
2. Look for connections with peers and classmates
Editing kind of fell into my lap. I was in my final year of film school at USC and I got an email from a friend asking if I'd be interested in working as an assistant editor on a Hallmark TV movie. A friend of his was needing to replace himself so he could go home for Christmas and since I'm from Southern California, I said I'd do it since I wasn't leaving.
I got the job and because I had been focusing my schooling on sound design, the editor on the job really liked my sound work and organizational skills. She told me once my two weeks were done that I should call her when I graduated. — Nona Khodai
3. Don't discount an apprenticeship
I went to film school at Temple University but I didn't study editing—it was all aspects of film. When I got out of school, I came to visit a schoolmate in NYC and never left. The first job I found was in editing and I really liked it.
I started as an apprentice editor on a corporate film and soon after that, I got work as an assistant editor for Jay Freund on a feature documentary. I ended up working with him for about seven years. We got along great and at some point, he agreed to supervise a documentary film that I cut on the artist Franz Kline. He then directed an episode for that series that I cut as well. — Ken Eluto
4. Remember: there's more to filmmaking than being a director
I, like anyone, had ambitions to be a director, and someone told me once, "If you want to direct, the place you're going to learn the most about filmmaking is the cutting room because it's the culmination of everyone's efforts."
So that's what I did. I became an assistant editor and then studied at a place called the National Film and Television School just outside of London and specialized in editing. I think I'm just very suited to the diplomacy in the cutting room. — Nick Fenton
5. Work with as many people as possible, and learn from the experience
When I was in film school and decided I wanted to pursue editing, I told all of my friends that if they wanted someone to cut their short films, I was their guy. You learn a lot more cutting other people's footage than you do cutting something you directed yourself—it forces you to figure out what the filmmakers' intentions were when they were planning and shooting.
As for actually finding work, it's really all about meeting as many people in postproduction as you can and getting your résumé out there. You just never know when a project is going to be looking for an assistant editor, and the [fresher] you are in people's minds, the more likely you are to be put up for the job. — Fred Raskin
This story originally appeared in the May 27 issue of Backstage Magazine. Subscribe here.
Find and apply to the latest video editor and post production jobs on Backstage here.