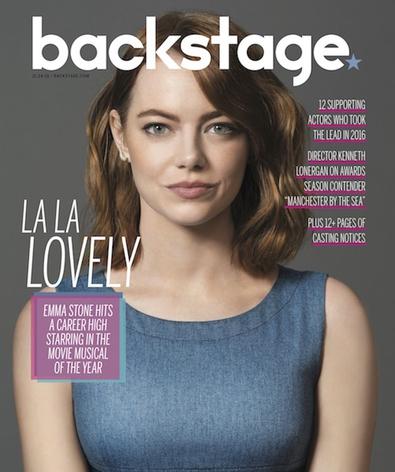 Emma Stone has been listening to a lot of TED Talks recently, and speaking to Backstage about her childhood love for youth theater gets her thinking about entrepreneur Margaret Heffernan's 2015 presentation about chicken behavior.
"There are worker chickens and super chickens," Stone explains. "They did this study, and the worker chickens, by the end of it, had gotten all this stuff done. But the super chickens, all but three had pecked each other to death. I guess I relate to that in the sense that it feels good for me to collaborate with people and be in a community. It's hard for me to be, like, this sole person doing something. [With] theater or something like 'La La Land,' we all were such a team the whole time."
She laughs in the same dorky, utterly adorable way that she has in so many movies. "Is this a really weird roundabout discussion?" she asks, before announcing faux-seriously, "I'm not a super chicken."
This is the Emma Stone you hope to meet face to face. Since she was launched onto the scene in a small but delightful part in 2007's "Superbad," Stone has been one of cinema's effervescent goofballs—a sunny and sarcastic force of nature. Self-deprecating but thoughtful in person, the 28-year-old actor started her film career playing funny characters whose humor stemmed from their no-nonsense response to the ridiculous world around them. Moving from the endearing ditziness of "The House Bunny" to her breakthrough in "Easy A," Stone has since worked on Woody Allen films and Spider-Man blockbusters. But her work in 2014's "Birdman" suggested a darker edge and a dramatic heft that hadn't always been apparent, earning her an Oscar nomination in the process.
Now, in the exquisite movie musical "La La Land," she brings together all the sides of her onscreen persona. She plays Mia, an aspiring actor suffering through the indignity of awful Los Angeles auditions who falls in love with Sebastian (Ryan Gosling), a jazz pianist chasing his own creative dreams. Magical, poignant, and funny, the movie is a deft mix of tones, and Stone nails them all.
"She has this quality that is at once timeless and very contemporary," says "La La Land" writer-director Damien Chazelle. "You buy her as a face on a 1950-style poster, but you also buy her as someone who is very much of the here-and-now. Her spirit and charisma just felt like great access points into the world of a musical. She has such an expressive face and expressive eyes. It's the sort of acting I gravitate toward the most—acting where you feel like you're looking right into their soul."
Stone, Gosling, and Chazelle collaborated during rehearsals to hone their performances and the movie's contemporary throwback feel, with Stone smartly proposing that Mia's age be changed from her early 20s to her late 20s. Stone's rationale was obvious: "If she moved to L.A. and she's 22, that's one thing. If she's 27, she's been there for a lot longer."
Mia's resilience clearly mattered to Stone, who remembers being a teenager telling her parents that she wanted to go to L.A. to pursue acting. "Obviously, I relate to Mia in quite a few ways. Auditioning, that kind of rejection, I went through three years of that—not six [like Mia], but I knew that world and what that felt like.
"Auditioning is the difference between being a good test-taker and being a good student. You could be a great student who, under pressure, is gonna fail on the test. I don't know how people can [cast] from auditions—it feels so different once you're actually on a set than it did in the audition."
When she first got to L.A. and landed a manager (Doug Wald, who still reps her today), she took general meetings with networks. They didn't go well. Stone recalls, "He would get feedback: 'We don't really understand what her deal is. She's wearing all these weird necklaces and had a ton of makeup on'—I went through a really weird phase of just wearing a lot of makeup at 16—and Doug told me, 'Hey, I want you to always remember: If someone doesn't get you, that's not on you, that's on them. If they don't get you, they're not your people.' My parents were like that, too: 'Just keep trucking as you are and eventually it will come together.' " She pauses and smiles. "I mean, I guess that's a great life lesson."
It's one she's been following since she discovered her knack for stage work as a child living in Arizona.
"I definitely love to sing and dance, but those weren't my stronger suits growing up," Stone says about her early performance days. "I took singing and dancing lessons most of my childhood and did youth theater, but acting was what I was in love with. I understood that to sing and dance in a way that wasn't technically perfect required, you know, acting." She laughs. "I wasn't ever going to be a ballerina or someone who has that technical grace. So acting became my window to express myself."
In "La La Land," she and Gosling perform several luminous numbers, which, while maybe not technically flawless, are very much in keeping with a movie that pinpoints the humanity within the impossible romance of old-school Hollywood musicals. "Our first six weeks of rehearsal, our choreographer [Mandy Moore] taught us tap and ballroom," Stone says, "things that they would teach a 7-year-old who's taking tap for the first time. In getting to know what our strengths and weaknesses were, she shaped and reshaped these dance numbers to make sure that we could do them in a way that was, hopefully, exciting but not embarrassing."
The three months of "La La Land" rehearsal, which included learning the original score written by Justin Hurwitz, were just part of Stone's process preparing to play Mia. Stone first met with Chazelle in December 2014, while she was on Broadway portraying Sally Bowles in "Cabaret." She had been a big fan of "Whiplash" and was blown away by his ambition for "La La Land," but she wasn't sure about navigating this new film's precise melding of classic Hollywood and modern sensibility. "I had a lot of confidence in him," Stone says. "I thought, OK, he's obviously brilliant, and the script is beautiful. But I don't know how to do this—I'm not sure that I know how to balance all of this."
Even for Stone, who's surpassed the stage of cattle call auditions and has built a steady career, self-doubt occasionally creeps in. "I was letting a lot of outside opinion permeate me," she explains obliquely. "I thought I needed to do certain things or be a certain way." What turned her around was meeting with directors Rob Marshall and Sam Mendes for "Cabaret."
"I saw 'Cabaret' when I was young, and I was so in love with that," she admits. "I told [Marshall] how much I wanted to be Sally. Getting to do this thing that I never really thought I would have the opportunity to do was like, Oh my God, this is why I do it. This is what it's all about. It really reinvigorated something. I started understanding, in a real way, it's not about the outside-in, it really is about the inside-out. You realize that you have to love what you do more than you love what people say about what you do."
READ: "Rob Marshall Wants You to Feel Comfortable"
As Mia, Stone gets to articulate the beauty and risk that goes into being a dreamer. And she's at a stage in her career where she can appreciate both elements without losing her sense of humor.
"Humor has always been my great joy," she says, "because I have this sensitive makeup. I think it helps me to be around people who can make light of situations that I'm taking too seriously. As I get older, I understand that I'm lucky to be sensitive. For a long time, I think I rejected that part of myself, because it's painful. But it's really nice to just admit what you're going through, because it frees other people up to admit what they're going through as well."
She laughs at herself. "Brené Brown is right!" she exclaims, somewhat apologetically, referring to the research professor who in 2010 delivered a famous TED Talk about the power of vulnerability. "She's just right: Being vulnerable is the way to go."
She chuckles and shakes her head. "I'm all about TED Talks right now. Super chickens and the power of vulnerability."
Are you chasing your own L.A. dream? Browse our Los Angeles audition listings!