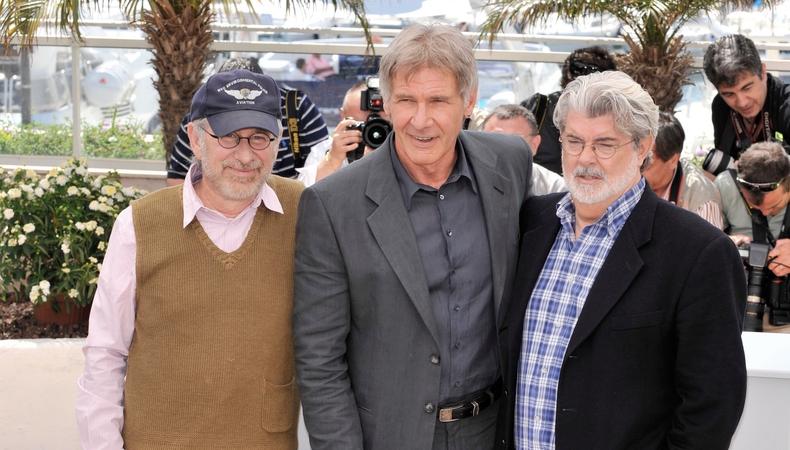 Film and television projects flourish with the talent of hundreds of people, credited or not. From gaffers and lighting technicians to editors, screenwriters, directors, producers, production coordinators, actors, set designers, and cinematographers—the list of cast and crew members is extensive. At the top of the industry's hierarchy is the executive producer.
Everyone is familiar with the title on the screen during a film's opening credits, but what is an executive producer (EP)? What do they actually do? What is their salary and how does an aspiring EP get their foot in the door? Read on for a full guide to this enigmatic yet vital role in the film and television industry.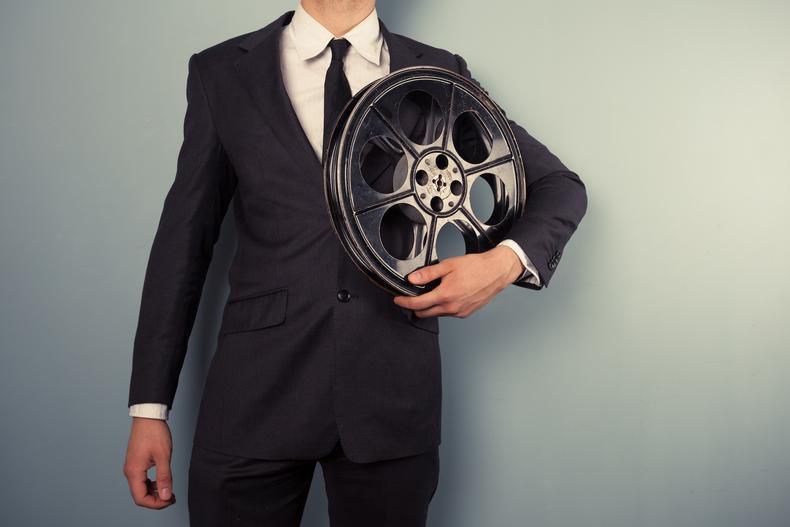 Lolostock/Shutterstock
As the word "executive" suggests, the executive producer oversees everything to do with a production on a managerial level—sometimes from a distance or in name only, other times with in-depth involvement. EPs are the primary alliance to financiers and producers and are the ones people look to for major decisions. Because Hollywood is, ultimately, a business, they have final say when it comes to allocating the project's budget.
On series like "Friends" (executive produced by David Crane, Marta Kauffman, and Kevin S. Bright) and "True Blood" (Alan Ball, Gregg Fienberg, and Brian Buckner) the EPs have even more influence, particularly over the screenplay, writing multiple episodes themselves. The titles of creator and showrunner are sometimes used interchangeably, and the latter is often credited as an executive producer.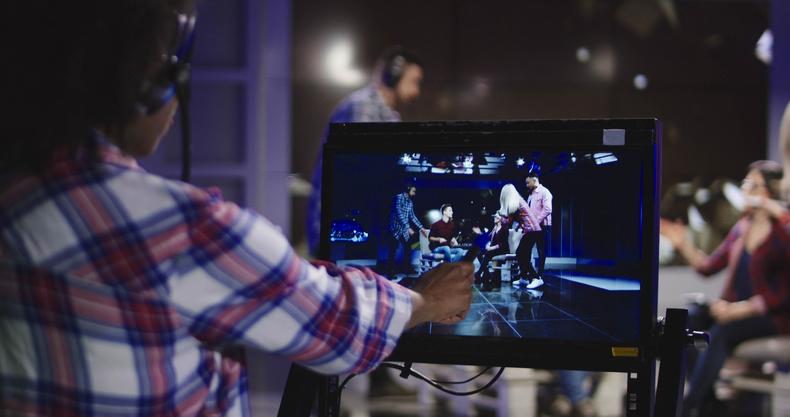 Frame Stock Footage/Shutterstock
Depending on the stage of production, size of a project, and medium, the role of an executive producer varies considerably. On a film, their responsibility begins with financing during the development stage. The process for funding an indie film with a budget of $200,000 is different from a $200 million studio film, and a TV program is different from a feature film.
For smaller projects, the executive producer seeks financing through a handful of production companies or private investors. If a large studio like Warner Bros. backs the project, the executive producer organizes a budget (with the line producer), projects the profit and potential overages, and presents their proposal to the studio executives. In either case, the goal is to secure financing through the approval of a financial entity. Finding star power is a common practice, since attaching A-list actors and directors significantly improves the chances of a successful project. "Hard Eight," Paul Thomas Anderson's first feature, would have never seen the light of day without Samuel L. Jackson and Philip Baker Hall attached.
Conversely, the executive producer's place in the world of television is primarily related to the show's creative process. With the funds already secured through a network, the story arc, production design and overall vision tend to be the EP's sole focus.
Adam Glass, executive producer of "Supernatural," "Criminal Minds: Beyond Borders," and Netflix's "In from the Cold," weighs in: "The role of EP has changed through the years, as more and more have become non-writing, more physical producers than writers. But a writing EP, such as myself, can be anything from a No. 1, who creates or runs every aspect of a series, or a No. 2, who is like the vice president and helps the showrunner run the room, oversee production, and get scripts in creative and production shape."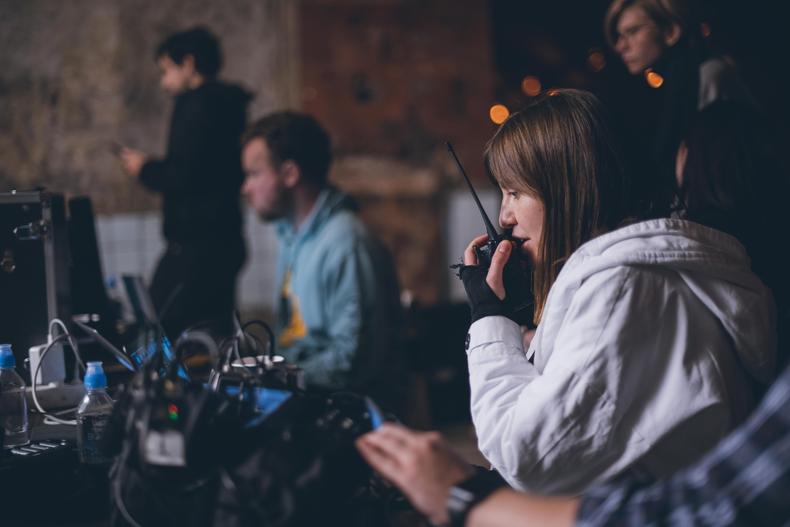 Grusho Anna/Shutterstock
Becoming an executive producer and sustaining a lasting career is a journey of its own. For decades, students have flocked to schools like USC and AFI Conservatory for film-related degrees, but the industry's consensus is that experience is key. Although there are benefits to film school—the degree, contacts, inspirational teachers—it's not a requirement. Some of the greatest filmmakers are film school alumni. George Lucas and Martin Scorsese went to USC and NYU Tisch School of the Arts, respectively—while others like Quentin Tarantino have spoken against it.
An aspiring executive producer can follow countless avenues to success; it doesn't necessarily begin with producing. Making a short film, music video, commercial, or low-budget film can jump-start a producing career. Some work as a producer or associate producer before segueing into the role of EP. Others intern at a production company, shadow a seasoned mentor in the business, start out in the editing room, or even direct films. Because business is such an imperative part of the job, degrees in business administration, advertising, marketing, or project management are valuable assets.
READ: How to Find a Job as a Film Producer
There are many examples of executive producer mega-success stories. Jerry Bruckheimer, whose films have grossed in the tens of billions of dollars, started out in advertising. Marvel Studios president Kevin Feige was an assistant to producer Lauren Shuler Donner on "You've Got Mail" and "Volcano." Kathleen Kennedy worked at a San Diego television station as floor director and camera operator before landing a job on the set of Spielberg's war epic comedy "1941." While attending UCLA, Frank Marshall started the school's first NCAA soccer team, graduated with a political science degree, and moved on to make some of the biggest movies of all time—"Raiders of the Lost Ark," "Poltergeist," and "Back to the Future" among them. Regardless of their course, every EP relies on specific traits like excellent communication, follow-through, business sense, quick decision-making, organizational skills, critical thinking, and time management.
Less experience is now required than before, which Glass sees as a disadvantage: "Once I became an EP, which used to take a lot longer, I had been on sets and in rooms for years," he says. "So I knew and saw firsthand my responsibilities. I think, unfortunately, we're doing writers a great disservice in these new streaming platforms [by] cutting everyone after the room wraps and not allowing writers to produce their own episodes. So, by the time they reach EP, they don't have the experience they need to do the job correctly."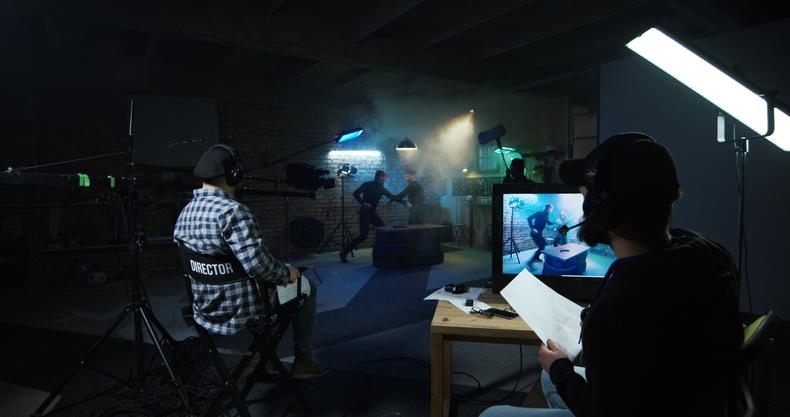 Frame Stock Footage/Shutterstock
On average, the executive producer's salary is $100,000 to $120,000 per year in both film and television, about 25% more than a producer. Of course, this depends greatly on the budget, number of projects per year, domestic and international sales, and royalties. On large-scale productions and popular television shows, their income can be much higher—into the millions for features and between $35,000 and $110,000 per television episode. They will generally share a movie's profit at the box office and thereafter.
Unlike SAG-AFTRA or the Writers Guild of America, the Producers Guild of America, which is not unionized, doesn't have standard pay scale agreements. Because of this, salary is based on contract negotiations.
Executive producers typically select scripts that will likely produce a profit. Oscar-winning films are often financed by the producers themselves and later distributed by a major studio. As in any field, experience plays a huge part. Leverage in contract negotiations is contingent upon past success and the number of years as an EP.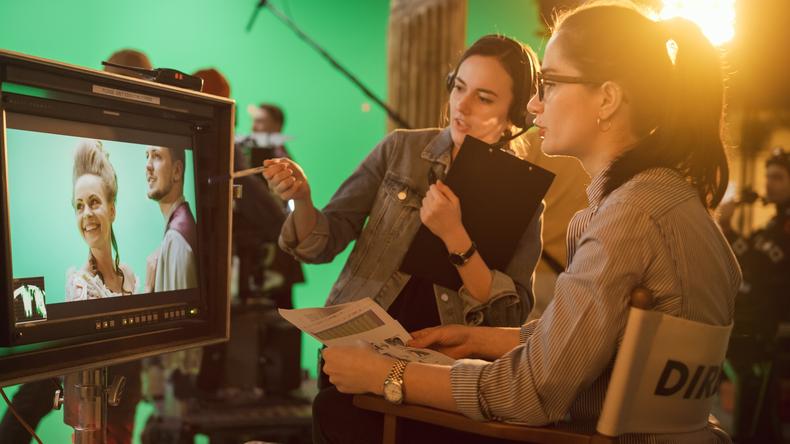 Gorodenkoff/Shutterstock
Although the roles blend, there is a distinct difference between an executive producer and a producer. Executive producers secure the screenplay, raise money for the film and hire trusted producers to run a self-sufficient operation on a day-to-day basis. Much like attaching star acting talent, an EP's reputation can bolster the credibility of a project. Spike Lee's name would propel a film project forward, just as Aaron Sorkin's attachment would on a new TV series. Many times, an EP with clout will put their name on a finished product to boost distribution. Once financing is secured, the EP may or may not be involved. Some walk away and work on other projects; others continue to supervise the production. Either way, the crew involved in the production relies on the executive producer to make major decisions.
The producer reports directly to the executive producer. Producers play a hands-on role and are involved in the daily production. Since it is difficult for one person to keep track of every aspect of a film set, the producer will often hire assistant producers. Another key producer role is ensuring the project is on budget and notifying the executive producer should it get off track. "I'm a producer who does financing, packaging, talent and crew," says Mary Aloe, owner of Aloe Entertainment, whose recent films include "Flag Day" (Sean Penn), "Worth" (Michael Keaton, Stanley Tucci), and "Bruised" (Halle Berry).
"However, I've done about 39 movies, and if you look at my IMDbPro, you'll be able to see where I'm coming in as executive producer versus a producer," she continued. "I'm the lead producer on not only my own movies coming up but other movies too, which I've been hired on to bring in all the elements. I hire the crew, package the movie, and bring in the financing. When I'm executive producing, I'm often credited for that because I've strictly brought in the financing for the picture. Sometimes I'll do a little bit more—I'll bring in the distribution, things like that, but I'm really not the hands-on producer. I'll go to the set, but the difference is coming in on a financial level."