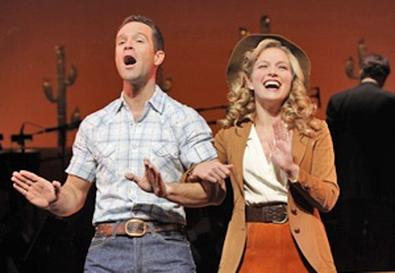 The last thing you would expect George and Ira Gershwin's classic score for "Girl Crazy" to be is dull. But that's exactly what it is in Encores! concert production. What should be brash, broad, and boisterous is instead undercast, undercooked, and overcut.
Guy Bolton and Jack McGowan's silly book, at least what remains of it, has Manhattan playboy Danny Churchill being sent way out west by his father to keep him away from women. Once there, Danny opens a dude ranch and imports some Broadway chorines and entertainer Frisco Kate Fothergill, who arrives with her philandering husband, Slick, in tow. Danny meets local girl Molly and is smitten. The course of true love doesn't run smooth. Meanwhile, running comically amok is Gieber Goldfarb, a New York taxi driver (Danny arrives by taxi) who ends up being elected sheriff, a job no one wants due to the high fatality rate.
Adapter David Ives may have done us a favor by slicing the book to ribbons, but as it's not published we'll never know. What's left—except for a modicum of material for Goldfarb that does give us a sense of what comedian Willie Howard was there for back in 1930—amounts to lead-ins and crossovers. It's really not "Girl Crazy (in Concert)," it's "The Songs of 'Girl Crazy'."
And what songs they are: "I Got Rhythm," "Bidin' My Time," "Embraceable You," "But Not for Me"—and those are just the standards. These songs have planted themselves in the American subconscious through renditions by supreme talents such as Judy Garland, Ella Fitzgerald, Frank Sinatra, Doris Day, Billie Holiday, and, of course, Ethel Merman, the original Broadway Kate. (Curiously, the original Molly, Ginger Rogers, recorded almost nothing from the show.) There's a lot to live up to, but director Jerry Zaks' bland performers are the antithesis of the outsize personalities needed to make this kind of material sparkle.
As the lovers, real-life husband and wife Chris Diamantopoulos and Becki Newton display little chemistry. He sings pleasantly enough; her voice has an unfortunate harshness to it. Neither connects with lyricist Ira Gershwin's masterful wordplay in any meaningful way, and Rob Fisher, conducting the evening surprisingly squarely, lets them barrel through ballads as if they had a train to catch. Wayne Knight at least has a sense of what he's supposed to do as the show's resident comedian, but the performance is too small. Marc Kudisch, whose character has been renamed by some would-be wag as Slick Follicle (as Eliza Doolittle once said, "We were above that in Covent Garden") has shown in the past that he knows what to do in situations like this, but he's miscast, though he makes the most of his one number, "Treat Me Rough."
The sparkplug of any "Girl Crazy" is whoever plays Kate, the role that shot Merman to stardom. Ana Gasteyer has a big voice, but it's not distinctive. More to the point, she lacks the effervescence and hearty good-time-gal brass called for. It's not really her fault. Merman would have been unlikely to triumph as Elphaba or Fosca (two roles Gasteyer has done successfully). Gasteyer holds the famous long note in "I Got Rhythm" just fine, but she lets you in on the effort. For Merman, it was simply a gleeful explosion of joy.
Warren Carlyle's routine choreography does little to spice things up. It's as if everybody checked their show-biz know-how at the door. Indicative is the decision to switch Kate's two songs at the end of Act 1. Merman came out and sang "Sam and Delilah" as a performance number. Then, later in the scene, she did "I Got Rhythm" as a book song. Whoever reversed the songs (and their functions) has forgotten that simple show-biz dictum: Save the best for last.
Presented by Encores! at New York City Center, 131 W. 55th St., NYC. Nov. 19–22. Remaining performances: Fri., Nov. 20, 8 p.m.; Sat., Nov. 21, 2 and 8 p.m.; Sun., Nov. 22, 6:30 p.m. (212) 581-1212 or www.nycitycenter.org. Casting by Jay Binder/Sara Schatz.