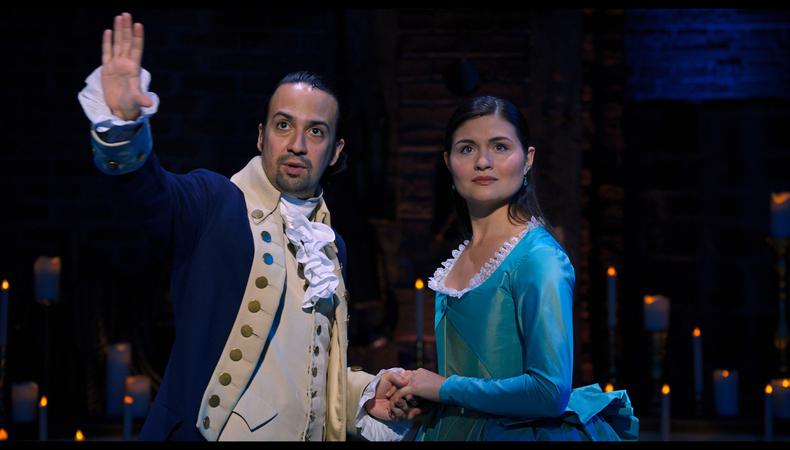 History is happening in Manhattan as Broadway wakes from an unprecedented year-and-a-half shutdown. After former Gov. Andrew Cuomo gave New York theaters the go-ahead to reopen at full capacity beginning on May 19, Broadway shows began to announce their return dates. In a joint announcement, "Hamilton," "Wicked," and "The Lion King" shared on "Good Morning America" that they would all be resuming performances on Sept. 14.
Those shows join other productions that have also locked in their returns, including "Six," "The Phantom of the Opera," "Chicago," "Come From Away," and "Company."
The return of Broadway means many new protocols that would have been unimaginable to pre-pandemic theatergoers. Most notably, all Broadway actors and audiences will need to be vaccinated against COVID-19. Additionally, audience members will be required to wear masks when seated and moving about the theater; they can only be removed when eating or drinking.
Many productions will now allow ticket buyers to refund or exchange their tickets for any reason, in contrast with pre-pandemic rules. Furthermore, the Nederlander Organization—which owns nine Broadway theaters, including the home of "Hamilton"—says it has upgraded its air filtration systems "to comply with CDC guidelines for hospital-grade filtration and [increased] fresh outdoor air and air exchange to the greatest extent possible."
Interestingly, some shows will be operating on a truncated schedule. Instead of the usual eight shows a week, "Six" on Broadway will be doing six shows a week, with some exceptions for holidays and previews. "Chicago" will be running five shows a week most weeks, beginning Sept. 14.
The 2021–22 season will be filled with opening nights, as shows that were in previews in 2020 but never got to open (such as "Six" and "Company") will finally get the red carpet treatment. There will also be entirely new productions headed to the Great White Way, including "MJ: The Musical," a new jukebox musical about Michael Jackson, and a revival of "The Music Man" starring Hugh Jackman and Sutton Foster (the latter, notably, no longer driven by disgraced producer Scott Rudin).
What follows is a list of Broadway shows that have announced their return or premiere dates. Some shows will also have a preview period, in which case their official opening date is subsequently noted. This list will be continually updated on backstage.com as more productions confirm their dates.
Returning Shows
"Springsteen on Broadway": June 26
Who better than the Boss to reopen Broadway? He did just that earlier this summer. His one-man show played a limited return engagement at the St. James Theatre, which concluded on Sept. 4.
READ: Broadway Just Got More Wheelchair-Accessible
"Pass Over": Aug. 4; opened Aug. 22
"Waitress": Sept. 2
Singer-songwriter-actor Sara Bareilles is bringing her baked-from-the-heart hit back to Broadway, even though it closed in January 2020, months before the pandemic-induced shutdown. Bareilles is once again starring.
"Chicago": Sept. 14
"Hamilton": Sept. 14
"The Lion King": Sept. 14
"Wicked": Sept. 14
"David Byrne's American Utopia": Sept. 17
READ: Union Tours Will Also Require Actors to Be Vaccinated
"Six": Sept. 17; opens Oct. 3
When Broadway abruptly shut down on March 12, 2020, "Six" was literally hours away from its official opening night (and subsequently, its reviews). The pop tuner, about the six wives of Henry VIII—all of whom are modeled here after various pop stars—is finally getting its royal opening this fall at the Brooks Atkinson Theatre.
"Come From Away": Sept. 21
"Chicken & Biscuits": Sept. 23; opens Oct. 10
"Moulin Rouge!": Sept. 24
"The Lehman Trilogy": Sept. 25; opens Oct. 14
Director Sam Mendes is following up his last familial epic, "The Ferryman," with another one. Stefano Massini's "The Lehman Trilogy" (adapted by Ben Powers) opens on Broadway following sold-out runs in London as well as in New York at the Park Avenue Armory.
"Aladdin": Sept. 28
"To Kill a Mockingbird": Oct. 5
"Freestyle Love Supreme": Oct. 7
"Caroline, or Change": Oct. 8; opens Oct. 27
"Tina—The Tina Turner Musical": Oct. 8
"Ain't Too Proud—The Life and Times of the Temptations": Oct. 16
"Jagged Little Pill": Oct. 21
"Mrs. Doubtfire": Oct. 21; opens Dec. 5
"The Phantom of the Opera": Oct. 22
"Trouble in Mind": Oct. 29; opens Nov. 18
Whether Broadway's reckoning with systemic racism will spur lasting industry change remains to be seen. However, there is a marked, invigorated push to produce more work by Black writers on the Great White Way than in years past; this includes the Broadway premiere of Alice Childress' "Trouble in Mind," starring Tony winner LaChanze.
"Diana: The Musical": Nov. 2; opens Nov. 17
"Clyde's": Nov. 3; opens Nov. 22
"The Book of Mormon": Nov. 5
"Flying Over Sunset": Nov. 11; opens Dec. 13
"Harry Potter and the Cursed Child": Nov. 12
"Company": Nov. 15; opens Dec. 9
Phone rings, door chimes, in comes…Patti LuPone, Katrina Lenk, and the rest of Marianne Elliott's gender-swapped cast of Stephen Sondheim's "Company."
"MJ: The Musical": Dec. 6; opens Feb. 1, 2022
"Dear Evan Hansen": Dec. 11
"The Music Man": Dec. 20; opens Feb. 10, 2022
"Skeleton Crew": Dec. 21; opens Jan. 12, 2022
"Plaza Suite": Feb. 25, 2022; opens March 28, 2022
Real-life husband-and-wife duo Sarah Jessica Parker and Matthew Broderick are committed to bringing their Neil Simon farce to Broadway. Another show that was in previews at the time of the shutdown, "Plaza Suite" finally opens next spring at the Hudson Theatre under the direction of John Benjamin Hickey.
"Paradise Square": Feb. 22, 2022; opens March 20, 2022
"The Minutes": March 2022; opens April 7, 2022
"Take Me Out": March 9, 2022; opens April 4, 2022
"Birthday Candles": March 18, 2022; opens April 10, 2022
"How I Learned to Drive": March 29, 2022; opens April 19, 2022
If all had gone according to schedule, Mary-Louise Parker would likely have been in Tonys contention with herself for the 2019–20 Broadway season, for her fall run in "The Sound Inside" and her spring turn in "How I Learned to Drive." The pandemic, of course, had other plans for Parker; she'll finally open Paula Vogel's two-hander opposite David Morse next April.
"Funny Girl": Spring 2022 (exact dates TBA)
This story originally appeared in the Sept. 9 issue of Backstage Magazine. Subscribe here.