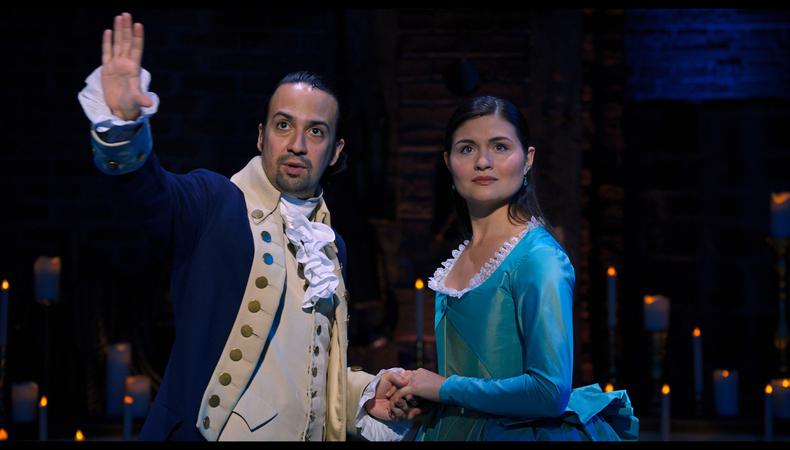 History is happening in Manhattan, as Broadway wakes up from an unprecedented year-and-a-half shutdown. After Gov. Andrew Cuomo gave theaters in the state the go-ahead to reopen at full capacity beginning on May 19, Broadway shows have begun to announce their return dates. In a rare joint announcement, "Hamilton," "Wicked," and "The Lion King" announced on "Good Morning America" that those shows will be resuming performances on Sept. 14.
Those shows join other productions that have also announced their return in recent days, such as "Six," "Phantom of the Opera," "Chicago," and "Come From Away."
The return of Broadway means some additional protocols: Many productions are allowing ticket buyers to refund and exchange their tickets for any reason, in contrast with pre-pandemic times. According to their various websites, those shows may require masks, proof of vaccination, and negative COVID-19 tests. Actors will not have to wear masks when they are onstage.
The Nederlander Organization—which owns nine Broadway theaters, including the home of "Hamilton"—also said it has upgraded its air filtration system "to comply with CDC guidelines for hospital grade filtration and increasing fresh outdoor air and air exchange to the greatest extent possible." Nederlander theaters will also require any audience members to sign a COVID-19 waiver.
Interestingly, some shows are operating on a truncated schedule. Instead of the usual eight shows a week, "Six" on Broadway will be doing six shows a week, with some exceptions for holidays and previews. "Chicago" will be running five shows a week most weeks, beginning Sept. 14.
The 2021–22 season on Broadway will also be filled with opening nights, as shows that were in previews in 2020 but never got to open (such as "Six" and "Company," starring Patti LuPone) will finally get their red carpet treatment. Meanwhile, there will be new productions headed to the Great White Way—such as "MJ: The Musical," a new jukebox musical about Michael Jackson, and "The Music Man" revival starring Hugh Jackman and Sutton Foster.
Below is a list of Broadway shows that have announced their return dates. Some shows will also be in previews, so their opening dates are also noted. This list will be continually updated as more productions confirm their dates.
"Springsteen on Broadway": June 26
"Pass Over": Aug. 4; Opens Sept. 12
"Chicago": Sept. 14
"Hamilton": Sept. 14
"The Lion King": Sept. 14
"Wicked": Sept. 14
David Byrne's "American Utopia": Sept. 17
"Six": Sept. 17; Opens Oct. 3
"Come From Away": Sept. 21
"Moulin Rouge!": Sept. 24
"The Lehman Trilogy": Sept. 25; Opens Oct. 14
"Aladdin": Sept. 28
"To Kill a Mockingbird": Oct. 5
"Freestyle Love Supreme": Oct. 7
"Caroline, Or Change": Oct. 8; Opens Oct. 27
"Tina — The Tina Turner Musical": Oct. 8
"Ain't Too Proud": Oct. 16
"Jagged Little Pill": Oct. 21
"Mrs. Doubtfire": Oct. 21; Opens Dec. 5
"The Phantom of the Opera": Oct. 22
"Trouble in Mind": Oct. 29; Opens Nov. 18
"Flying Over Sunset": Nov. 4; Opens Dec. 6
"The Book of Mormon": Nov. 5
"Diana: The Musical": Dec. 1; Opens Dec. 16
"MJ: The Musical": Dec. 6; Opens Feb. 1, 2022
"Dear Evan Hansen": Dec. 11
"Company": Dec. 20; Opens Jan. 9, 2022
"The Music Man": Dec. 20; Opens Feb. 10, 2022
"Skeleton Crew": Dec. 21; Opens Jan. 12, 2022
"Paradise Square": Feb. 22, 2022; Opens March 20, 2022
"Birthday Candles": March 18, 2022; Opens April 10, 2022
"How I Learned to Drive": March 29, 2022; Opens April 19, 2022