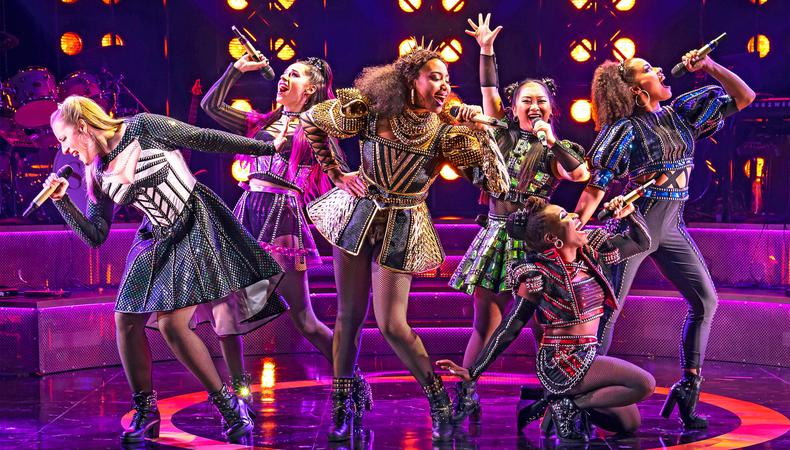 This spring on Broadway, Beyoncé meets Ann Boleyn with the arrival of stage sensation "Six." The musical, written by Toby Marlow and Lucy Moss and directed by Moss and Jamie Armitage, depicts the six famously ill-fated wives of Henry VIII—however, it's corsets with a kick onstage at the Brooks Atkinson Theatre, as costume designer Gabriella Slade has created looks influenced as much by these historical queens as by Queen Bey and today's reigning divas. In other words, "Get in formation" has never been more prescient!
The "Six" costuming is unlike any other. What was the process for creating these looks?
I met with Lucy, Jamie, and Toby, and they presented to me the idea that the queens were kind of influenced by certain contemporary pop artists; there's a link between [Catherine of] Aragon and Beyoncé; between Catherine Parr and Alicia Keys; between Jane Seymour and Adele. This show is presented as a pop concert. It's not the standard musical, so in terms of design, I really wanted to make sure we had elements of contemporary pop fashion and style and an absolute fusion with historical details. It was [creating] links between then and now. Fabric-wise, I wanted to keep it vibrant, something that looked amazing with the light, so that's why I chose all the vinyls and the foils and the metallic trim.
READ: How Actors Can Give Costume Feedback That's Actually Useful
How much research did you do on both the historical figures and pop icons on which the queens are based?
It was 50–50. When I was looking at paintings of Aragon, I was looking at pictures of Beyoncé at the same time. There was definitely balance between the two. What I love about the process is tapping into those historical details, making them with contemporary fabric. That's the most exciting aspect.
In your words, what would you say a costume designer actually does?
The costume designer is a super integral member of the creative team, and they seek to design an aesthetic or character for the play or musical. They also look to see what details and aspects they can put into the costumes of that character that can enhance or elevate that character's personality, their vibe, and their characteristics. It's incredibly broad, but really important; [our work] affects, more than anything, the character and their persona, really.
How much of what you do is a collaboration with the creative team?
Costume design works best when you have direct contact with the person who is going to wear it, but also, a really nice connection with the director. It's a real unification of people's thoughts and opinions. And when there's trust between you and your team, the boundaries can be pushed even further and you can really experiment. For "Six," I knew I wanted to create something sculptural, and Lucy was on the same page. We wanted to do something very detailed, something that had a very pop aesthetic but that also had these historical nods. The piece is just so fabulous. This show is basically the exact reason why I chose to do costume design. I could really try something new and the fans are really responding to it. I think it worked—I hope so!
READ: Spring Broadway Preview: 'Six.' 'Company' + More
Can you speak specifically to your work with actors?
Sometimes you're able to meet with your actors before "the hassles." You might have a coffee with them, you might talk through the character with them. Sometimes you won't meet them until the actual rehearsal, but the process is really important—not only to make the costumes fit, but it's a real nice time you spend physically with your actor, where you're able to communicate in person and they're able to respond to seeing the shapes and colors and forms on the body. They can say, "Hey, this feels really great," or "This feels exciting." They're able to share their thoughts, and I love that. I love that communication I have with them. Everyone is on the same page and very supportive of each other; it's a unit.
Would you say one of your foremost goals is to make actors feel empowered?
That is a massive part of the job. If you've done that, brilliant. You need to ensure the aesthetics are there, as well, so that not only is your performer happy and empowered, but you're feeling happy and empowered by the visuals, too.
What advice would you offer aspiring costume designers?
If you want to do costume design, never be afraid to be experimental. Sometimes there's a pressure to make costumes that are quite normal, but you shouldn't ever feel pressured to make something normal. You should always push to make something experimental. If there's one thing I always say, it's never take on too much logistically in a schedule. I always work best when I've got less in the diary. You're not having to do hundreds of things at once. Give yourself a nice amount of time to work on something and really dive in. I think that's probably my advice: Push the boundaries and don't be so limited. You don't know what you can create. You can create things before you even realize that you're going to.