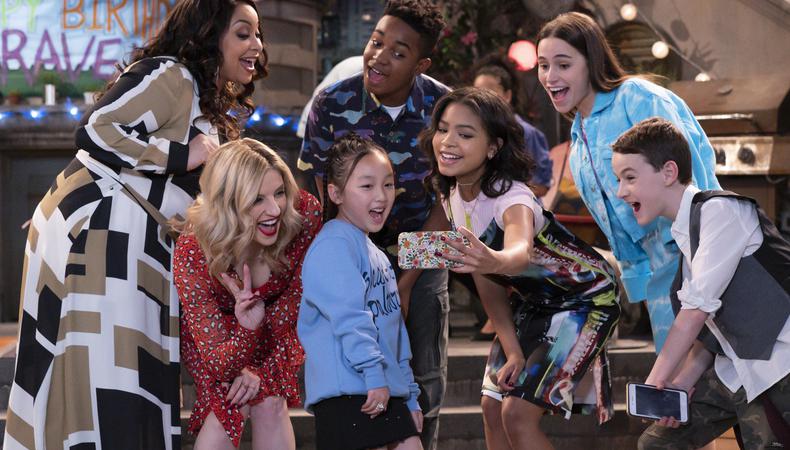 If you could gaze into the future… would you see a role on Disney Channel's "Raven's Home"? This energetic family sitcom is the second spin-off of "That's So Raven" (following "Cory in the House") and picks back up with psychic Raven Baxter and her best friend Chelsea. Both divorced with kids of their own—Raven with tween twins Nia and Booker, Chelsea with son Levi—the two moms have joined forces to raise their children in one rambunctious Chicago apartment.
In this in-depth guide to getting cast on "Raven's Home," we'll share audition tips from current cast members and casting directors—plus the latest news about Disney Channel casting calls and auditions.
"Raven's Home" was created by Michael Poryes and Susan Sherman, who also served as the creators of "That's So Raven." It is executive produced by Raven-Symoné, Jed Elinoff, Scott Thomas, Michael Feldman, Dava Savel, and Warren Hutcherson. The series premiered on Disney Channel on July 21, 2017.
In Season 1, Booker discovers he's inherited his mom's clairvoyant abilities. However, Raven and Booker both keep quiet about their visions, each thinking that the other won't believe them. In Season 2, the two reveal their secrets to each other—and then Booker goes even further, announcing it on social media (against Raven's wishes). Season 3 revolves around the kids and their friend Tess starting a musical group in the hopes of winning a radio grand prize, while Raven aspires to launch her own fashion line and Chelsea finds her calling as a life coach.
Season 4 premiered in July 2020 with a crossover episode involving fellow Disney Channel sitcom "Bunk'd." Booker and Nia face the challenges of high school while Raven and Chelsea manage their joint fashion and life coaching business, Your Best-Dressed Life—and the Baxters' glimpses into the future continue to cause plenty of hijinks and mishaps.
Production on Season 4 of "Raven's Home" started on Nov. 21, 2019—but due to COVID-19, filming was halted on March 14, 2020, after the completion of nine episodes. Production started back up in September 2020. The first episode of the season aired on July 24, 2020, as a special crossover episode with the characters of "Bunk'd," while the remaining completed episodes aired weekly beginning on Oct. 9, 2020.
With Season 4 already in production, there are no active casting calls for "Raven's Home." Check out our list of projects similar to "Raven's Home" that are currently casting—and keep an eye on Backstage for opportunities to join the series in "the future you can see."
In November 2019, Disney Channel launched a digital talent search that called on actors ages 8-16 to submit video auditions for a chance to be considered. In a video uploaded by Disney Channel, "Raven's Home" star Issac Ryan Brown offered practical tips or submitting a video, including:
Have a parent or guardian submit your video

Be sure to record in landscape mode on your phone or tablet

Capture your head and shoulders in frame "in front of a bright plain background"

Be yourself and let them "see your incredible personality shine through"

"Wear something that makes you feel awesome"

"Speak loud and clear"

"Be confident, be awesome, and be everything that makes you

you

!"
Although the search ended in 2019, Disney Channel has made it clear that its hunt for new talent will be an ongoing initiative. You can follow Disney Channel's official Twitter and Instagram pages, well as the network's official casting page, for information about upcoming opportunities and future digital talent searches.
Past casting notices for "Raven's Home" have required candidates to be legally eligible to work on television productions in Los Angeles. They also note that most starring and supporting roles have been cast through talent agents—but if you do submit without an agent, self-submissions should include an 8x10 inch headshot and résumé in a 9x12 inch window envelope, with the photo visible through the window.
When the series was first being cast, Casting Call Hub announced that production was on the search for actors to play Booker and Nia. The initial announcement sought a girl between 10-13 years old and a boy between 8-10 years old, both of any ethnicity. The auditions were held in Atlanta, Georgia. Other requirements included:
SAG (or SAG eligible)

Strong comedic skills

Submissions must include a talent résumé and

recent headshots
The primary cast for Season 4 of "Raven's Home" consists of:
Raven-Symoné as Raven Baxter

Issac Ryan Brown as Booker Baxter

Navia Robinson as Nia Baxter

Jason Maybaum as Levi Grayson

Sky Katz as Tess O'Malley

Anneliese van der Pol as Chelsea Grayson
The principal casting director for "Raven's Home" is Howard Meltzer, who has worked for a number of Disney Channel shows including "Bunk'd," "Lab Rats," and "Hannah Montana." He is also currently a governor of the Academy of Television Arts and Sciences and previously served as vice president of the Casting Society of America. More information on his agency, Casting by Howard Meltzer, can be found here.
According to Meltzer, Disney, Nickelodeon, and other kids' networks look for something different than major network pilots. "They seem more interested in identifying fresh talent and are very, very, very focused on how the actors and actresses that we're going to bring in are going to connect with the viewer," he said on a recent episode of Bonnie J. Wallace's "Hometown to Hollywood" podcast. "Would girls—being the audience—look at this actress as someone they would want to emulate? Do they look like someone they would want to be their best friend? Does it look like the kind of girl that a younger sister would look up to?...And they also have to be funny. [But] it's not just, are they funny?"
He offered additional tips for young actors auditioning for Disney Channel, including:
"Understand and trust the words and the text."

"Find something honest and organic and grounded, even if it's the wackiest, broadest comedy."

"I expect you to be prepared and open to direction."

"Watch not only the series regulars on a show, but also look at what the guest cast is like. There's usually a formula."

"Please watch your tapes back. Please."
Others who have been involved in casting the show include casting director Tracy Byrd and casting assistants Sal Schiavone and German Lagerreta.
For audition tips, we turned to the current cast of "Raven's Home." Sky Katz, who plays Nia's best friend Tess, auditioned for the series following her rapping act on "America's Got Talent" in 2016. She was new to acting and didn't fit the role as written. "When they sent out the auditions, the description [for Tess] was 'a Melissa McCarthy type' person," she remembers. "I don't think I'm like that. They did not ask for, like, a spunky New York-type edgy girl."
Her audition process began when she sent a self-tape from New York to California. Next, she flew to L.A. to audition in person. "It was all I could think about for a few weeks—hoping I was going to get the part," she says. "A couple weeks later—when I was in my hotel room getting ready to perform at SXSW—my dad walked into the room with a crazy smile on his face, along with someone holding a video camera. I knew something was up. When he told me I booked the role of Tess, I completely freaked out!"
Here's what the casting team for "Raven's Home"—and the rest of the Disney Channel—had to say had to say about acing your audition:
Acting is key. According to Judy Taylor, Senior VP of Casting & Talent Relations for Disney Channel, "acting is really at the core of what we look for in our talent, because we need to know that at the end of the day they can carry a show," she says. "Obviously, if they are multitalented and can sing and dance or play an instrument, that is the icing on the cake, and we embrace the opportunity to have them excel and find projects that they can work on that will utilize all of their talents—but at the core of it is the acting ability."
Social media is an audition, too. "Beyond just being courteous and friendly to everyone at the audition, how your child presents themselves online is huge, too," notes Jackie Reid, owner and operator of an L.A. talent management company specializing in young actors. "All networks—but particularly networks like Disney and Nickelodeon—are very careful of who they sign, since they're typically looking for young actors they can invest a lot of time and money into. Finding out that potential talent spends their time cursing and posting inappropriate pictures on their profiles is a great way for the network to lose faith in investing in you. This applies to you too, parents." "Raven's Home" casting director Meltzer agrees: "If you're auditioning for projects for kids' networks, make sure your social media and what you're posting doesn't appear too mature."
Commit to the character. Carol Goldwasser, Meltzer's co-casting director on "Hannah Montana" and "Lab Rats," says it's common for kids and teens to walk into an audition and wait for her to explain how she wants the character to be played. But what she's really looking for is someone who has already made informed choices. When someone comes into the room who can "elevate the material and they add stuff of their own that really makes the character sing, and make me go 'Oh, my job is done'—that's when it's a joy. And that's what makes people stick out," she says.
Understand comedic delivery and timing. When auditioning for a comedy like "Raven's Home," child actors need the reading comprehension skills to understand where the joke is—and the acting chops to deliver it. "I will work with kids, but at the end of the day, when that kid goes in to test and they're fortunate enough to get the job, I'm not going to be there, saying 'No, read it the way we did in the audition,'" Goldwasser explains. "They have to be able to stand on their own. The kids who can self-direct are the ones who get hired."
RELATED: