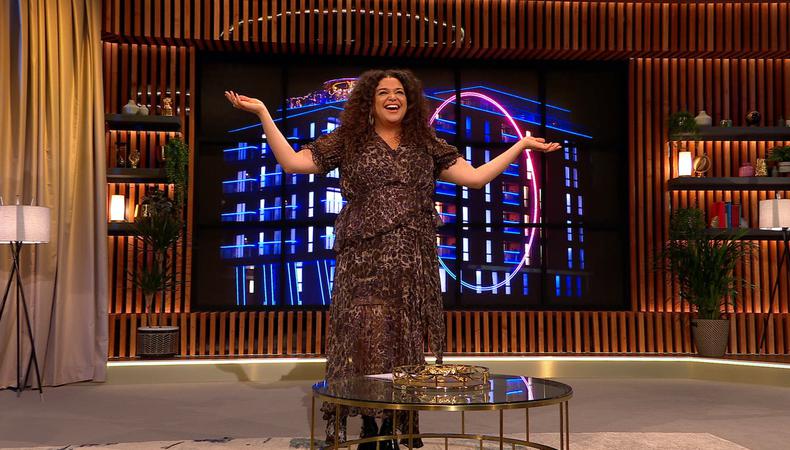 If "anyone can be anyone in The Circle," there's no reason you can't be one of its next contestants! Season 1 of Netflix's reality competition show—an American take on the U.K. series of the same name—debuted in Jan. 2020 and quickly got people talking. Just a few months later, it was renewed for both a second and third season.
Season 2 premiered in April 2021, but "The Circle" is still actively seeking submissions for future seasons of the show. Ready to make your reality TV debut on Netflix? In this in-depth guide to getting cast on "The Circle," we'll share audition tips from previous cast members and producers—plus the latest updates on auditions and open casting calls.
Netflix's "The Circle" puts more than a dozen competitors into the same building in their own apartments so they never see each other face-to-face, where they then interact solely through profiles they create on a voice-activated social media app: "The Circle." They can present themselves in whatever way they want (cue the catfishing!) with the goal of being voted the highest-rated player and winning $100,000.
Over 12 episodes, contestants play drama-stirring mini-games with each other to earn "influencer" status through group ratings, which gives them the ability to "block" or eliminate other players. "The Circle" is a reality show heavy on alliances, budding romance, strategies, confrontations, and laughs.
"The Circle" was created by Tim Harcourt and produced by Stephen Lambert, who together run Studio Lambert, which oversees every iteration of the series (there is also "The Circle Brazil" and "The Circle France", as well as the original U.K. version). "The starting point I had is: What would a reality show look like where people never met face to face?" Harcourt says.
"The Circle" was renewed for both a second and third season in March 2020. Season 2 premiered in April 2021 on Netflix, with the finale dropping May 5. If the filming schedule stays consistent, Season 3 of "The Circle" will start production in summer 2021, following the spring 2021 release of Season 2. However, there's been no official announcement from Netflix regarding the production of Season 3.
WATCH:
It was recently announced that "The Circle" has opened up its nationwide applications "for entertaining, funny, confident, and competitive people from all walks of life to take part" in possible future seasons in the U.S. and UK. Applications close in the U.S. on Oct. 2, 2021.
In the summer of 2020, Netflix posted a casting call for "The Circle" Season 2 on Backstage. According to the casting notice, the show sought transgender talent, ages 21-75, of all ethnicities, and planned to shoot for six weeks in Oct. and Nov. 2020. Pay was $100 per day with all shoot and travel expenses provided.
Among other requirements, those applying were asked their name, social media handles, and to pitch themselves and provide a strategy for the competition. There was also a video component to the submission, in which you showcase your personality and life story to casting directors, producers, and executives, etc., as well as a certain amount of photos.
Budding "Circle" stars should also keep updated by following the show's official Twitter and Instagram pages, which provides a ton of info about the audition process.
In Season 1 of "The Circle" on Netflix, the principal players were:
Michelle Buteau (presenter)

Joey Sasso (winner)

Shubham Goel (runner-up)

Sammie Cimarelli

Alana Duval

Chris Sapphire

Antonio DePina

Seaburn Williams

Karyn Blanco

Miranda Bissonnette

Alex Lake, a.k.a. Eddie van Heel (who was cast via

Backstage

)

Sean Taylor

Bill Cranley

Ed and Tammy Eason
As is the case with most reality shows casting a wide net for personalities, "The Circle" producers search across the nation for its next batch of competitors. Through Studio Lambert, casting personnel and producers have an eye and ear for the kinds of energies they're looking for to fill the apartments. As the entire show revolves around social media and online communication, the casting process is no different: auditions are conducted via video and by scrutinizing a candidate's online presence.
When it comes to actually sifting through submissions, "The Circle" relies heavily on Julianne Cossman, a casting associate who played a major role in recruiting the ensemble of Season 1 and 2. Alongside her for Season 1 was Rachael Dorval, a casting producer behind seven episodes, whose eye for talent has previously been utilized on "Who Wants to Be a Millionaire," "America's Next Top Model," and "America's Got Talent."
On assembling the cast via social media, Cossman says she often uses "[b]lind DMs. I did a Christmas dating show recently [and] found most of the cast...through dating apps," adding that she uses "any and every kind of platform: Cragislist, Facebook job groups, singles groups. And Instagram. It's really a matter of searching hashtags, geotags, and going down rabbit holes like finding one hot guy who's not single but he's got a bunch of hot friends so I'm gonna click on every single one of their profiles, do a little bit of digging, and send them a DM....I'll send them the message and [like] five of their photos and then I'll comment on their latest photo and say, 'Check your DMs, I have a great casting opportunity for you.' And it works!"
Creator Harcourt adds, "Social media brings people from different walks of life and location together. Expect the same here. We also wanted warm, funny characters who were interesting when let alone from human contact."
Cossman made it clear that their cast covers a wide spectrum: "When they brought me on (for Season 2), it was really about filling the holes in target casting for the types of people that Netflix really wanted or the other executives really wanted, which included dairy farmers."
If you're hoping to be cast on future seasons of "The Circle," it pays to be prepared. We've rounded up audition tips from previous contestants, as well as the casting team, to help you shine—in-person and online.
Be prepared for the game ahead. "Make sure you have a strategy already made up and down pat," says Season 1 contestant Antonio DePina. "And just be yourself times 10,000. Be super extra so they can get your personality!"
Persevere. "I just applied through [Backstage] and every step of the way I was shocked that I'd advanced," Season 1 contestant Alex Lake tells Backstage. "My advice would be to make a really good intro video and work on the short, open-ended questions. They're looking for people who can talk through their processes and be super articulate about it. They definitely want high energy and excitement but also genuine people. I loved the experience and would recommend it for anyone who's capable of seeing past nasty comments on the internet."
Embrace your personality. "Go in there and be the best version of yourself!" urged Cranley. "For me, that meant staying excited and curious. Say what's on your mind and, above all, be 100% honest with yourself and your surroundings."
Clearly the name of the audition game is to be yourself—in all its high-energy, bubbly, crazy, TV-ready glory. Ed Eason advised auditioners: "Don't hold anything back! Whether being yourself on the show or someone else, go all in from the beginning to the very end. Whatever your strategy, be sure that you leave with no regrets, nothing left unsaid. Let your voice be heard and express yourself! Don't care what people think about you. Have fun with it!"
Stand out online. "It's good to be funny on social," Harcourt advises. "Look at Chrissy Teigen: Honest and funny on social. That would be a winning combination on 'The Circle'!"
Looking for remote work? Backstage has got you covered! Click here for auditions you can do from home!