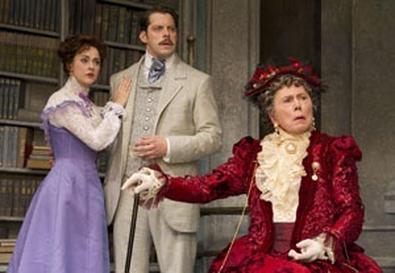 For a lesson in playing brittle and brilliant farce, head to the American Airlines Theatre for a near-perfect staging of "The Importance of Being Earnest," Oscar Wilde's whimsical 1895 classic. Director Brian Bedford, who is also starring in drag as Lady Bracknell, remembers that Wilde originally subtitled his play "A Serious Comedy for Trivial People." Bedford has his company play the shallow objectives of the upper-crust Victorian characters with complete seriousness, rather than going for the obvious laughs. Highly stylized and sleekly staged, this is probably the funniest and sharpest production of the comedy, a favorite on regional and community stages, I've ever seen.
Bedford, who re-creates his staging and performance from a 2009 Stratford Shakespeare Festival production, leads his cast by example. He plays Lady Bracknell, the symbol of British respectability and conformism, with an air of indomitability. He enters the home of John Worthing, suitor to Bracknell's daughter Gwendolen, encased in costume designer Desmond Heeley's oppressive gown like an armored battleship, ready to go to war to defend the British hearth against the excesses of Wildean frivolity. (Paul Huntley's period-perfect hair design completes the picture.) Here is a woman so sure that she is at the top of the social food chain that she's astonished anyone would deviate from her hidebound values. Bracknell's look of outraged incredulity when Worthing reveals that he is an orphan who was found in a handbag and thus has no conventional family is worth the price of admission. This is no stunt casting. Bedford makes a convincing woman without stooping to drag-queen excesses or even raising his voice to a falsetto. His timing, pauses, and reactions are all pitch-perfect.
The other ladies of the company—the real ones—are equally spot-on, particularly Sara Topham, a veteran of the Stratford production, as Gwendolen. Topham elegantly conveys Gwendolen's obsession with surface and style. Charlotte Parry is just as adept at pursuing the goals of Cecily Cardew, Worthing's teenage ward. Both actors take the silly objectives of their characters—each yearns to marry a man named Ernest—with steely determination. Dana Ivey is a delight as Cecily's governess, the prim Miss Prism. She is a joy to watch as she switches from stern schoolmistress with Cecily to flirtatious schoolgirl with the distinguished Rev. Chasuble (a satirically solemn Paxton Whitehead).
The leading gentlemen—David Furr, as Worthing, and Santino Fontana, as his pal and tormentor Algernon Moncrieff—haven't quite got the rarefied nuances this type of comedy requires. They both begin the evening a bit too broadly, but like a pair of badminton players, they improve at verbal volleying as they warm up. By the final dizzying dénouement, they are batting Wilde's bons mots with the proper precision.
Heeley also designed the gorgeous sets, lit with a painterly glow by Duane Schuler. Like the production itself, they combine just the right amount of lighter-than-air fancy with realistic representation, perfectly capturing Wilde's tongue-in-cheek take on his superficial society.
Presented by Roundabout Theatre Company at the American Airlines Theatre, 227 W. 42nd St., NYC. Jan. 13–July 3. Tue.–Sat., 8 p.m.; Wed., Sat., and Sun., 2 p.m. (212) 719-1300 or www.roundabouttheatre.org. Casting by Jim Carnahan, Carrie Gardner, and Kate Boka.