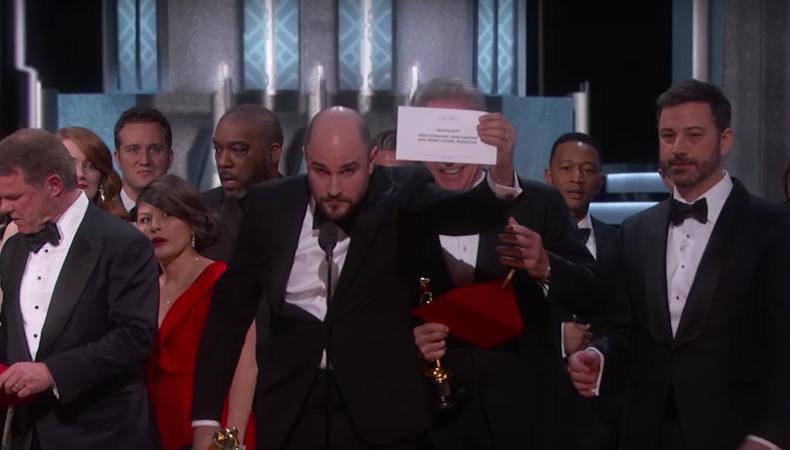 With the Oscar nominations setting Hollywood abuzz, everyone's eyes are on the nominees for the industry's ultimate prize: Best Picture. Seeking the most coveted award in the filmmaking world, all of this year's nominees have received their fare share of accolades throughout award season, and face stiff competition.
Awarded to the producers of the film, the Academy Award for Best Picture has been in existence since the Academy of Motion Picture Arts and Science's inception. That is not to say the award hasn't changed over time; starting with the title "Academy Award for Outstanding Picture," the prize went through four name changes until arriving at the current iteration in 1962. Another important change happened more recently in 2009, when the number of nominated films went from five to up to 10 films competing for the honor.
Need a refresher on the category? Check out a rundown of the recent history of the Academy Award for Best Picture below. Competing for the prize this year are "Call Me By Your Name," "Darkest Hour," "Dunkirk," "Get Out," "Lady Bird," "Phantom Thread," "The Post," "The Shape of Water," and "Three Billboards Outside Ebbing, Missouri." Which film will take home that shiny Oscar statue?
"Moonlight"
Year in consideration: 2016
Cast: Mahershala Ali, Naomie Harris, André Holland, Jharrel Jerome, Janelle Monáe, Trevante Rhodes, Ashton Sanders
Director: Barry Jenkins
Distributor: A24
Premiere history: Telluride Film Festival, Sept. 2016; wide release Oct. 21, 2016
Other awards won (selected): Independent Spirit Awards Best Director, Best Screenplay, Best Cinematography, Robert Altman Award; British Independent Film Awards Best Foreign Independent Film; Critics' Choice Awards, Best Supporting Actor (Mahershala Ali), Best Acting Ensemble; Golden Globe Best Picture Drama
Other Oscar nominations: Best Director, Best Supporting Actor (Mahershala Ali, won), Best Supporting Actress (Naomie Harris), Best Adapted Screenplay (won), Best Original Score, Best Cinematography, Best Film Editing
"Spotlight"
Year: 2015
Cast: Billy Crudup, Brian d'Arcy James, Michael Keaton, Rachel McAdams, Mark Ruffalo, Liev Schreiber, John Slattery, Stanley Tucci
Director: Tom McCarthy
Distributor: Open Road Films
Premiere history: Venice Film Festival Sept. 3, 2015; wide release Nov. 6, 2015
Other awards won: British Academy Film Awards (BAFTA) Best Original Screenplay; Critics' Choice Awards Best Picture, Best Acting Ensemble, Best Original Screenplay; Independent Spirit Awards Best Picture, Best Director, Best Screenplay, Best Editing, Robert Altman Award; Screen Actors Guild Award for Outstanding Performance by a Cast in a Motion Picture
Other Oscar nominations: Best Director, Best Supporting Actor (Mark Ruffalo), Best Supporting Actress (Rachel McAdams), Best Original Screenplay, Best Film Editing
"Birdman or (The Unexpected Virtue of Ignorance)"
Year: 2014
Cast: Zach Galifianakis, Michael Keaton, Edward Norton, Andrea Riseborough, Amy Ryan, Emma Stone, Naomi Watts
Director: Alejandro G. Iñárritu
Distributor: Fox Searchlight Pictures
Premiere history: Venice Film Festival Aug. 27, 2014; limited release Oct. 17, 2014; wide release Nov. 14, 2014
Other awards won: British Academy Film Awards (BAFTA) Best Cinematography; Critics' Choice Awards Best Actor (Michael Keaton), Best Acting Ensemble, Best Original Screenplay, Best Cinematography, Best Editing; Independent Spirit Awards Best Film, Best Male Lead (Michael Keaton), Best Cinematography; Screen Actors Guild Award for Outstanding Performance by a Cast in a Motion Picture
Other Oscar nominations: Best Director (won), Best Original Screenplay (won), Best Actor (Michael Keaton), Best Supporting Actor (Edward Norton), Best Supporting Actress (Emma Stone), Best Cinematography, Best Sound Editing, Best Sound Mixing
"12 Years a Slave"
Year: 2013
Cast: Benedict Cumberbatch, Paul Dano, Garret Dillahunt, Chiwetel Ejiofor, Michael Fassbender, Paul Giamatti, Scoot McNairy, Lupita Nyong'o, Adepero Oduye, Sarah Paulson, Brad Pitt, Michael Kenneth Williams, Alfre Woodard
Director: Steve McQueen
Distributor: Fox Searchlight Pictures
Premiere history: Telluride Film Festival Aug. 2013; wide release Nov. 8, 2013
Other awards won: Independent Spirit Award Best Film, Best Director, Best Supporting Female (Lupita Nyong'o); British Academy Film Awards (BAFTA) Best Film, Best Actor (Chiwetel Ejiofor); Golden Globe Best Motion Picture Drama; Toronto International Film Festival People's Choice Award
Other Oscar nominations: Best Director, Best Actor (Chiwetel Ejiofor), Best Supporting Actor (Michael Fassbender), Best Supporting Actress (Lupita Nyong'o, won), Best Adapted Screenplay (won)
READ: Inside Every Recent Film Independent Spirit Award Best Feature Winner
"Argo"
Year: 2012
Cast: Ben Affleck, Bryan Cranston, Alan Arkin, John Goodman, Clea Duvall
Director: Ben Affleck
Distributor: Warner Bros. Pictures
Premiere history: Telluride Film Festival Aug. 31, 2012, wide release Oct. 12, 2012
Other awards won: British Academy Film Awards (BAFTA) Best Film, Best Director, Best Editing; Critics' Choice Awards, Best Film, Best Director; Golden Globe Awards, Best Motion Picture Drama, Best Director, Motion Picture; Screen Actors Guild Award for Outstanding Performance by a Cast in a Motion Picture
Other Oscar nominations: Best Supporting Actor (Alan Arkin), Best Adapted Screenplay (won), Best Film Editing (won), Best Sound Editing, Best Sound Mixing, Best Original Score
"The Artist"
Year: 2011
Cast: Bérénice Bejo, Jean Dujardin, John Goodman
Director: Michel Hazanavicius
Distributor: Warner Brothers France; The Weinstein Company
Premiere history: Cannes Film Festival May 2011, wide release Jan. 25, 2012
Other awards won (selected): British Academy Film Awards (BAFTA) Best Film, Best Direction, Best Actor (Jean Dujardin); Critics Choice Awards Best Picture, Best Director; Golden Globe Best Motion Picture – Musical or Comedy, Best Actor – Motion Picture Musical or Comedy (Jean Dujardin)
Other Oscar nominations: Best Director (won), Best Actor (Jean Dujardin, won), Best Supporting Actress (Bérénice Bejo), Best Original Screenplay, Best Art Direction, Best Cinematography, Best Costume Design (won), Best Film Editing, Best Original Score (won)
"The King's Speech"
Year: 2010
Cast: Anthony Andrews, Helena Bonham Carter, Jennifer Ehle, Colin Firth, Michael Gambon, Derek Jacobi, Guy Pearce, Geoffrey Rush, Timothy Spall
Director: Tom Hooper
Distributor: Momentum Pictures
Premiere history: Sept. 6, 2010 Telluride Film Festival; UK-wide release Jan. 7, 2011
Other awards won: British Academy Film Awards (BAFTA) Best Film, Outstanding British Film, Best Actor in a Leading Role (Colin Firth), Best Original Screenplay; British Independent Film Awards, Best British Independent Film, Best Actor (Colin Firth), Best Screenplay; Critics' Choice Awards Best Actor (Colin Firth), Best Original Screenplay; Golden Globe Award Best Actor Motion Picture Drama (Colin Firth); Screen Actors Guild Award for Outstanding Performance by a Cast in a Motion Picture, Best Actor (Colin Firth)
Other Oscar nominations: Best Actor Colin Firth (won), Best Director (won), Best Actor in a Supporting Role (Geoffrey Rush), Best Actress in a Supporting Role (Helena Bonham Carter), Original Screenplay (won), Best Original Score, Best Cinematography, Best Film Editing, Best Art Direction, Best Set Direction, Best Costume Design, Best Sound Mixing
"The Hurt Locker"
Year: 2009
Cast: Jeremy Renner, Anthony Mackie, Brian Geraghty, Evangeline Lilly, Ralph Fiennes, David Morse, Guy Pearce
Director: Kathryn Bigelow
Distributor: Summit Entertainment
Premiere history: Sept. 2008 Venice Film Festival; wide release June 26, 2009
Other awards won: Directors Guild of America Awards, Outstanding Directorial Achievement in Motion Pictures; British Academy Film Awards (BAFTA) Best, Best Director, Best Original Screenplay, Best Cinematography, Best Editing, Best Sound
Other Oscar nominations: Best Director (won), Best Original Screenplay, Best Actor (Jeremy Renner), Best Cinematography, Best Film Editing (won), Best Original Score, Best Sound Mixing (won), Best Sound Editing (won)
"Slumdog Millionaire"
Year: 2008
Cast: Rubina Ali, Tanay Hemant Chheda, Ashutosh Lobo Gajiwala, Azharuddin Mohammed Ismail, Anil Kapoor, Irrfan Khan, Ayush Mahesh Khedekar, Tanvi Ganesh Lonkar, Madhur Mittal, Dev Patel, Freida Pinto
Director: Danny Boyle
Distributor: Fox Searchlight Pictures
Premiere history: Telluride Film Festival Aug. 30, 2008; UK-wide release, Jan. 9, 2009
Other awards won: British Academy Film Awards (BAFTA) Best Film, Best Director, Best Adapted Screenplay, British Film Independent Awards Best Director; Golden Globe, Best Director of a Motion Picture, Best Motion Picture Drama; Toronto International Film Festival People's Choice Awards; Screen Actors Guild Award for Outstanding Performance by a Cast in a Motion Picture
Other Oscar nominations: Best Director (won), Best Adapted Screenplay (won), Best Cinematography (won), Best Editing (won), Best Original Score (won), Best Original Song (won), Best Sound Editing, Best Sound Mixing
"No Country for Old Men"
Year: 2007
Cast: Javier Bardem, Josh Brolin, Garret Dillahunt, Tess Harper, Woody Harrelson, Tommy Lee Jones, Kelly Macdonald
Director: Joel and Ethan Coen
Distributor: Miramax Films/Paramount Vantage
Premiere history: Cannes Film Festival May 19, 2007; wide release Nov. 9, 2007
Other awards won: British Academy Film Awards (BAFTA) Best Direction, Best Supporting Actor (Javier Bardem); Critics' Choice Awards Best Film, Best Director, Best Supporting Actor (Javier Bardem); Golden Globe Awards Best Screenplay; Screen Actors Guild Award for Outstanding Performance by a Cast in a Motion Picture
Other Oscar nominations: Best Director (won), Best Supporting Actor (Javier Bardem, won), Best Adapted Screenplay (won), Best Cinematography, Best Film Editing, Best Sound Editing, Best Sound Mixing