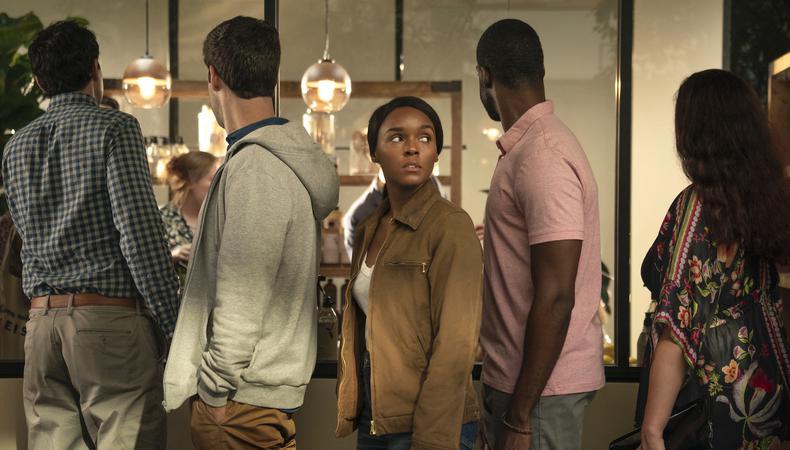 "I got great advice on my first episode of TV from a director who described the episodic television gig as substitute teaching," says director Kyle Patrick Alvarez. "A substitute teacher can show up and try to make the classroom too much of their own for that day, and then it's exhausting, or they come in and throw a movie on, turn off the lights, and don't even say hi. The best ones are the ones who come in, blend into the syllabus, keep the day going exactly as it was meant to, and leave with you wanting to come back."
While a director reigns supreme on a film set, there is a different hierarchy in television, in which the writer is boss and directors frequently work on a per-episode basis. Alvarez is keen to that structural imbalance, having helmed several episodes on series like "13 Reasons Why" and the rebooted "Tales of the City." "It's really hard when you direct a single episode of TV, because you can't really own it," he admits.
"You have to compromise. You have a cast you're trying to keep happy, writers you're trying to keep happy, and [you're] also trying to keep yourself happy."
For that reason, his most recent gig ranks easily among his favorites. On Amazon Prime's anticipated second season of "Homecoming," Alvarez, for the first time in his career, got to direct every one of the season's 10 episodes. Season 1 of the psychothriller created by Eli Horowitz and Micah Bloomberg was a breakout hit for the streaming platform, not only because it marked Julia Roberts' first time leading on the small screen. The new episodes, now available for streaming, function as both a continuation and a reset: Roberts has exited and has been replaced by Janelle Monáe, with Stephan James, Hong Chau, and others returning.
For Alvarez, there was a fine line between paying homage to what had come before and acknowledging that the season would be something entirely new. "I remember when I was going in to [pitch], they said they wanted fresh takes: 'Don't feel beholden to Season 1.' But it was the best-shot show on TV last year," he says. "I thought we should hold onto that. I went in weirdly selling them their own show, in a way. I thought it would be wrong for this to feel like something totally different. I also thought it would be wrong to copy what Season 1 did, the first season being so beloved. I knew it'd be a job I'd be lucky to have but also a job I felt ready to do, and that's a rare combination."
To be at the helm for an entire season allowed for greater ownership and authority than Alvarez had ever experienced directing television—"But it's still not like making a movie," he insists. "You have to compromise. You have a cast you're trying to keep happy, writers you're trying to keep happy, and [you're] also trying to keep yourself happy. Where you push back on any of those things is where the job lies." And while compromise was the name of the game for every faction and phase of production, directorial autonomy also provided Alvarez with more say than ever when it came to casting.
Monáe had already signed on by the time he was hired (casting he was thrilled about, because "I've always thought she is so magnetic and has such a presence and that I need to see her do more"), but there were a number of supporting roles—two of which ultimately went to Chris Cooper and Joan Cusack—as well as featured and even day player parts to fill.
"I love casting. If I wasn't directing, I'd want to get into casting," Alvarez enthuses. "I love discovering people, I love discovering new things in people, I love taking chances on actors. A lot of times, you're up against a system that doesn't allow that. But we had incredible actors coming in for [featured roles], so I had to tackle it from a different point of view and think about who is coming in and bringing something different."
And though on "Homecoming" he was primarily in charge, Alvarez still carries with him—in his work and his on-set approach—what it felt like to be "dropping in" for an episode or a scene; it's why he's especially compassionate for those mid-career actors who may be pining over a single day's work, or even a single line.
READ: Shelter in Place with 'Homecoming' + More New TV
"We had this woman come in on Day 2 of shooting, and she had one line and we needed this one shot with her and she showed up, she was on time, she waited, she helped," Alvarez recalls of "Homecoming." "There's always the thing of 'There's no such thing as small roles,' and I remember thinking about that with her, because she made such an impression in such a short period of time, both on-camera and off. That makes my day easier; it makes the scenes better. I have such a tremendous appreciation for actors who are a part of the team as opposed to the person everyone on the team is waiting for."
And that, Alvarez insists, is the goal for all: Whether you're on camera or behind it; on-set for a few hours or an entire season, those who operate with the understanding that you're striving toward a common goal will go further together than they ever could alone.
"You're in it together, and that's always the hardest thing: mixing humility with confidence. The best actors are the ones who know that and see you as part of their process, as opposed to antithetical to their process," he says. "They might get called at 6 a.m. and not work until 1 or 2 p.m., and they're in their trailers that whole time thinking about their lines, and then they maybe get one or two takes. I have to remind myself of that, especially for the actors who maybe aren't headlining and might not be getting preferential treatment. They are up against so much, and all I can do is have empathy for them and hope they have empathy for what I am doing throughout the day, as well.
"It comes down to the individual," he adds. "And, yes, it makes a difference."
Looking for remote work? Backstage has got you covered! Click here for auditions you can do from home!