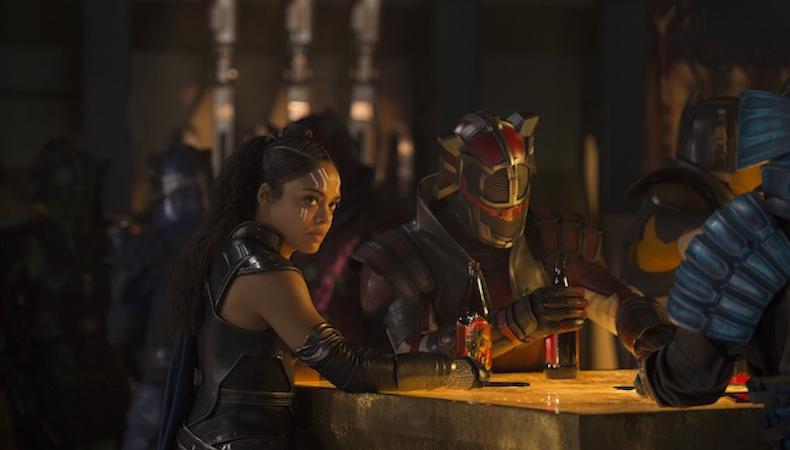 LGBTQ advocacy organization GLAAD has released its annual report assessing the representation of sexual diversity in films. It found this last year was the worst since it started collecting data in 2012.
In 2017, out of 109 major motion pictures, only 14 films included characters who identified as LGBTQ. In total, the year's major studio films had 28 LGBTQ characters. This finding represents a 5.6 percent drop in representation from the films of 2016. Gay men, the report finds, are consistently the most-portrayed demographic. None of the movies released this year featured a transgender character.
"While the number of LGBTQ characters dropped substantially year over year," said the organization in a summary of its findings, "there was a welcome increase in racial diversity of LGBTQ characters." This year, the report finds, 16 of the 28 characters represented were people of color. However, none of the 16 were Asian or Pacific Islander.
In response to the findings, GLAAD President and CEO Sarah Kate Ellis is delivering a call to major movie studios, challenging them to raise the volume of sexual orientation representation to 20 percent by 2021 and 50 percent by 2024.
"With wildly successful films like 'Wonder Woman' and 'Black Panther' proving that audiences want to see diverse stories that haven't been told before, there is simply no reason for major studios to have such low scores," said Ellis in a statement. "At a time when the entertainment industry is holding much needed discussions about inclusion, now is the time to ensure the industry takes meaningful action and incorporates LGBTQ stories and creators."
Representing LGBTQ comic book characters onscreen is a necessary point of growth, says the organization. With comic book–inspired films proving to be automatic box office smashes, GLAAD is calling on screenwriters and studios alike to stay true to a character's original sexual orientation and not erase it in the screenplay. "Thor: Ragnarok" and "Wonder Woman" both include queer-identifying characters in the original comic books, but neither of those films acknowledged the queer characters' orientation in the final product.
"Though wide release films this year like 'Love, Simon,' 'Annihilation,' 'Blockers,' and Negasonic and Yukio's relationship in 'Deadpool 2' have raised the bar for LGBTQ images, studios must still do more to ensure that LGBTQ storylines and characters are included in fair and accurate ways," said GLAAD Director of Entertainment Research and Analysis Megan Townsend.
The report also proposed that studios begin incorporating LGBTQ characters' sexual orientation into the crux of the film's plot and avoid making it subtextual or open to interpretation. Too often, the organization claims, queer characters are expendable, nonessential, or a punch line to a film's dramatic structure.
GLAAD's Studio Responsibility Index also grades the major film studios when it comes to the inclusivity of their yearly canons. Both 20th Century Fox and Universal got an "insufficient" classification. Paramount, Sony, and Disney were labeled with a "poor" ranking. Lionsgate and Warner Bros. got a "failing" grade from the organization.
The report's methodology relies on the Vito Russo Test—films must contain a character who identifies on the LGBTQ spectrum, orientation must not solely define the nature of the role, and the character must be entwined in the plot to the degree that their presence is essential.
Of the 14 films featuring LGBTQ characters in 2017, nine passed the test—the same number as in 2016.
Get all of your acting questions answered by peers and experts on the Backstage Community forums!