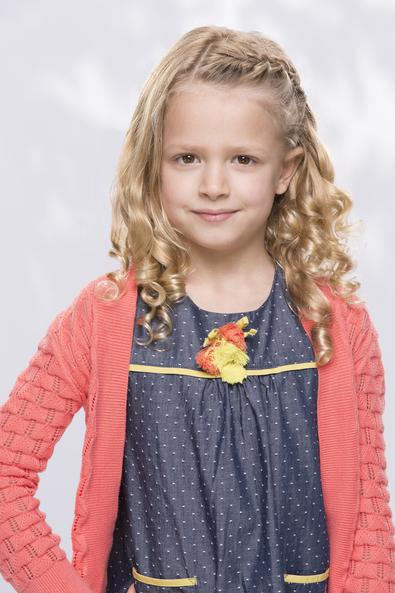 Audiences know 9-year-old Giselle Eisenberg from "The Wolf of Wall Street," where she acted alongside Leonardo DiCaprio, and "Danny Collins" with Al Pacino, but she really stole our hearts as Sophia on CBS' "Life in Pieces." She chats with Backstage about Season 2.
On wanting to be an actor.
"When I was 3, my sister did some acting and I wanted to be like my sister. At first, my mom wasn't sure if I should do it because I was little. There's just a lot of takes. But then this 3-year-old—I came to my mom about a week later and was like, 'I thought about what you said, and I think I want to do it!' "
On not being able to watch the movies she's in.
"I'm not allowed to watch all the things that I act in, actually. I get to see my scenes in the movies, but most of them are not appropriate for me. In 'The Wolf of Wall Street,' they actually snuck me in and I got to see just my scenes. But with 'A Most Violent Year,' we went to the red carpet premiere and then my dad took me ice skating."
On the most challenging part of being a child actor.
"I have to say goodbye at the end. I love every bit of working, but then at the end, when something wraps, it's really hard for me to say goodbye to everyone because they were all so nice. That's why 'Life in Pieces' is so special. We got a second season. So after I said goodbye I was able to say hello again!"
READ: "Backstage Life With Zoe Lister-Jones on 'Life In Pieces' "
On her first-ever role.
"It was for a Holiday Inn commercial. I was 3 or 4. It was also the first audition I ever did, actually. What it included was telling a joke and I got to eat a jelly donut. I remember when we shot it they had to paint jelly all over my face."
On her unconventional 'Life in Pieces' audition.
"First I auditioned in New York, because I'm actually from upstate New York. Then I went to L.A. to meet the writer, Justin [Adler], and the director, Jason [Winer]. I left feeling really excited because I felt like I had done a really good job. Then my mom got a call saying, 'Don't go back to New York!' The audition got all messed up so they had me come back the next day, and I actually read the script again for all of the executive producers. Then a little bit later they called me and told me I had gotten the part. They were very sorry we had to do it like that. We thought we could go home and then we couldn't.
Are you a kid actor ready to book work of your own? Check out our kids auditions!