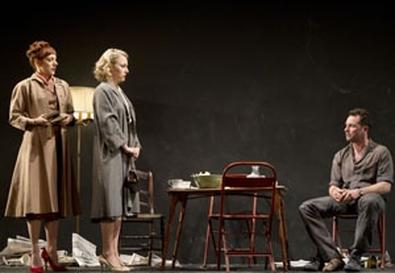 John Osborne's "Look Back in Anger," with its famous angry-young-man protagonist, is unquestionably a landmark play, having upended the dominance of genteel English drawing-room drama. That doesn't necessarily mean it's a great one. Director Sam Gold puts the focus on the characters' psychologies, stripping Osborne's 1956 breakthrough work of its famous kitchen-sink naturalism, social context, and a minor but important character. Gold's interpretation is consistently intelligent, and a quartet of fine actors ably executes it. Unfortunately, without a frame to set it off, the portrait proves diminished.

Jimmy Porter, a working-class bloke with an education who stubbornly refuses to use it, is the brute who pulled the upper-class Alison Redfern, daughter of an army colonel, down from her pedestal, married her, and got those colored lights going. (All right, I know, that's "A Streetcar Named Desire," but the basic situation is remarkably similar.) They live in a squalid flat in the English Midlands with Jimmy's best mate, the always jovial Cliff Lewis, who works with his friend running a "sweet-stall" (that's a candy shop). Spewing anger, resentment, and brutal misogyny in all directions, Jimmy belittles, needles, whines, and rants at one and all as Cliff plays court jester and Alison stoically accepts her lot, except for the odd lashing back. This stagnant existence is soon roiled by two developments: Alison's pregnancy, which she can't bring herself to reveal to her husband, and a visit from Alison's friend, the calmly confident Helena Charles, who though the picture of middle-class rectitude is also a touring actor. A series of betrayals follows, leading to much angst and altered circumstances.

Osborne puts remarkably little information about the world Jimmy loathes in his text, probably because he assumed it was a given with English audiences of the day. But without the backdrop of the smothering sanctimony, daily privations, and bleak economic outlook of post–World War II Britain, Jimmy's romantic anti-hero status is undercut. Perhaps that's why Welsh actor Matthew Rhys, known here for his work on the hit TV series "Brothers & Sisters," has been cast. Rhys doesn't shy away from Jimmy's cruelty and malice, but he does search for moments in which to emphasize the character's damaged soul, whether in Jimmy's "bear and squirrel" sexual play with Alison or when news comes that a surrogate mother figure who helped set Jimmy up in business is dying. Rhys shows serious stage chops as he works hard to keep the wounded boy present in the vicious man, but he can't quite fuse them, as Osborne doesn't give him enough opportunities.

British actor Sarah Goldberg crosses the pond for an auspicious New York stage debut as Alison, somehow making her emotional paralysis active. Goldberg is both disquieting and moving in her depiction of a young woman who got what she wanted at great cost and is now not sure she wanted it. Charlotte Parry is a striking Helena, confidently manipulative and later cheerfully suppliant, though she can't quite conceal the artifice in Osborne's contradictory portrait. Cliff is not as interesting as the others, but the excellent Adam Driver doesn't let that deter him, finding endless ways to be warily playful and particularly good when Cliff realizes that he has outgrown his longtime chum.

Gold's decision to stage the show non-naturalistically, on a thin strip of downstage space (set designer Andrew Lieberman seals off the proscenium arch with a looming black wall) amid symbolic swaths of garbage, filthy furnishings, and assorted detritus (food and drink frequently go flying during meals), effectively puts the focus on these uncomfortable relationships and the characters' self-loathing. And by eliminating Alison's Edwardian father from the dramatis personae, put there by Osborne to serve as a symbol of all that Jimmy detests, Gold hermetically seals us in this unhappy quartet's dysfunctional universe. Alas, what that reveals is that Osborne was less interested in his people than he was in his rage.

Presented by Roundabout Theatre Company at the Laura Pels Theatre, 111 W. 46th St., NYC. Feb. 2 - April 8. Tue.–Sat., 7:30 p.m.; Wed., Sat., and Sun., 2 p.m. (212) 719-1300 or www.roundabouttheatre.org. Casting by Jim Carnahan and Carrie Gardner.