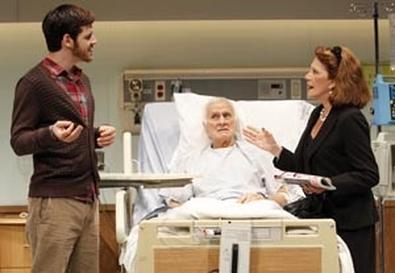 Though the title is a bit obvious and the theme is one the playwright has tackled numerous times before, Nicky Silver's "The Lyons," at the Vineyard Theatre, is an uproariously dark cartoon of a play, full of belly laughs and stark insights. Since the 1990s, Silver has been employing the dysfunctional-family template, usually with monstrous, narcissistic mothers, absent or distant fathers, unbearably lonely gay sons, and barely functional daughters. The characters' neuroses lead them to commit insane acts like stalking strangers, kidnapping, pedophilia, and even murder. "The Food Chain," "Pterodactyls," "The Eros Trilogy," "Fit to Be Tied," "Beautiful Child," and numerous others employ some variation on this basic setup.
Silver's latest wacky clan is the Lyons. The majority of the action takes place in an antiseptic hospital room (the detailed set is by Allen Moyer) where father Ben, an angry, emotionally remote man, is riddled with cancer and expected to expire at any moment. Mother Rita, as self-involved as any Silver matron, acts as if nothing unusual is happening, as she nonchalantly leafs through decorator magazines and asks her husband what style he'd like for the new living room. "I'm dying," Ben cries. "Yes, I know; try to be positive," she dryly responds. This is the final round in Ben and Rita's war of a marriage.
They are soon joined by their daughter Lisa, a recovering alcoholic struggling with two small sons and an abusive ex-husband, and son Curtis, a gay man whose relationship with the unseen Peter appears to be the only happy bond in the family, but we later learn it's an elaborate sham. The family claw and slash at each other in too-close-for-comfort resemblance to the jungle cats their name evokes. Silver could easily have settled for sitcomish extremes and low wisecracks, but with every vicious swipe, each character is also reaching out for human connection. The play is simultaneously heartbreaking and hilarious.
Director Mark Brokaw wisely keeps a balance between wild comedy and sensitive drama, never allowing the farcical elements of the script to get too broad. The cast does likewise, particularly the luminous Linda Lavin as the bitchy and needy Rita. It's easy to see why Lavin turned down appearing in the Broadway transfers of "Other Desert Cities" and "Follies" (in which she performed in earlier productions) to take on this juicy role. Every line and gesture is given full expression by the actor's mobile features. Her eyes telegraph the character's thoughts and her mouth transforms into grimaces of disapproval or embarrassment. Because she plays Rita as a human being rather than a punch line, Lavin manages to make this ultimate narcissist sympathetic, even as she commits heinous acts against her husband and children.
Dick Latessa finds the soft center in the blustering Ben, Kate Jennings Grant colors Lisa's whines with bright intensity, and Michael Esper keeps Curtis' self-pity from turning tedious by infusing it with subterranean rage. Brenda Pressley adds spice as a no-nonsense nurse, and Gregory Wooddell makes the most of a realtor-actor who has a brief encounter with Curtis.
Though we may have heard similar roars before from Nicky Silver, these "Lyons" are worth listening to.
Presented by and at the Vineyard Theatre, 108 E. 15th St., NYC. Oct. 11–Nov. 20. Tue., 7 p.m.; Wed.–Sat., 8 p.m.; Sat. and Sun., 3 p.m. (212) 353-0303 or www.vineyardtheatre.org. Casting by Henry Russell Bergstein.