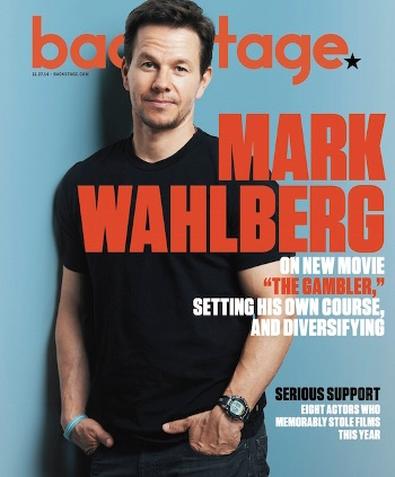 "The thing is, I'm not supposed to be in this position right now," says Mark Wahlberg. He's calling from New Orleans, where he's in the midst of filming a new movie, to discuss his latest film, "The Gambler," and the topic of advice for new actors has come up. "But I worked hard and never took no for an answer. It's better to spend years becoming a slow success and building a career than becoming an overnight success. But just do the work, do the prep. There isn't anything I wouldn't do to prepare for a part or a role."
He's speaking from experience regarding his performance as Jim Bennett in "The Gambler," a remake of the 1974 film, written by Academy Award winner William Monahan—whose script for "The Departed" led to Wahlberg's first Oscar nomination—and directed by Rupert Wyatt ("Rise of the Planet of the Apes"). The film is ostensibly a drama about a gambling addict and English professor, but the creative team involved is less interested in telling an Everyman story than in creating a piercing character study of a man who has embraced nihilism and then has a change of heart when it might be too late.
Wahlberg was originally comfortable playing Jim as a bulkier man, but Wyatt successfully convinced him to drop 60 pounds to create a more convincing addict (and professor, for that matter). "I loved the wardrobe and I loved the idea of Jim only having two suits and two shirts and never really worried about his appearance," Wahlberg says. "Which is why I agreed to do the whole transformation thing, because Rupert was like, 'He's not really eating or worried about exercise.' And once I start doing something I just become obsessed with it so I keep pushing it and pushing it and pushing it." He pauses. "But it also gets pretty annoying when people talk about it. You have to prepare mentally and physically—that's the job."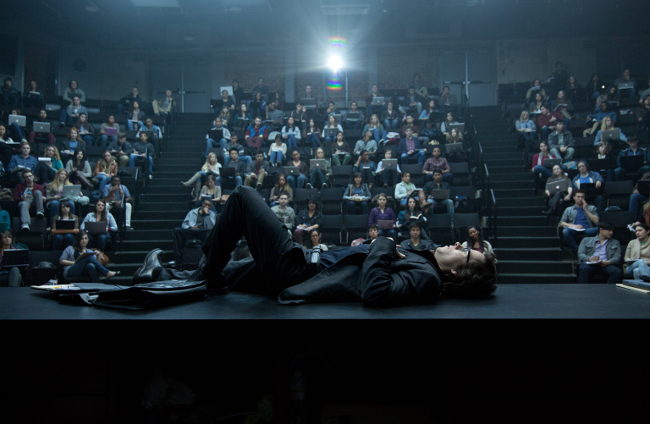 The preparation lasted far longer than the 39-day shoot. Once the movie was a go, Wahlberg and Wyatt spent six months holding readings of the script, checking out college lectures, talking, reading, and gambling. "He's sick of spending time with me!" Wahlberg jokes.
But since "The Gambler" is the juiciest role he's had since "The Fighter," it's also the role he's spent the most time prepping for—most important, the gambling. In the film, Jim finds himself owing money to three very violent men and makes increasingly dangerous deals with them, first in an attempt at self-destruction and then in the hopes of personal redemption. So Wahlberg, an admitted nongambler, had to indulge in quite a bit of betting. "We started playing poker in my hotel room in Chicago in mid-August, betting basketball, playing tennis—I had never played tennis and I played a match for $1,000." Did he win? Well, yes. "I played with someone who's not good but thought they were good," he says. "It was just all day, every day."
Even as he found his way into the role, he was hands-on in the casting of the rest of the film—a group of actors that serves as a testament to the strength of the script. In addition to Brie Larson (who plays a student who becomes Jim's lover), there's Jessica Lange as Jim's mother—a chilly survivor—John Goodman as a scary, paternal loan shark, and George Kennedy as Jim's grandfather.
"Everyone was attracted to the writing and though everyone had small parts, they knew they would get to do their thing," Wahlberg says. "Jim is in every scene of the movie and he has these big, showy moments, but he teed up these guys to do their thing."
The script was enough for Wahlberg, too. After a previous incarnation of the film directed by Martin Scorsese and starring Leonardo DiCaprio fell through, Wahlberg read the script and signed on to star and produce, even before a director was attached. "There was a time in my career when it was all about the director, but I made some poor choices after falling in love with the director," he admits. "If we couldn't find a director we liked we wouldn't have made the movie. But thankfully, Rupert responded the way he did and came on board."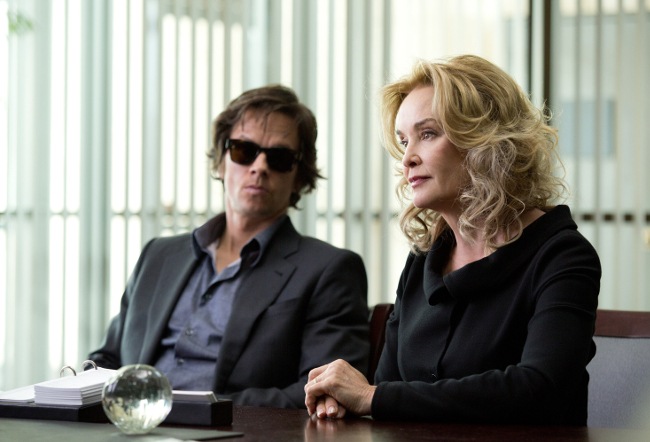 Wahlberg's past career also informs his decisions during casting. As someone who has been nervous and uncomfortable in front of a casting director, he makes an effort to create a comfortable environment for the actors coming in to read. "I want to give people a lot more chances and opportunities than I had to help them get the part," he says. "I have a big issue with people who haven't been on the other side of the table because they don't have the patience or the respect for the people in the moment. Some people are great in the room but then aren't great on the day, and some people are great on the day but aren't as good in the room."
And though he's had his share of bad auditions, he prefers to look on the bright side: "The great thing about it is I only got the movies I was meant to have," he says. "Other movies I thought I may have wanted and didn't get ended up being a good thing. There were a couple bullets [I dodged] along the way. Maybe my head or my heart wasn't in it. It's funny how that works."
Want to read more? Check out our Backstage covers here!